Nexus 5 vs. Samsung Galaxy Note 3 (Rumored)
Sometime soon, Google is going to be unleashing at least one new Nexus smartphone to replace the Nexus 4, the Nexus that launched last October and was recently discontinued. Leaks point to an LG made Nexus 5 and a device that will not only come with big time hardware and software but also, an affordable price tag. The Nexus 5 will be a solid choice for Android users but it won't be the only choice and here, we take a look at how the rumored Nexus 5 should stack up next to another juggernaut, the Samsung Galaxy Note 3.
While the first half of 2013 was dominated by Samsung Galaxy S4 and HTC One rumors, the second half of the year has been a Samsung Galaxy Note 3, Nexus 5 rumor festival. The Samsung Galaxy Note 3 and Nexus 5 dominated the rumor landscape alongside the iPhone 5s and iPhone 5c and while the Galaxy Note 3 and iPhones are now official and out on shelves, the new Nexus smartphone remains in the shadows. Sort of.
Thanks to a host of leaks, that may be part of an elaborate campaign by Google to drum up attention, we've gotten a fantastic look at what is likely going to be the new Nexus smartphone from LG and Google. The Nexus 5, as it has been dubbed, figures to be a worthy replacement for the Nexus 4 and a device that Google should feel comfortable about trumpeting into battle.
Of course, it's not going to be without competition, not only from the iPhone but from competitors like the Samsung Galaxy Note 3, Samsung's brand new phablet that arrived earlier this month. Like the Nexus 5, the Galaxy Note is a powerful smartphone and one that consumers across the United States likely have on their radar heading into the holidays.
Here, ahead of the Nexus 5 launch, we take a close look at how the Galaxy Note 3 should stack up with the Nexus 5 from Google.
Release Date
After months of rumors, the Samsung Galaxy Note 3 finally arrived on September 4th. At the event Samsung tagged it with a October release date in the United States and thankfully, U.S. carriers all adhered to that time frame. AT&T, Sprint, U.S. Cellular, T-Mobile and Verizon all offer the device on their networks at the moment. That should not change any time soon.
Samsung typically releases just one flagship Galaxy Note 3 model per year. And while changes will be coming in 2014, we aren't hearing any rumors about an impending Galaxy Note 4. This is important because it gives consumers some time to go hands-on with this current model ahead of the Nexus 5 release.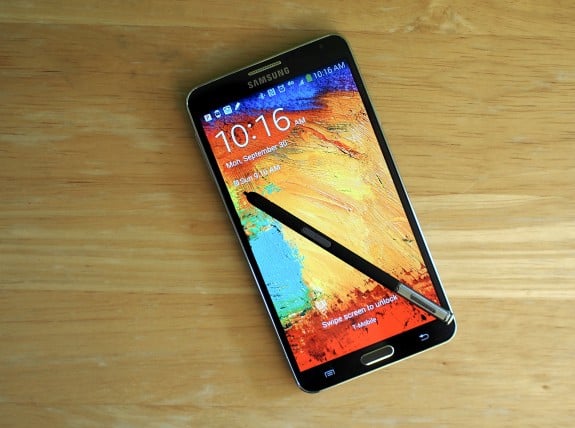 Google still hasn't announced a Nexus 5 launch date or release date though rumors point to an arrival at some point within the next few weeks. Signs all point to a launch sometime this month and if that's true, a release should be close behind. We've already seen the device show up on the Google Play Store by accident so we know something is close.
The company struggled with supply last year so it will be important for those looking to buy a Nexus 5 to make a decision early. We highly recommend using the Galaxy Note 3 ahead of launch in order to see if it's going to be a fit.
Design
For years now, Samsung has been under fire for its plastic smartphone designs. Consumers have pointed to the iPhone and HTC One in their requests for a more premium design. Rumors suggest that design changes could be coming next year, metal included, but the Galaxy Note 3 unfortunately doesn't come with a metal design.
Instead, the design is made out of plastic that is meant to resemble faux leather. It's far different than its previous Galaxy Note designs. In addition to the changes to the back plate, the company has slimmed down the Galaxy Note 3. The design, while overall still fairly large for a smartphone, is now just 8.3mm in size. That's much thinner than the Galaxy Note 2. It also now weighs just 168 grams. Heavy, but lighter than other phablets.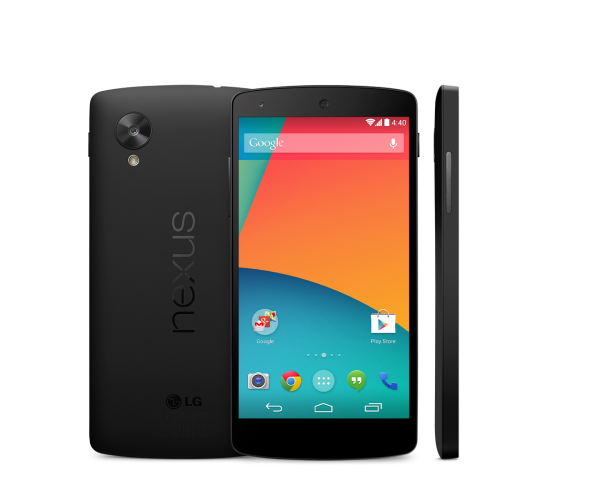 Photo leaks suggest that the Nexus 5 will also come with a plastic design but that it will be different than the one found on the Galaxy Note 3. Instead of faux leather plastic, the Nexus 5 looks like it will use a smooth black matte material similar to the Nexus 7. The Nexus 7's design, while plastic, still feels like a premium build.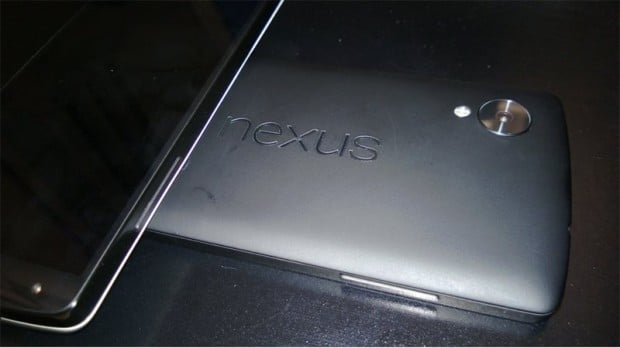 Specific dimensions are not yet known but Google managed to slim down the Nexus 7 and we wouldn't be surprised to see the Nexus 5 sport dimensions on par or better than the Galaxy Note 3. We fully expect it to be lighter than the Galaxy Note 3, something that should help with pocketability.
Display
The Samsung Galaxy Note 3 has one of the largest displays in the business. Its 5.7-inch 1080p display with 1920 x 1080 resolution at 386 pixels-per-inch is as massive as it is beautiful.
Simply put, the Galaxy Note 3 display is one of the best that money can buy and it offers users stellar looking content whether it's videos, photos, the web, of text in a book.
It's looking like the Nexus 5 will feature a smaller display than the Samsung Galaxy Note 3, something that should not come as much of a surprise. Instead, it looks like the device could sport a 5-inch display, same as the Galaxy S4, with 1920 x 1080p resolution at 441 pixels-per-inch. This should put it on par with the Galaxy Note 3 in terms of quality.
Specs
Last year's Samsung Galaxy Note 2 was a powerful device but that doesn't mean that Samsung hasn't upped the ante. No, the Samsung Galaxy Note 3 is a far more powerful device than the Galaxy Note 2 bringing several new elements to its users. The first, a powerful Qualcomm Snapdragon 800 processor that provides enhanced performance for gaming and battery life, two crucial elements for a device designed to be used while on-the-go. Having 3GB of RAM on board also helps.
Samsung upgraded the Galaxy Note 3's camera with a 13MP sensor that shoots high quality photos and video, even when in low-light environments. The camera is not the best on the market but it's still going to be solid for average mobile photographers.
The device comes in 32GB form only but it does allow users to expand their storage by using a microSD card that can be up to 64GB in size. It also comes with a removable back that allows users to install their own extended batteries or fasten a back plate that is compatible with wireless charging.
Google's Nexus 5 isn't going to be a slouch in the hardware arena either. It's expected to feature the same processor inside the Galaxy Note 3, albeit with 2GB of RAM helping it. Rumors suggest that it will have an 8MP camera sensor but don't let the mega-pixel count fool you. The device is likely going to take pictures and video that are on par with the Galaxy Note 3. An added bonus should be the Optical Image Stabilization that is on board. OIS will cut down the shakiness in videos shot with the Nexus 5.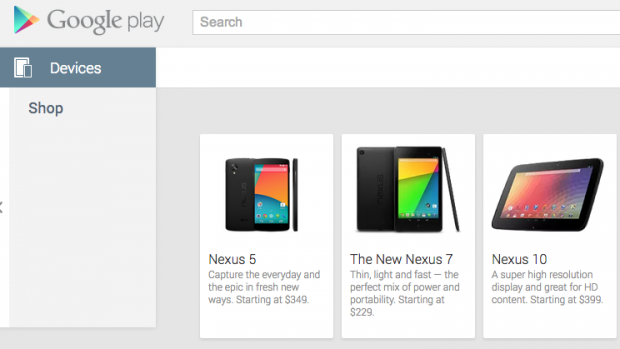 Leaks point to 16GB and 32GB options, important to note considering the device isn't expected to have a microSD card slot for expanded storage. It's also unlikely going to have a removable back which means users will be stuck with its 2,300 mAh battery, much smaller than the 3,200 mAh battery found in the Galaxy Note 3. Keep in mind, the Galaxy Note 3 has a larger screen to power so we don't expect the Galaxy Note 3 battery life to completely clobber the Nexus 5's.
The Nexus 4 featured on-board wireless charging and we expect the Nexus 5 to come with wireless charging as well. Expect Google to release an official dock accessory on the Google Play Store.
Software
Both of these devices will be running a version of Android but their overall software will differ quite a bit. The Nexus 5 is set to come with Android 4.4 KitKat, Google's new operating system that was announced in early September but still hasn't been revealed, at least not officially. Leaks suggest that it will be an incremental update with some additional features and tweaks to Google's current Jelly Bean software.
While features still are a bit up in the air, what is confirmed is the fact that the Android 4.4 KitKat software found on board the Nexus 5 will be vanilla, meaning, pure Android from Google. Manufacturers typically put their own touches on Google's Android. The Nexus devices have pure Android, something that both Android users and average users love.
The Nexus 5 will also get swift updates thanks to Google. Devices like the Samsung Galaxy Note 3 will unfortunately be subject to carriers when it comes to software and as we know, U.S. carriers are often extremely slow to updates. The Galaxy Note series in particular has a bad track record when it comes to update speed. While the software updates are usually substantial, users typically have to ensure long waits.
Back to the overall software though. While the Nexus 5 will run pure Android 4.4 KitKat, the Samsung Galaxy Note 3 runs a heavily modified version of Android 4.3 Jelly Bean. The device sports a user interface that Samsung calls TouchWiz and it's a UI that not only changes the look of the software but adds a bunch of functionality as well.
The Samsung Galaxy Note 3's software in particular is unique, thanks to the large screen and the bundled S Pen stylus. Not only does the device come with S Pen specific software features like S Note and Air Command but the device also comes with some features like Multi-Window View multitasking that take full advantage of its large display. Multi-Window View allows users to use multiple apps on screen at once.
Without the S Pen and its unique software, the Galaxy Note 3 is simply a smartphone with a big screen. Thanks to those features though, the Galaxy Note 3 is one of the most powerful smartphones on the market. And no, the Nexus 5 is not going to have an S Pen of its own.
Carriers
Samsung's flagship devices always come to a host of carriers inside the United States and the Samsung Galaxy Note 3 is no different. Much to the delight of smartphone shoppers, the Galaxy Note 3 landed on the five largest service providers in the United States, a list that includes AT&T, Sprint, T-Mobile, U.S. Cellular and Verizon.
The device will run on their 4G LTE networks, which of course, are not created equal. AT&T and Verizon have a huge lead in terms of market share and Sprint and T-Mobile will be playing catchup in 2013 and beyond.
As for the Nexus 5, it's looking like it won't have the same carrier options as the Galaxy Note 3. Thus far, rumors have suggested that the device will be coming to AT&T, Sprint and T-Mobile. AT&T and T-Mobile are sure things while Sprint is a bit of a wild card as it didn't get the Nexus 4 or the Nexus 7. FCC filings don't lie though and Sprint LTE bands were on board a device though to be the Nexus 5.
Whatever the case, this is will be a huge upgrade over the Nexus 4 in terms of data speeds. The Nexus 4 did not come with LTE support and instead relied on HSPA and 3G.
Price
Thanks to its massive high-resolution display and its bundled S Pen, the Samsung Galaxy Note 3 commands an expensive price tag. While most premium smartphones start at $199.99 on-contract, the Samsung Galaxy Note 3 starts at $299.99 on-contract. And because the 32GB is the only model available, that price sticks across all carriers but Sprint. Those who don't bring a new number to Sprint face at more expensive $350 price.
Thankfully, retailers like Amazon offer some relief. For example, the Verizon Galaxy Note 3 is $250 at Amazon, a $50 price cut from the retail price through the carrier itself. We expect these prices to continue to dip as we get closer to Black Friday in November. We can't guarantee hundreds of dollars off, but we should see some nice discounts emerge.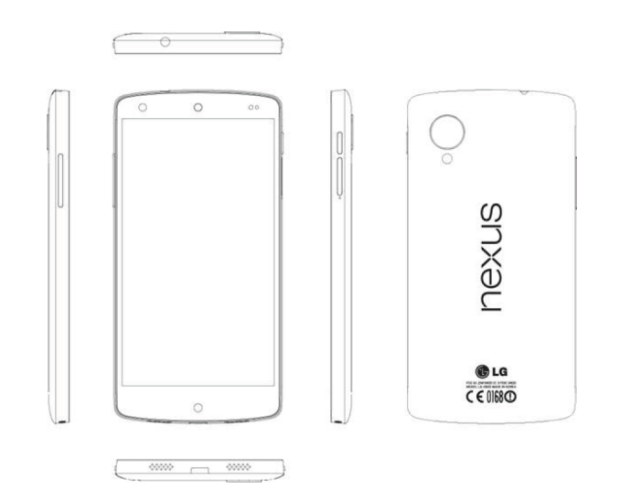 The Galaxy Note 3 is also expensive off-contract and unlocked, commanding a price point that is in and around $700 at most places. That's an extremely steep price tag and one that is likely out of reach for many who are trying to find their next big smartphone.
Google's Nexus 5 isn't likely going to arrive on-contract and will instead, make its presence felt in the unlocked world of smartphones. A recent leak from Google itself suggested that the device will come in two forms, a $350 variant with 16GB of storage and a 32GB option priced at $400. That's more expensive than the Nexus 4 but far cheaper than the Galaxy Note 3 and other big name smartphones.

This article may contain affiliate links. Click here for more details.