Samsung Galaxy Note 4: 7 Key Things Buyers Need to Know
With Samsung Galaxy Note 4 rumors flying around on a regular basis, consumers are starting to set their expectations for Samsung's next Galaxy Note. With prospective buyers in mind, we want to take a quick look at the most important things to know about the upcoming Samsung Galaxy Note 4.
In early September, just before Apple announced its iPhone 5s and iPhone 5c, Samsung took the stage in Berlin, Germany and announced a brand new Samsung Galaxy Note. The device, the Samsung Galaxy Note 3, emerged from the rumor mill with a brand new design, an upgrade full HD display, improved processor and camera, Android 4.3 Jelly Bean out of the box, additions to the device's powerful S Pen software including Air Command, and a release on many of the biggest carriers in the world including AT&T and Verizon.
Since early October, the Samsung Galaxy Note 3 has been on shelves in the United States, tempting those who are looking for a brand new smartphone. And because it's so new, it's likely going to be on shelves for much of 2014, battling the Galaxy S5, HTC One M8 and iPhone 5s for attention.
Like all smartphones, the Samsung Galaxy Note 3 will eventually get replaced by something new, something better. And Samsung isn't hiding the fact that it's indeed working on something new, something better.
The Samsung Galaxy Note 3 is just six months old but we're already hearing a lot about its successor, a device that is currently being dubbed Samsung Galaxy Note 4. Samsung Galaxy Note 4 rumors have emerged frequently over the last month or so and we've even seen Samsung executives join in on the action.
At this point, many consumers have a tough decision to make: Wait for the Samsung Galaxy Note 4 or go with another device that's out on shelves, like the Galaxy Note 3. While we can't help you make that decision yet, we can offer prospective buyers some insight into the upcoming Samsung Galaxy Note 4.
Here, we take a look at what we consider to the seven most important things to know about the Samsung Galaxy Note 4.
Samsung Galaxy Note 4 Launch Date: Fall
So you're thinking about buying the Samsung Galaxy Note 4 this fall, eh? Well then you, like many others, are in the predicament that many others have found themselves in over the years. We want to help make the decision to buy, or wait, as easy as humanly possible. While we don't have all of the Galaxy Note 4 answers for you, we'll provide as many as we can here.
Friends, family and readers have been asking the same Samsung Galaxy Note 4 question since rumors started appearing several months ago: "When is the Samsung Galaxy Note 4 coming out?" While we usually have a pretty rough idea, thanks to history and release cycles, we don't always have a concrete answer.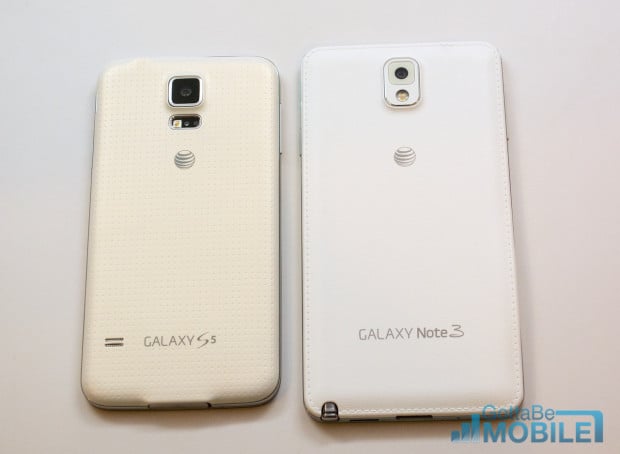 With the Samsung Galaxy Note 4, we think we have the amount of time that you'll need to wait nailed down. History, rumors and Samsung itself lead us to believe that the Galaxy Note 4 will be arriving in the second half of the year and that it will launch in and around the same event that Samsung always uses to debut its new Galaxy Note.
Samsung Galaxy Note 4 rumors exclusively point to a launch in the second half of the year. Samsung executives have gone on record, several times, and said that the company plans to launch the device in the fall. It's hard to argue with Samsung on this one.
In recent weeks, rumors have gotten more specific. A recent report suggested that the company was looking into launching the Galaxy Note 4 at, you guessed it, IFA 2014 in Berlin, Germany. Samsung launched the Galaxy Note, Galaxy Note 2 and Galaxy Note 3 at IFA events in Berlin so it's not surprising to learn that it's at least considering the venue for this year's announcement.
At this point, it's safe to assume that the Galaxy S4 will make its first official appearance on one of five days. Samsung will likely host an event between September 1st and September 5th and those who are interested in buying the Galaxy Note 4 later this year should circle those dates, in pencil, on their calendar. They are the most likely at this point and the dates that we would bet big money on.
Galaxy Note 4 Release Date Unknown but Predictable
We don't blame people for wanting to know when they'll be able to lay their eyes on a new smartphone for the first time. Smartphones aren't cheap and waiting isn't easy. We also don't blame people for wanting to know when they'll be able to physically compare a rumored smartphone to competitors.
If the Samsung Galaxy Note 4 is planned for the fall like Samsung says it is, then its release date will likely land in the fall as well. Samsung's specific release dates typically don't emerge until the company takes the stage to show off its new product but the company follows a distinct pattern that it has used for a number of years.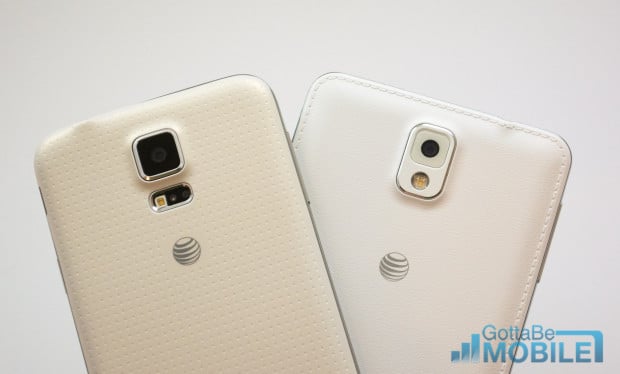 Galaxy S and Galaxy Note release dates tend to occur about a month after the initial announcement. The Galaxy S5, for instance, was announced in late February and arrived in early April. The Galaxy Note 3 debuted in early September and arrived in late September and early October. The Galaxy S4 was announced in mid-March and arrived in late-April.
So, if the Galaxy Note 4 launches at IFA as we suspect, then it will be probably be released in September, October or November, ahead of Black Friday and ahead of the holiday shopping season. It's hard to see it arriving much earlier than that.
New Design
The Samsung Galaxy Note 4 will come with a brand new design. How do we know that? Samsung told us so. Yoon Han-kil, senior vice president of Samsung's product strategy team, told Reuters that the Galaxy Note 4 will be coming with a "new form factor" in the second half of the year. Yoon did not elaborate on what the Galaxy Note 4 will look like but it's safe to think that the device will look different than the Galaxy Note 3 and its faux plastic design.
Yoon probably isn't lying or embellishing. Samsung always changes up its Galaxy S and Galaxy Note designs year after year. If it's not making them thinner and lighter, it's adding on things like dust and water resistance, something that arrived with this year's Samsung Galaxy S5 and a feature that is rumored to be on board the Galaxy Note 4.
Curved Display Not a Given
Yoon's comment about this "new form factor" has consumers fired up. Galaxy Note 4 rumors have continually pointed to the possibility that the device will sport a flexible, three-sided display. A Samsung executive told Bloomberg back in January that the Galaxy Note 4 could come with a new display type that would allow for better viewing angles.
Since then, a series of Galaxy Note 4 rumors have pointed to a "bent" display and a recent report suggests that Samsung is still thinking about tacking one onto its next Galaxy Note. And it's entirely possible that it will.
Samsung has been developing its flexible Samsung Youm display technology for years now but it has yet to put it on a mainstream device. The Samsung Galaxy Round doesn't count. While Samsung executives continue to tout the possibility of a three-sided display on the Galaxy Note 4, it's not set in stone.
Samsung, like all companies, goes through rounds of prototypes before deciding on the version that will be mass produced for the public. A recent SamMobile report, citing inside information, suggested that a "3G version of the Galaxy S5, the G900H, or also "k3g" was initially prototyped with the QHD screen, but abandoned it in its third (out of ten) prototype/revision in favor of the FHD that was kept until the end." This would explain why Galaxy S5 rumors pointed to a QHD display being on board.
So while a flexible Galaxy Note 4 is probably in testing, there is a chance that Samsung will abandon it in the days, weeks or months before the Samsung Galaxy Note 4's launch. In other words, while you should remain optimistic, but don't get your heart set on the designs that we've seen emerge in Samsung patents.
High-Powered Specifications a Given
The other Galaxy Note 4 specs are said to possibly include a faster processor, LTE-Advanced for faster data speeds, and perhaps, some changes to the touch portion of the Samsung Galaxy Note 4 screen. The improvements could bring improved Air View, Air Gesture and S Pen support to Samsung's upcoming Galaxy smartphones.
All of these make sense but none of them are confirmed. That shouldn't bother you. The Samsung Galaxy Note 4 will come with an assortment of big time hardware features. Samsung always swaps out the processor, year-after-year, which means that we should get something more powerful than the Galaxy Note 3's Qualcomm Snapdragon 800 processor.
We've also seen it offer some big improvements to the camera sensor. The Galaxy S5 camera comes with an extremely fast auto-focus and impressive HDR functionality.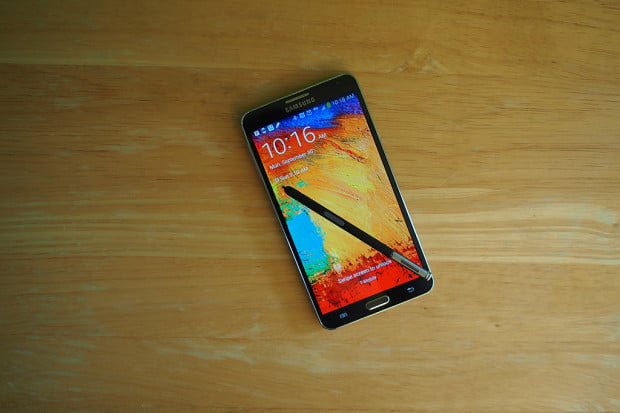 The point is this. The Galaxy Note 4's final spec sheet won't be finalized until later on this year but it's safe to assume that it won't be a wimp. The Galaxy Note series is typically more powerful than the Galaxy S series and we would not be surprised if the device outperformed the Galaxy S5 in several key areas.
Galaxy Note 4 rumors will start to firm up about a month or two before its release but we likely won't have the full picture until Samsung shows it off on stage.
Collision Course with iPhone 6
Those who do decide to wait for the Samsung Galaxy Note 4 are likely going to have another big screen smartphone option available to them. All signs point to an iPhone 6 release in the fall and rumors almost exclusively point to a 4.7-inch display. If true, it would mean a huge jump for the iPhone.
iPhone 6 rumors also suggest that Apple will release a 5.5-inch iPhone model at some point, a clear Galaxy Note competitor, but recent reports suggest that it may have been delayed until 2015.
Prospective Galaxy Note 4 buyers would be wise to keep tabs on the iPhone 6. While it probably won't come with a stylus, it could deliver a large Retina Display with full HD resolution to go along with a laundry list of other high-end features.
Start Saving Now
Samsung made it clear to Bloomberg that the next Galaxy Note 4 is going to target "consumers who want more professional use and tend to be willing to pay more for handsets." The company also told Reuters that its "ultimate goal is to make products that consumers really aspire to have. This is how we are trying to find a breakthrough in the stagnant premium market."
Translation: The Samsung Galaxy Note 4 probably isn't going to come with an extremely cheap price tag. The last three Galaxy Note models have arrived at a $299.99 price point and have done well. Nothing is set in stone at this point but you should expect the Galaxy Note and its S Pen to be more expensive than the $199.99 Galaxy S5.

This article may contain affiliate links. Click here for more details.