Samsung Galaxy Note 4 Concept Teases Its Biggest Mystery
A brand new Samsung Galaxy Note 4 concept teases one of the few remaining Galaxy Note 4 specs that is still a complete and utter mystery ahead of the device's highly anticipated launch.
For months now we've seen Samsung Galaxy Note 4 rumors shoot to the surface, teasing a great number of alleged features. And while none of those features are confirmed just yet, we have started to see some Galaxy Note 4 rumors firm up ahead of the device's arrival this fall.
Samsung Galaxy Note 4 rumors have all but confirmed a brand new processor. Rumors point to a Exynos chip or a Snapdragon 805 with the latest whispers pointing to a 64-bit chip. Galaxy Note 4 rumors also point to an arrival on the five largest carriers in the United States, 32GB of storage space, an upgraded camera with OIS, a fingerprint sensor or a Retina scanner for added security, and a 5.7-inch QHD display.
While these features have continued to firm up ahead of Samsung's announcement, there are other Galaxy Note 4 specifications that remain mysterious and unknown.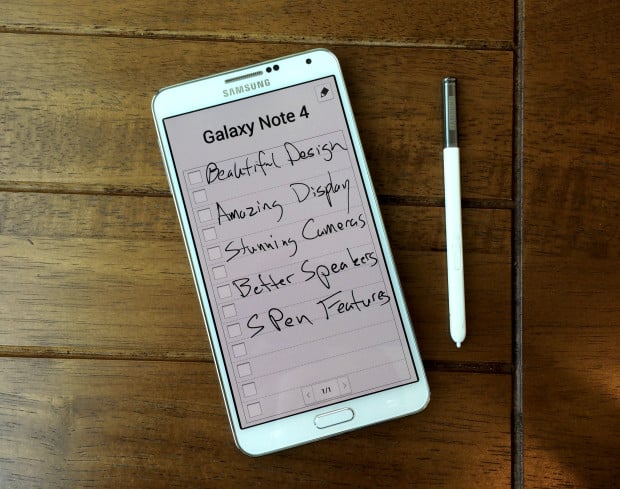 Maybe its biggest mystery is its design. Samsung is well known for clamping down on its flagship designs ahead of launch using trickery and a small team to keep prying eyes at bay. Samsung Galaxy Note 4 rumors have been prevalent but we simply haven't seen or heard anything about its overall design including the material used to make it.
Rumors have suggested that the Galaxy Note 4 design will come in blue, gold, black, and white and sport the same IP67 water and dust resistant certification that's found on the Samsung Galaxy S5. Other that those perks, the Samsung Galaxy Note 4 itself remains a mystery.
The mystery has led designers to come up with their own versions of the Samsung Galaxy Note 4 and today, a new concept from Rishi Ramesh, shared by Concept-Phones, shows a beautiful metal Galaxy Note 4 concept that looks good enough to compete with the upcoming iPhone 6.
Ramesh's Galaxy Note 4 doesn't borrow from the Galaxy Note 4 rumor mill but does showcase a gorgeous design that's punctuated by its metal back. Rumors suggest that Samsung will be bringing metal phones to market later this year. Rumors point to the arrival of a Samsung Galaxy Alpha, a metal device that could be aimed at the iPhone 6.
The Galaxy Note 4 concept also sports a large edge-to-edge display and it comes with a camera sensor embedded in the center-back of the device. While it's not Samsung's actual Galaxy Note 4 it certainly is good enough to be the real deal.
It could be weeks before we see the Galaxy Note 4 design emerge from the shadows. Samsung's designs typically don't leak out until much later in the rumor cycle. Last year's Galaxy Note 3 design did not emerge until Samsung debuted it on stage in Berlin, Germany. This year's Galaxy S5 design didn't leak out until shortly before its Unpacked launch event.
The Samsung Galaxy Note 4 launch date is currently rumored for September with September 3rd emerging as a candidate for Samsung's next Unpacked launch event. The last three Galaxy Note models launched at IFA and with IFA 2014 set to take place on September 5th, it could be that the Galaxy Note 4 launch takes place in early September.
Rumors suggest that the Galaxy Note 4 could enter production sometime this month with a release date planned for shortly after its launch date in September. Last year's Samsung Galaxy Note 3 emerged at the beginning of September and landed for a majority of consumers by the end of September. Consumers in the United States saw the Galaxy Note 3 arrive a few weeks later inside the month of October.

This article may contain affiliate links. Click here for more details.