Rare Galaxy Note 4 Deals Cut Price
Rare Samsung Galaxy Note 4 deals have emerged knocking the price of Samsung's flagship down a couple of notches in time for the holiday season.
In September, Samsung took to the stage and announced a slew of new products including the Samsung Galaxy Note 4, a follow up to the Galaxy Note 3 that launched in 2013. The Galaxy Note 4 delivers a number of enticing upgrades including an improved display, faster processor, new design, improved S Pen, overhauled software, and more.
A month later, the Galaxy Note 4 release arrived in a number of countries including the United States where AT&T, Sprint, T-Mobile, U.S. Cellular, and Verizon, the nation's top five carriers, put the new flagship on sale. As expected, the Galaxy Note 4 price followed in the footsteps of the previous Galaxy Note models and went on sale for $299.99 on-contract.
In recent years, Samsung's Galaxy Note price dropped shortly after launch. With the Galaxy Note 4, that hasn't been in the case. While we've seen a few sporadic Galaxy Note 4 deals emerge, most recently during the Black Friday rush, we simply haven't seen the same volume that we've seen in years past, something that's made Galaxy Note 4 deals rare and highly sought after.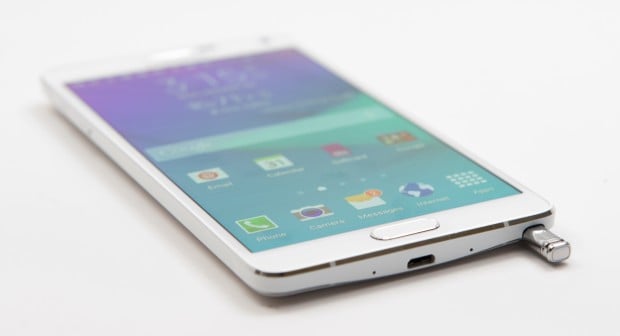 Ahead of the holidays, new Galaxy Note 4 deals have finally emerged for consumers in the United States. Amazon is offering Galaxy Note 4 deals on the three variants it sells. The AT&T Galaxy Note 4 price, Sprint Galaxy Note 4 price and Verizon Galaxy Note 4 price have all been slashed down by $30 on-contract. It's not a huge deal but it's one of only a few Galaxy Note 4 price drops that we've seen since the device's arrival in October.
It's not clear how long these Samsung Galaxy Note 4 deals will last, Amazon doesn't say, so those who've waited for price cuts on Samsung's current Galaxy Note flagship will want to think about making a move in the coming hours.
Off-contract pricing for the three variants remains on par with what the carriers are offering. The Galaxy Note 4 off-contract is extremely expensive and it will run consumers upwards of $800. AT&T, for instance, is charging $826 for the Galaxy Note 4 off-contract making it one of the most expensive smartphones on the market.
Samsung's Galaxy Note 4 is arguably one of the best smartphones on the market but it's also one of the most expensive. This deal drops the price of the Galaxy Note 4 down below its top rival, the iPhone 6 Plus, to the same price point as the 16GB iPhone 6. Apple's iPhone 6 Plus retails for $299.99, same as the Galaxy Note 4, while the smaller iPhone 6 costs much less.
Even with these price cuts, the Galaxy Note 4 is still far more expensive than top Android rivals like the Moto X and LG G3, both of which can be found for less than $100 on-contract.
Samsung's all new Galaxy Note 4 comes loaded with high-powered specs including a 5.7-inch Quad HD display, a brand new 16MP camera with Optical Image Stabilization, a new S Pen stylus, Android 4.4.4 KitKat software that's backed by TouchWiz, and a brand new design that comes with both plastic and metal materials.
The device will soon get upgraded to Samsung's version of Android 5.0 Lollipop, an update that's leaked several times and is confirmed for the early part of next year. Instead of Android 5.0, the Galaxy Note 4 is expected to get Google's brand new Android 5.0.1 Lollipop update, the bug fixer that is currently rolling out to Nexus devices.
Samsung's Galaxy Note 4 Lollipop update could land in and around the time the company announces its new Samsung Galaxy S6. The successor to the Galaxy S5 is rumored to be coming in the first half of the year with a number of big time upgrades aboard.

This article may contain affiliate links. Click here for more details.