Samsung Galaxy Note 4: Early Rumor Roundup
The Samsung Galaxy Note 3, first released back in September, will be Samsung's big screen flagship for all of 2013 and presumably, for much of 2014 as well. It will face off with the likes the HTC M8 but also the rumored Samsung Galaxy S5, a device that is thought to be coming sometime early next year. The Galaxy Note 3, like all smartphones, will be replaced with something new, something better. Odds are, that something new, something better, will be a Samsung Galaxy Note 4.
In 2011, Samsung announced a brand new Galaxy smartphone series in the Galaxy Note. The decision to release an in-house Galaxy S competitor, and specifically one that featured a massive display and bundled stylus, was met with immediate dismay. And who could blame consumers and critics. The stylus took a back seat to touch screens and large screen smartphones that came before it, like the Dell Streak, were colossal failures.
Samsung never wavered. Instead, it heavily promoted the device in the United States, and launched the 5.3-inch "phablet" on AT&T's network. Throughout most of 2012, consumers started asking different questions. No longer was it a question about whether or not the Galaxy Note belonged, it was about whether or not the Galaxy Note would arrive for other carriers. Indeed, there was quite the demand.
The Samsung Galaxy Note 2 ushered in that era. The Galaxy Note was no longer a niche, it was a device available on the top five carriers in the United States, as a flagship no less. Over time, Samsung has tweaked the Galaxy Note series, installing better screens, better apps for the S Pen stylus, powerful multitasking, and more. The Samsung Galaxy Note 3 is one of our favorite devices on the market.
That said, there may be some consumers who are locked into a contract until next year. There may be others who passed on the Galaxy Note 3 due to rumors about 2014 tech. Whatever the case, there are those that are likely looking towards next year, towards a Samsung Galaxy Note 4.
Unsurprisingly, we've heard some whispers about possible Galaxy Note 4 features. Here, we take a look at the Samsung Galaxy Note 4 rumors we've seen thus far in 2014.
Samsung Galaxy Note 4 Rumors
The Samsung Galaxy Note 4 launch and release dates are likely months and months away, but that doesn't mean that we haven't seen some rumors arrive at the surface, some of them thanks to Samsung itself. While scarce, we've heard about several features that could very well make their way to an upcoming Galaxy Note flagship in 2014.
Display
Earlier this year, Samsung released a device called the Samsung Galaxy Round, a device that features the company's Samsung Youm, flexible display technology. Samsung showed off Samsung Youm at CES 2013 in Las Vegas but the company declined to offer details about when the technology could impact its big name brands.
The Galaxy Round's release is a sign that Samsung is finally preparing to put this type of technology into its mass produced, high-end smartphones. The Galaxy S5 currently is rumored to have a 5-inch display though there aren't any rumors suggesting that it will be of the Samsung Youm variety. Perhaps, the company isn't ready to put the technology inside of its most mass produced smartphone. Maybe there are other, expensive features on board that made the inclusion of Youm to costly. It's not clear.
While there is a chance that the tech could appear on the Galaxy S5, a scenario where it debuts on the Galaxy Note 4 seems more likely. The Samsung Galaxy Round is, more or less, a variant of the Galaxy Note 3. It looks nearly identical, save for its curved flexible display. We've also seen a report from Bloomberg suggest that Samsung could unleashed a three-sided display in a device next year. The Galaxy S5 doesn't seem like a candidate for that type of technology though the Galaxy Note 4, because of its release cycle, could very well be the first to offer this kind of display.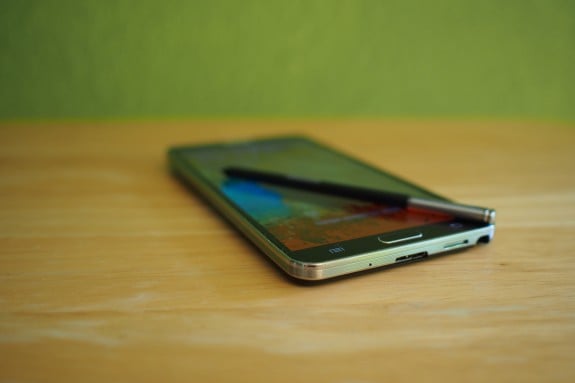 The report suggests that this advanced version of Samsung Youm technology will arrive in the second half of 2014, falling in line with the Samsung Galaxy Note launch cycle. Of course, the big question will be whether or not Samsung releases it in a prototype like the Samsung Galaxy Round or in a mass produced device like the Galaxy Note.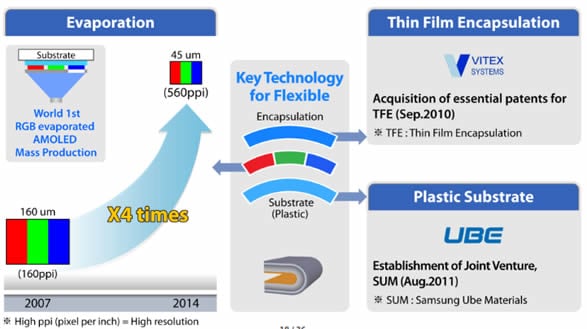 There is no question that Samsung is going to deliver high-resolution displays in 2014. Documents, straight from Samsung and released by OLED.at, point to displays with 2560 x 1440 resolution with 560 pixels-per-inch. The company is planning that type of quality for devices as small as 5-inches. So, it should come as no surprise that the Galaxy S5 is rumored to have that type of panel on board.
Samsung specifically says that this technology is ready for 2014 which means that its within reason to think that it could appear on a Galaxy Note 4 late in 2014. The feature will be all but confirmed if Samsung puts the technology on board the Galaxy S5 as the Galaxy Note series usually follows the Galaxy S' lead.
Specs
The display, very obviously, won't be the only feature on board the Samsung Galaxy Note 4. We still don't have a good read on all of the other Galaxy Note 4 features but there are a few credible rumors circling around.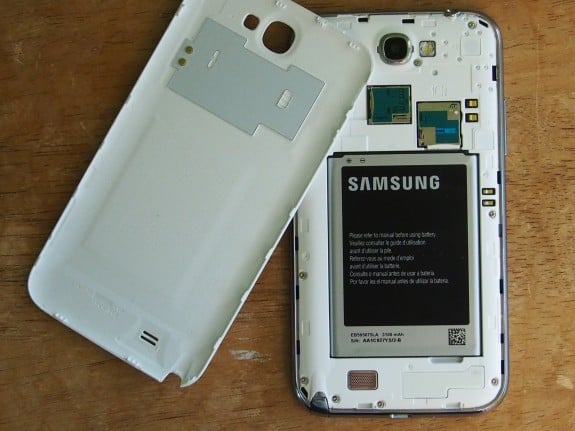 Samsung itself confirmed that it would be releasing 64-bit processors in 2014. The Samsung Galaxy S5 is all but confirmed to have one on board though the precise chip is still unknown. Samsung made the announcement after Apple put a 64-bit A7 processor on the iPhone 5s and started raving about the increase in performance. We have a feeling that it won't break this promise.
The Galaxy Note's plethora of apps and multitasking features would benefit from a high-end processor and performance upgrades that a 64-bit processor would bring. So there is little doubt that the Galaxy Note 4 will be getting a processor of this caliber. Not with Samsung confirming the feature for 2014, and not with reports like the one from The Korea Herald all but confirming its arrival.

Samsung is reportedly putting a huge emphasis on its smartphone cameras in 2014 and rumors suggest that the Galaxy S5 will have a new 16MP sensor on board. According to ETNews, Samsung is also working on a 20MP camera sensor that it claims could be finished by the second half of 2014. That means that it could potentially be on board a Galaxy Note 4 or a Galaxy S6. This goes against a previous report, from the same publication, that suggested that the Galaxy Note 4 would have a 16MP camera sensor.
Finally, back in September, another report from The Korea Herald suggested that the Galaxy S5 could skip a fingerprint reader due to the technology not being ready. We've heard that the Galaxy S5 may use Iris-scanning technology to replace it. The report claims that the fingerprint technology will be ready late in 2014 which opens up the doors for the Galaxy Note 4.

This article may contain affiliate links. Click here for more details.