Samsung Galaxy Note 4 Hands-on (Video)
The Samsung Galaxy Note 4 is finally here. Announced yesterday at multiple events around the globe all the rumors have been silenced, and the new handset with a big screen and aluminum edges is official. While it isn't a major leap over the Note 3 from 2013, the new Samsung Galaxy Note 4 has a lot to offer, and below is a quick video and our initial thoughts and impressions.
Yesterday, Samsung took the stage at its Unpacked 2014 Episode 2 launch event and announced a slew of new products including the all new Samsung Galaxy Note 4 and Note Edge. The new Galaxy Note 4 replaces the Galaxy Note 3 as the company's flagship and it will arrive on shelves all over the world in just a few short weeks.
Read: Samsung Galaxy Note 4 US Release Details
After spending a few minutes with the new Galaxy Note 4 there's a few things we quickly noticed. For one, there isn't a lot of major changes and Samsung wisely kept the device very similar to its predecessors. The overall shape, size, and options are all the same, only they've improved a few key areas to make it better in every aspect. There's a lot to go over, so read on for all the details.
For those who didn't follow along with the live-stream yesterday we'll be sharing our thoughts, explaining what's new, and going over the changes that make this the best Samsung Galaxy Note yet, and a better device than the model before it. Naturally there's a few improvements, but Samsung took the opportunity to keep the device the same considering its popularity, but fixed a few areas of concern.
What do most users want from a new Note 4? A better display, improved camera, better battery life, more S-Pen features, and maybe even some of those new additions from the Galaxy S5? Well, those all arrived with the Samsung Galaxy Note 4. Lets take a look.
If you've used the Galaxy Note 2/3 or the new Galaxy S5 you'll know exactly what to expect here. Samsung didn't reinvent the wheel, and instead just improved it. The video above lightly went over a few of the changes, but here's everything you'll need to know about the Galaxy Note 4.
Display
Everyone that buys a Note device does so for the large screen, and possibly those S-Pen features, and that was a big aspect of this device. While we have the same overall size and shape, as well as the same 5.7-inch display, Samsung beefed it up. Users will now enjoy a 2560 x 1440 Quad-HD resolution (or 2K) display over the 1080p screen from last year. It's still an AMOLED, so colors are vivid and saturation is excellent.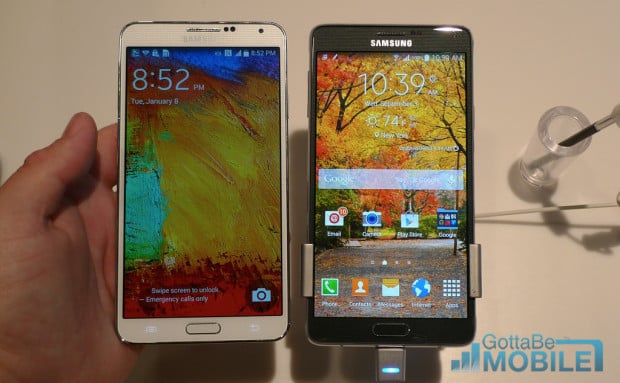 Looking at the screen you'll instantly be wowed by the overall quality. There isn't a pixel to be seen, colors pop, and video is excellent to view on the large display. The bezels could be a bit smaller, sure, like the LG G3, but overall Samsung kept this device very similar to the Note 3 from last year, as shown above.
The display is the same size but much improved, and that's about all we have to say regarding the screen. It's a Samsung, so you know you're getting a good viewing experience. It's the rest that's important.
Design
As we mentioned above the design is nearly the exact same as last year, except a few small but seriously needed changes. Samsung's finally replaced the plastic edges with aluminum. Yes, the Galaxy Note 4 has a sleek and subtle machined aluminum edge that wraps around the entire device. This is the biggest design change. Oh, and the home button is a little bigger too.
Gone is the cheap plastic back with a faux-leather stitch, and now we have a much better but still plastic removable back. It has a softer touch that's more comfortable to hold, the aluminum is lightweight but feels premium, and the black and white models look awesome with this redesigned leather look.
The only differences to the design are the look on back, the aluminum sides, and some of the hardware under the hood, as well as the camera. You'll notice the camera looks just like the Galaxy S5, and it is, but they've added a few new features which we'll talk about next.
Hardware & Specs
While the design, look, and overall feel isn't too different (aside from the welcomed aluminum) the hardware and specs are certainly improved. The Note 3 was impressive, don't get us wrong, but the Note 4 is even better. Everything runs more smoothly, the camera will perform much better, and we have a few new features the large-screen device borrowed from the flagship Galaxy S5 that launched in April.
Like mentioned above, the camera received some major changes. Up from 13MP on the Note 3, the new Galaxy Note 4 has an improved 16 megapixel camera with Optical Image Stabilization. A first for Samsung. The GS5 has an OIS software feature, but this is integrated into the hardware of the Note 4 camera, and will offer the best photography experience on any Samsung smartphone to date. Not counting those Galaxy Camera devices.
Just like the Galaxy S5 the camera has a flash below it, with a heart rate sensor built in for health, wellness, and fitness apps. Then, like the Galaxy S5, the front dedicated home button now employs a fingerprint scanner for security. Last but not least the Samsung Galaxy Note 4 also has a UV sensor on board, which will alert users of dangerous UV levels, and could potentially save you from sunburns, or even save your life. It's an odd feature, but a neat one worth mentioning.
However, we can't forget about what's under the hood. This is one powerful smartphone that packs the latest mobile technology available.
Galaxy Note 4 Specs
5.7-inch 2560 x 1440 Quad-HD Display
2.7 GHz Quad-Core Snapdragon 805 Processor with 3GB of RAM
32GB of storage and micro-SD expansion
Android 4.4.4 KitKat (Google's latest release)
16 Megapixel OIS Camera and 3.7 front camera for wide angle selfies, panorama mode, and HD video
Fingerprint scanner, heart rate monitor, UV sensor
3,220 mAh Battery
Quick Charge (50% in 30 minutes)
Improved S-Pen
Aluminum Edges
White, Black, Gold, and Pink colors
That's a quick rundown, but for those who don't know what it means, this is one powerful smartphone. It's the first in the US with the Snapdragon 805, and should seriously improve everything from performance, multitasking, gaming, videos, and more. Add in the new Quick Charge and you'll go from 0 to 50% in 30 minutes. That's something many will surely love. Battery life is extremely important, and getting halfway full in 30 minutes should have users very happy.
Software & S-Pen
Of course we have to talk about software, because Samsung packs its devices full of stuff. Running on Android 4.4.4 KitKat this is the latest release from Google, will see Android L, but so far runs great. We noticed the small changes over TouchWiz on the Galaxy S5 were nice, and the phone is extremely smooth and fluid.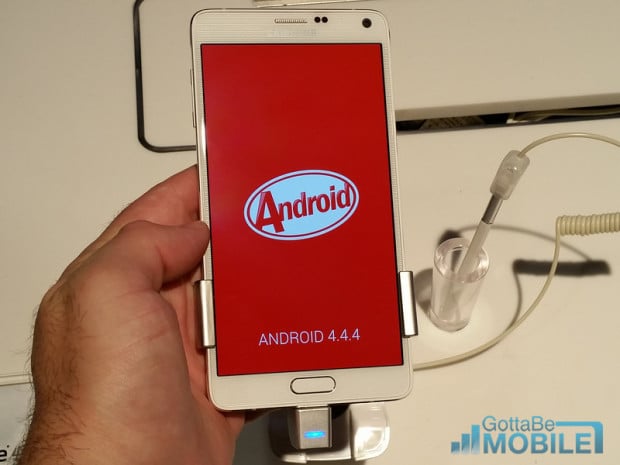 Samsung didn't change the software much compared to the Galaxy S5, but the S-Pen did receive added functions and some new features. For one, the tip is improved and more accurate, and it even acts as a computer mouse now. Tapping the button on the side will allow a click-drag mouse action to select multiple things at once, like images in a gallery, and much more. The same Quick note-taking features are here, and you can even add a note to the homescreen for easy access and editing. That's nice. While this is the Galaxy Note Edge, here's some more S-Pen stuff.
Overall there's nothing to get excited about when it comes to the software, as there wasn't really anything new. The S-Pen can only do so much, and it does it well, but we were hoping for a bit more additions this time around. However, being able to take photos by tapping the heart rate monitor and flash on back while using the front camera is a neat software trick. We'll take what we can get.
Final Thoughts
In closing there isn't too much to say we haven't already gone over. If you were expecting a major shift for the Note series, this certainly isn't it. It's essentially an improved Note 3 with some of the hardware and software from the Galaxy S5 integrated. Those are all good things, and this will likely make many consumers around the globe extremely excited.
To wrap it all up here's what we have. A better, more vibrant, crisp display. The camera is much improved and has new features. Samsung's design finally added some durable and premium looking and feeling aluminum, and keeps the lightweight plastic aesthetics and faux leather materials, and the internals have been overhauled. Users will enjoy excellent battery life and a new quick charge getting you to 50% in 30 minutes, and the S-Pen is better than ever.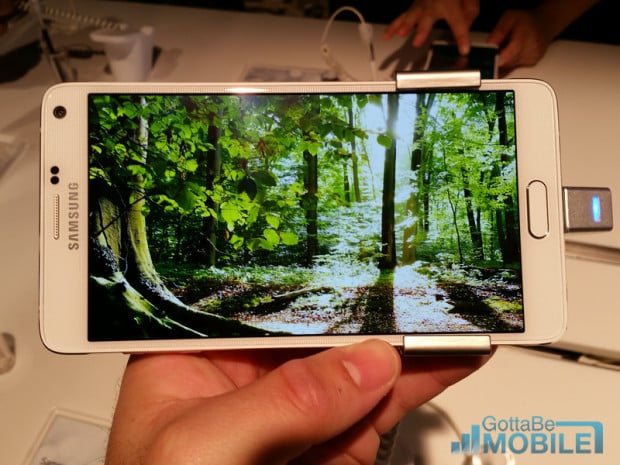 Those looking for a large 5.7-inch "phablet" like smartphone with essentially all the bells and whistles, the Galaxy Note 4 is your best choice. The LG G3 has some competition here, and it'll be coming very soon. All major US carriers are expected to offer the device, likely in October, and more around the globe. The Galaxy Note 4 is poised for a major launch. It sold over 5 million in the first month last year, and will most likely do even better here in 2014.
The Samsung Galaxy Edge, for those wondering, is essentially the exact same device but with the screen curving over the right side for additional features, notifications, and an ESPN news "ticker" if you will. It is also expected to hit all carriers, so buyers will have a tough decision to make next month between these, other Android options, and the new iPhone 6.