Samsung Galaxy Note 4 Launch Date Details Firming Up
A fresh round of Samsung Galaxy Note 4 rumors point to the device's supposed launch date and they suggest that Samsung might be looking to introduce two Galaxy Note 4 models when it takes the stage this fall.
Early in the year a Samsung executive all but confirmed the Galaxy Note 4 for arrival this fall. In the weeks since, we've seen Samsung Galaxy Note 4 rumors dominate the rumor mill, teasing consumers with tales of "bent" displays, a high-resolution display, an improved processor, a better camera, and a launch this fall on a number of different carriers.
As we march deeper into the year, we're starting to see some Samsung Galaxy Note 4 details start to firm up including rumors about its supposed launch date.
Galaxy Note 4 launch date rumors have centered around Berlin's annual IFA trade show. Samsung has used IFA to announce the past three Galaxy Note models and rumors suggest that the company is once again eying the venue for a Samsung Galaxy Note 4 launch. Several leaks have pointed to IFA and specifically, September 3rd, and today another report has thrown its weight behind the rumors.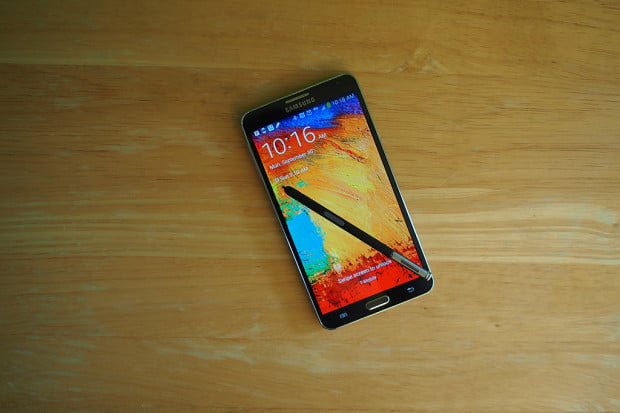 The Korea Herald, citing a source at one of Samsung's top suppliers, says that the Samsung Galaxy Note 4 launch date will be coming at IFA 2014. The report claims that Samsung will be showing off a number of new products including curved OLED TVs, smart home appliances, and wearable devices. Rumors point to the arrival of a new Gear 3 smartwatch and or an unnamed Google Glass competitor.
The star of the show will likely be the Samsung Galaxy Note 4 and the report suggests that we could see two Galaxy Note 4 models shown off on stage. One Galaxy Note 4 is said to have a flat OLED display and the other Galaxy Note 4 variant is said to have a curved OLED display. The flat model is rumored for the mass market while the other could come to select markets.
Samsung Galaxy Note 4 rumors have repeatedly pointed to a new form factor that's dominated by a three-sided bent display. And while that might be true, it appears that that version of device may not be mass produced.
Last year's Galaxy Round, which also utilized a flexible curved display, was released in limited quantities in Korea. The upcoming Samsung Galaxy F, a high-end device crafted out of metal, is rumored to be limited to the Korean market.
Of course, none of this is set in stone. While Samsung executives have all but confirmed the Galaxy Note 4 for arrival, they have not confirmed any specifications. In fact, they've noted that the device is still very much a collection of moving pieces dependent on the internal testing process. And with a launch now all but confirmed for September, there is still plenty of time for Samsung to make necessary changes to a device that's expected to compete with the iPhone 6.
The Samsung Galaxy Note 4 is rumored to have a number of other high-end features on board as well. Rumors suggest that it will come equipped with a 5.7-inch QHD display, a speedy Snapdragon 805 processor, a brand new 16MP camera sensor with Optical Image Stabilization, and a design that sports dust and water resistant capabilities similar to the Galaxy S5.
We've also heard that it could bring changes to the device's unique TouchWiz software including:
Smart Fingerprint –  It wasn't fully detailed but it's assumed that it has something to do with being able to customize a fingerprint reader for certain actions.
Multi Network for Booster –  Could be similar to the Download Booster feature on the Galaxy S5 that combines Wi-Fi and cellular data for faster download speeds.
Swipe to Launch Motion Launcher –  Could be similar to Motion Launch on the HTC One M8.
Aqua Capture – Possibly similar to the Aqua Mode found on the Samsung Galaxy S4 Active. Aqua Mode allowed Galaxy S4 Active users to take photos underwater.
Now that the Galaxy Note 4 launch date is all but confirmed, expect more Galaxy Note 4 features to firm up as we push closer to the fall and its September launch date.