Samsung Galaxy Note 4 Launch Details Come Into Focus
Earlier this year, Samsung confirmed that a Galaxy Note 4 launch would take place in the fall alongside new wearable technology. And while the company has not confirmed a specific date or any specific details, Galaxy Note 4 launch details are gaining focus thanks to an assortment of new rumors and leaks.
In January during CES 2014, Dennis Miloseski, head of studio for Samsung Design America, told Ina Fried of Recode that the next Galaxy Note would arrive in the fall, just like the three previous versions of the Galaxy Note. He also mentioned that the Galaxy S5 launch would take place in the spring, which it did, and that it would arrive alongside new wearables. The Galaxy S5 launched alongside the Gear Fit and Gear 2.
Since then, we've seen numerous Samsung Galaxy Note 4 rumors emerge, pointing to everything from its screen, to its processor, to its upcoming launch date. Galaxy Note 4 launch date rumors point to an arrival in the fall at IFA 2014 in Berlin, Germany. Samsung has used the IFA trade show to announce the past three Galaxy Note models and rumors suggest that the company is considering the event for the Galaxy Note 4.
Today, new potential Galaxy Note 4 launch date details have come into focus, thanks to a report from Business Korea. The report echoes what Miloseski stated back in January, that the Galaxy Note launch could be accompanied by brand new wearable technology. However, instead of a watch, this report claims that Samsung is preparing a Google Glass competitor.
The report claims that Samsung's Google Glass competitor could be ready in time for IFA 2014 which kicks off on September 5th and lasts until September 10th. Samsung typically uses the first day of a trade show to announce its products which makes September 5th the most likely day for a launch.
"We rolled out the smartwatch first, and have secured a considerable amount of smart glass-related technology and patents. Following the roll out of our smart watch Galaxy Gear in September last year, we are slated to introduce our smart glass Gear Glass this September."
It appears that Samsung's Google Glass competitor will come equipped with the company's Tizen operating system, an OS that the company says that it wants to push in the future. Most of Samsung's current smartphones and tablets, including the Galaxy S5 and Galaxy Note 3, run Google's Android operating system. Samsung's Gear 2 smartwatches run Tizen.
Samsung's Google Glass competitor will reportedly sport an ear piece and a display, similar to Google Glass, which will allow users to listen to music while simultaneously viewing the display. The device could be called Glass Gear, adhering to Samsung's naming convention for its wearable products.
Google's Glass is currently in an open beta and those looking to score a pair have to shell out well over $1000 for the opportunity to use one. It's not clear how much Samsung plans to charge for its alleged Google Glass competitor.
From the look of things, the Samsung Galaxy Note 4 launch could encompass more than just the Galaxy Note 4 itself though. The Galaxy Note 4 though has a chance to be the star of the show. Rumors point to a number of new features and Samsung recently confirmed that the device would come with a brand new design.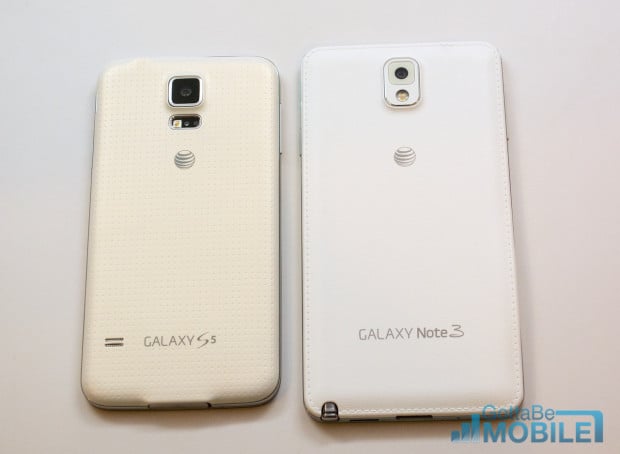 Samsung Galaxy Note 4 rumors point to the possible inclusion of a three-sided display which would allow for enhanced viewing angles. Other Galaxy Note 4 rumors point to a 64-bit processor, LTE-Advanced, and a design that takes after the Galaxy S5 and offers water and dust resistant properties.
Samsung's Galaxy Note 4 is likely going to face fierce opposition when it arrives this fall. Not only will LG have its LG G3 flagship out on shelves but Samsung, HTC and Apple are all rumored to be coming out with Galaxy Note 4 competitors.
Samsung's Galaxy S5 Prime is expected to debut this summer with a QHD display, a ton of RAM, and a faster processor than the Snapdragon 801 that's inside the current Galaxy S5 model. HTC is also expected to deliver an HTC One M8 Prime model later this year, a device that should replace the current HTC One Max.
Apple is rumored to be coming out with an iPhone 6, a device that could sport a redesign in addition to a larger display. Rumors suggest that the iPhone 6 will sport a 4.7-inch display. There are also reports that point to another iPhone 6 model, one that measures 5.5-inches in size. The 5.5-inch iPhone 6, if real, would be a direct competitor to the Samsung Galaxy Note series.
Samsung Galaxy Note 4 release date rumors remain out of reach though Samsung typically releases devices just weeks after launch. If it does emerge at IFA, it could arrive on shelves in late September, or right around the time that Apple's iPhone 6 release date is expected to land. An iPhone 6 release date remains out of reach as well.

As an Amazon Associate I earn from qualifying purchases.