Samsung Galaxy Note 4 Lollipop Update Breakdown (January)
The Samsung Galaxy Note 4 Android 5.0 Lollipop update isn't rolling out just yet but thanks to Samsung and its carrier partners, we know that a roll out could be close. With that in mind, we want to take a look at what we know about the Samsung Galaxy Note 4 Android 5.0 Lollipop update and its release as we head deeper into the new year.
In June last year, Google took the stage at its annual developer conference (Google I/O) to detail its latest Android operating system, an operating system that at the time was called Android L. In November, Google once again confirmed its Android L operating system only this time the company gave it a name, Android 5.0 Lollipop.
Android 5.0 Lollipop is one of Google's biggest updates to the Android operating system and its an update that brings a number of big time features including the company's new Material Design. These changes are massive for owners of Google's Nexus smartphones and tablets and they're going to be huge for owners of Samsung's smartphones and tablets.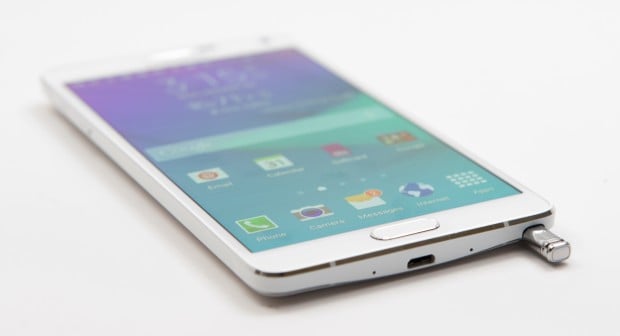 Samsung is the world's largest Android manufacturer and it's responsible for devices like the Samsung Galaxy Note 4, its current Galaxy Note flagship, and a competitor to the iPhone 6, iPhone 6 Plus, LG G3, new LG G Flex 2, and others. The Galaxy Note 4 has not yet received its boost up to Android 5.0 Lollipop but all signs point to an arrival in the near future.
Over the past month or so, we've seen Samsung Galaxy Note 4 Lollipop update details emerge at an increasingly fast pace and for those that don't keep their finger on the pulse of the industry, those details can be hard to track. Today, we want to breakdown the Samsung Galaxy Note 4 Android 5.0 Lollipop update and release as we offer a look at the update's current status.
Galaxy Note 4 Android 5.0 Lollipop Update
The first thing that we should point out is that the Samsung Galaxy Note 4 Android 5.0 Lollipop update is confirmed for arrival this year. Samsung's confirmed an early 2015 release date for the update, Samsung's regional wings have confirmed the update's arrival, and Spanish carrier Vodafone also confirmed that the update is scheduled to land for the device sometime this year. While we do have a broad confirmation, there are still some gaps in Samsung's plans that will continue to get filled in as time goes on. This phone is getting Android 5.0 Lollipop this year, perhaps as soon as this month.
While Samsung's been pushing out Android 5.0 Lollipop to Samsung Galaxy S5 users, it looks like the Galaxy Note 4 will get a newer version of Android 5.0 with bug fixes on board. SamMobile leaked three upcoming Android 5.0.1 Lollipop updates including ones for the Galaxy S5 LTE-A, Galaxy Note Edge, and the regular old Galaxy Note 4.
So, in short, we're looking at a possible Android 5.0.1 Lollipop roll out (Samsung hasn't confirmed the version yet) sometime in the early part of the year. As we've noted, the Galaxy Note 4 Lollipop release has January written all over it.
Galaxy Note 4 Lollipop Update Release Date
Samsung typically rolls out flagship Android updates in close proximity of one another. For instance, the Galaxy S4 and Galaxy Note 3 Android 4.4 KitKat updates pushed out within a few weeks of each other. So there's a precedent here. Unsurprisingly, all signs point to the Galaxy Note 4 Lollipop update being next in line, after the Galaxy S5's Android 5.0 roll out. The Galaxy S5 Lollipop roll out began in December.
Spanish carrier Vodafone claims that it currently is looking at an early 2015 release for the Samsung Galaxy Note 4 Lollipop update. This lines up with French carrier SFR's January ETA for the Galaxy Note 4 Lollipop update and it also backs up Samsung's assertion that this update will arrive early in the year. It also fits into the company's precedent for Android updates.
Now, these are ETAs which means that they could change. Android updates are dependent on the testing process and if Samsung, or a carrier, hits a snag in the testing process, the ETA can get pushed back. For the moment though, it looks like the international push could begin sometime this month as the company looks to get its flagship devices upgraded before the arrival of the Galaxy S6.
U.S. Galaxy Note 4 Lollipop Update
The U.S. is a key battleground for Samsung and it often is among the first to major Samsung Galaxy Android updates. So, it's not surprising to learn that the U.S. Galaxy Note 4 Android 5.0 Lollipop update could push out soon.
A credible Samsung Mobile retail store employee recently revealed a number of new Lollipop details on Reddit including details about Samsung's plans for the United States. His intelligence indicates that Samsung is planning to update handsets in select stores and train the staff ahead of the Galaxy Note 4 update rollout to all carriers in the United States. That roll out is expected to happen in January, date unknown.
The Galaxy S5, Galaxy Note 4 and Galaxy Note Edge will evidently be the priorities for Samsung USA followed by devices like the Galaxy Note 3 and Galaxy S4, both former flagships. Samsung itself has yet to confirm anything but it's looking like the United States will once again be at the front of the line for another major Android update.
U.S. carriers typically don't release Android update details ahead of time so users could be waiting until the actual roll outs to hear about their Lollipop release dates. From the look of things though, we could see those Galaxy Note 4 Lollipop details arrive real soon.

This article may contain affiliate links. Click here for more details.