Samsung Galaxy Note 4 Release Date & Rumor Roundup
Later this year, Samsung will almost certainly replace its Galaxy Note 3 with something newer, something better. That something newer, something better is expected to be a Samsung Galaxy Note 4, a device that has surfaced in rumors throughout 2014 and a device that is expected to contend with the iPhone 6, Nexus 6, and more.
Last year, in the months leading up to September, we heard a whole lot about the Samsung Galaxy Note 3, a device that was expected to replace the popular Galaxy Note 2. We heard about its release date, we heard about its processing speed, we heard about its display and its camera, and we even heard about its launch date.
Yes, we knew ahead of time that Samsung would be debuting a Galaxy Note 3 on September 4th at IFA, 2014 in Berlin. We also knew many of the Galaxy Note 3's features before Samsung executives took the stage to detail them. The Galaxy Note 3, as expected, was and still is a powerful smartphone capable of handling a variety of tasks including gaming, multitasking and more.
It was the same old routine. Rumors leak out, they firm up over the course of the year, we see features get all but confirmed ahead of time, and then Samsung announces the device on stage confirming rumors and setting release dates. It's what consumers have come to expect from the yearly smartphone cycle.
So, it should come as no surprise that we're seeing a repeat of things inside 2014. Already, we've heard a ton about the Samsung Galaxy Note 4, a device that is expected to compete with the likes of the iPhone 6, Nexus 6, Galaxy S5, and more. Some of these Galaxy Note 4 leaks have been intentional as Samsung helps to set consumer expectations. The origin of many other Galaxy Note 4 rumors is unknown.
Here, we take at what we know so far.
Samsung Galaxy Note 4 Display
It's still early in the ballgame which means that some Galaxy Note 4 details remain out of reach. One of those details is the Galaxy Note 4's display size. We still aren't sure how large the Galaxy Note 4 display is going to be.
Over the years, Samsung has gradually increased the size of the Galaxy Note's display. The first Galaxy Note emerged with a 5.3-inch display. The Galaxy Note 2 debuted with a 5.5-inch display and last year's Galaxy Note 3, a massive 5.7-inch Super AMOLED display that is one of the biggest, and best, on the market.
With the Galaxy S5 display still sitting down at five or so inches, it could be that the Galaxy Note 4 display remains in and around the same size. If Samsung were to go any bigger, it could potentially alienate consumers, something that it probably won't want to do in a year that could see the iPhone sprout up to 4.7-inches and 5.5-inches.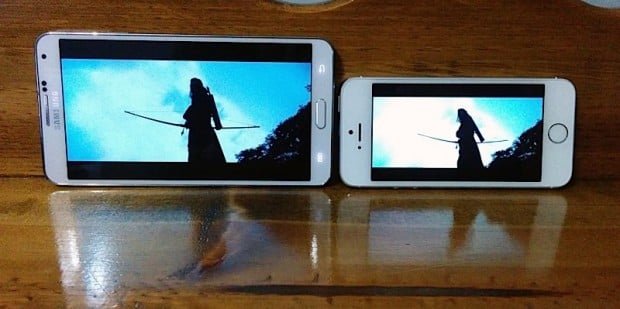 There are some Galaxy Note 4 display rumors out there though. Reports suggest that Samsung is at least considering a QHD display for the Galaxy Note 4. QHD display resolution translates to 2560 x 1440 resolution and it means sharper looking on-screen content. QHD resolution is rumored to be on board the LG G3 and Samsung's Galaxy S5 Prime but it's not rumored to be coming with Apple's iPhone 6.
One of the more tantalizing Galaxy Note 4 rumors pertains to the display type. While the Galaxy S and Galaxy Note series have both stuck to straight-forward AMOLED displays in the past, it could be that the Galaxy Note 4 changes the game.
For years, Samsung has been teasing its Youm flexible display technology. Problem is, we still haven't seen it land on board a flagship device. It's clear that companies are pushing toward flexible displays and rumors suggest that the Galaxy Note 4 could potentially be the first flagship with the technology on board.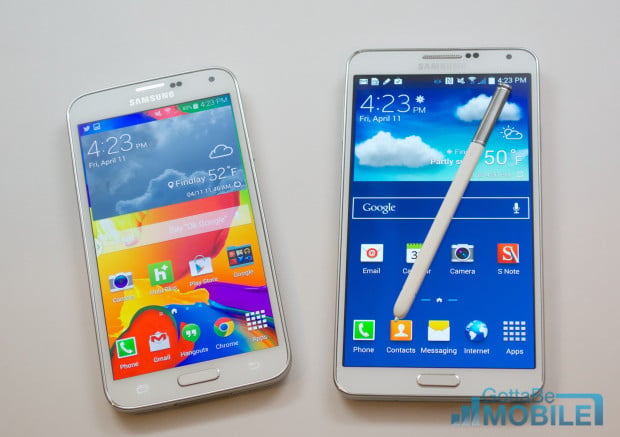 Back in January, a Samsung executive told Bloomberg that the Galaxy Note 4 could come with a new display type that would allow for better viewing angles. Since then, a series of Galaxy Note 4 rumors have pointed to a "bent" three-sided display. Recent patent filings show new form factors that Samsung could be toying with but they don't confirm the look of the Galaxy Note 4 itself.
A recent report suggested that this feature was still in play for the Galaxy Note 4 but as we've come to learn with Samsung devices, these high-end features often get left behind.
For months, the Galaxy S5 was rumored to have a QHD display. And according to a report from SamMobile, the feature was in play for awhile before Samsung ultimately dropped it. In other words, while it may be investigating a "bent" display for the Galaxy Note 4, there is a good chance that it won't come with one.
Samsung Galaxy Note 4 Design
Samsung itself has stoked the fire though. Yoon Han-kil, senior vice president of Samsung's product strategy team, recently told Reuters that the Galaxy Note 4 will be coming with a "new form factor" when it arrives later on this year. There was no elaboration but rumors suggest that Samsung is considering a few different changes.
One report claims that the Galaxy Note 4 will come with an IP67 certification, just like the Samsung Galaxy S5. If true, it means that it will be dust and water resistant, something that the iPhone doesn't have.
The other change is the rumored three-sided display. While one set of patent filings shows a drastic design change from the Galaxy Note 3 and Galaxy S5, an earlier one shows a much more subtle design change that would also incorporate a curved, flexible display. The photo below, based on another filing, offers a realistic take on what the Galaxy Note 4 could possibly look like.
An early Galaxy Note 4 rumor pointed to the inclusion of a fingerprint reader, something that the Galaxy S5 has embedded inside of its home button. This seems likely now that the Galaxy S5 has been equipped with one.
Samsung is known for keeping its designs under lock and key until launch day. What this means is that while these rumors may look and sound good, there is a chance that the real Samsung Galaxy Note 4 design will remain in the shadows until sometime in the fall. Tales of a "new form factor" could be accurate but it also could be Samsung making sure that the Galaxy Note 4 doesn't get lost amongst the iPhone 6 and LG G3 rumors.
Samsung Galaxy Note 4 Specs
We haven't heard anything about the Samsung Galaxy Note 4 camera just yet but we have heard some whispers about other specifications that could be in Samsung's plans.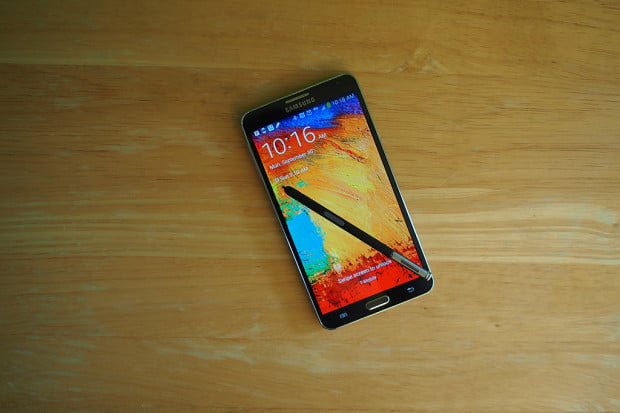 First, the device's specs are said to possibly include LTE-Advanced for faster data speeds. LTE-A offers faster data speeds for compatible devices but it also requires networks to offer the capability. U.S. carriers have been slow to adopt the new technology though Verizon plans to deploy LTE-A by the middle of 2014.
To compete with the iPhone 5s and rumored iPhone 6, the Galaxy Note 4 could come with a 64-bit processor. 64-bit processors can handle more memory than 32-bit processors, something that is important for high-performance devices like the Samsung Galaxy Note.
Samsung Galaxy Note 4 Launch Date
Back at CES in January, Dennis Miloseski, head of studio for Samsung Design America, told Ina Fried of Recode that the next Galaxy Note would arrive in the fall, just like the three previous versions of the Galaxy Note. He also mentioned that the Galaxy S5 launch would take place in the spring, which it did, and that it would arrive alongside new wearables. The Galaxy S5 launched alongside the Gear Fit and Gear 2.
A new report from Business Korea echoes Miloseski's stance and states that Samsung is working on a Google Glass competitor for the fall. It claims that the company is hoping to have it ready by IFA 2014.
This is important one, because it backs up credible information from a Samsung executive. Two, it mirrors every Samsung Galaxy Note 4 launch and release rumor that we've seen emerge in 2014. And three, it lines up with Samsung's history of Galaxy Note launches.
The company historically has used the IFA trade show in Berlin, Germany to launch its Galaxy Note and rumors suggest that it's at least considering the event for the Galaxy Note 4 launch. Last year's Samsung Galaxy Note 3 arrived at IFA, just a few days before Apple's iPhone 5s launch. IFA 2014 kicks off on September 5th and prospective buyers will want to circle that date in pencil.
As for the release date, Samsung usually releases a device three to four weeks after the announcement date. What this means is that Samsung Galaxy Note 4 may not hit shelves until September or October.
Samsung Galaxy Note 4 Competitors
Over the years, we've seen companies try and compete with Samsung's Galaxy Note series. Devices like the LG Intuition failed but we've seen some recent success with smartphones like the LG G Pro 2. This year, rumors suggest that Samsung could be dealing with competition unlike anything that it has ever seen.
In just a few weeks, the LG G3 will emerge. The LG G3 is expected to feature a 5.5-inch QHD display and a number of bells and whistles that may it a worthy opponent to the Galaxy Note 4 and really any other smartphone on the market.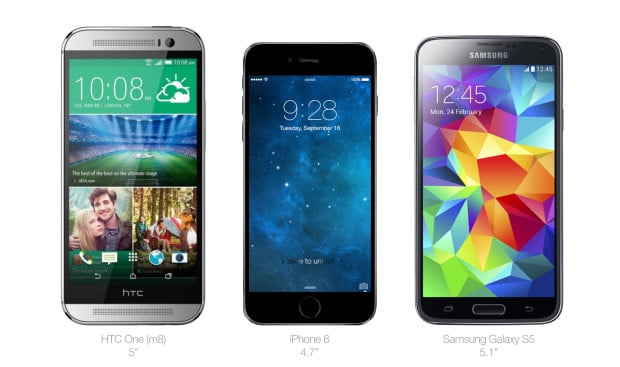 Later in the year, we're expecting an HTC One M8 Prime, a follow up to the HTC One Max. And we're also expecting the iPhone 6 to make a jump up to 4.7-inches and perhaps, 5.5-inches as well. The iPhone 6 release date is rumored for September and it could be that it, and the Galaxy Note 4, arrive in the United States around the same time.
And let's not forget about the rumored Nexus 6. The device is expected to debut in the second half of the year and take after the LG G3. Google's Nexus devices are always enticing given that they come with vanilla Android software, fast updates and cheap unlocked price tags.

This article may contain affiliate links. Click here for more details.