Samsung Galaxy Note 4 Release Details Fall Into Place
One of the most important Samsung Galaxy Note 4 release details has fallen into place today as Samsung has all but confirmed Galaxy Note 4 rumors that put the device's launch inside of September.
Samsung Galaxy Note 4 rumors have swirled for months and in the past three weeks we've started to see details firm up around the Galaxy Note 4 specs and Galaxy Note 4 release date. Galaxy Note 4 rumors continue to hint at a powerful smartphone, capable of challenging the iPhone 6, and a release date that could potentially arrive in just a few weeks.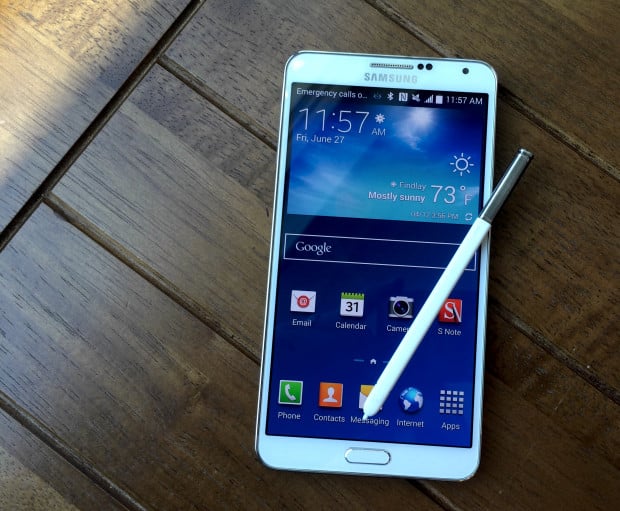 Today, Samsung appears to have all but confirmed the Galaxy Note 4 launch date, lending credibility to Galaxy Note 4 rumors with invitations to an Unpacked event on September 3rd in Berlin, Germany ahead of IFA 2014.
All along, the Galaxy Note 4 launch date has been rumored for September. Last week, Galaxy Note 4 release rumors centered around an announcement on September 3rd ahead of the IFA 2014, the same event that Samsung has used to launch all three previous versions of the Galaxy Note. The Galaxy Note 3 arrived on September 4th in Berlin.
Samsung confirmed that it will be hosting an Unpacked event in Berlin, Germany on September 3rd. The company doesn't detail what it will be announcing only that it will be hosting an Unpacked event on that day. Samsung saves its Unpacked events for big name smartphone launches and given the rumors, it's clear that Samsung will probably use that date to launch the Samsung Galaxy Note 4.
SamMobile, the site that produced the invite from Samsung Netherlands, has since deleted its post. It appears that the company may have jumped the gun with its invite as the invitation does not look fake and includes names of PR officers within the company. International invites haven't gone live either, a sign that this invite may have come a little ahead of Samsung's global roll out.
Whatever the case, it's clear that Samsung is gearing up for an event on September 3rd and it's there that we'll likely find out all of the pertinent details regarding the Galaxy Note 4 and perhaps, the company's rumored Gear VR headset that's expected to emerge alongside the Samsung Galaxy Note 4 on stage at the show.
The invite emerges just a few short days after the Galaxy Note 4 model number showed up at a Korean carrier ahead of launch. Galaxy Note 4 release date rumors continue to suggest that Samsung is planning to push out the Galaxy Note 4 earlier than usual in an effort to better compete against Apple's iPhone 6, also expected to arrive in September.
A specific Galaxy Note 4 release date hasn't been nailed down, and this listing does nothing to clear it up, but all signs point to a release before the month of September is over.
Galaxy Note 4 specs continue to converge as well. Galaxy Note 4 features will apparently trump the hardware on the Galaxy S5. The device is rumored to be coming in both flat and curved models with the curved version of the Galaxy Note 4 is expected to be produced in limited quantities. Both are expected to feature a 5.7-inch QHD display.
Samsung's brand new Galaxy Note is also expected to have a UV sensor, Qualcomm processors with support for advanced LTE, and perhaps, a metal frame. Galaxy Note 4 design rumors have remained fairly scarce up to this point though rumors have continued to point to the inclusion of metal material, something that could also help it compete wit the iPhone 6 which is expected to be made out of aluminum.
The Samsung Galaxy Note 4 is rumored to be coming to AT&T, Sprint, T-Mobile, and Verizon in the United States. All four carriers, along with U.S. Cellular, carried the Galaxy Note 3 and Galaxy Note 2 and appear to be among the carriers in line to offer the Galaxy Note 4 ahead of the holidays and ahead of Black Friday in November.