Samsung Galaxy Note 4 Release May Bring Surprise to Battle iPhone 6
The Samsung Galaxy Note 4 may not be the only device Samsung uses to battle the iPhone 6 release.
For months, rumors have pointed to the arrival of a high-end Samsung Galaxy S5 Prime, a device that could sport a number of premium specifications including a QHD display and a metal design. Galaxy S5 Prime release date rumors have all pointed to an arrival in June but new information suggests that the device, also known as the Galaxy F, could arrive in September.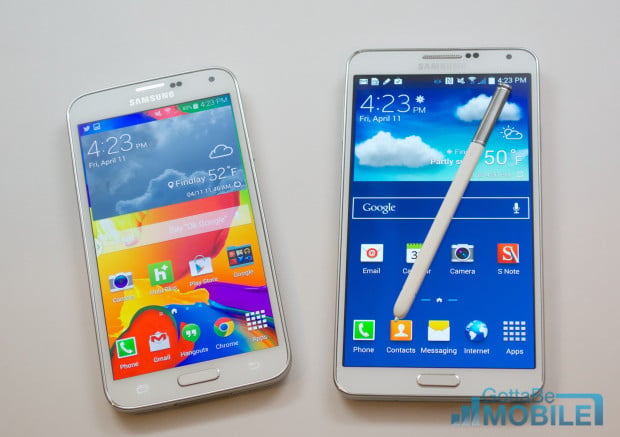 Evan "evleaks" Blass, a man with a solid track record, claims that the Galaxy F launch could come in September. This throws a new twist into Galaxy S5 Prime release rumors and it means that there is a good chance that Samsung could use another big launch to promote its brand new flagship smartphone.
Samsung Galaxy Note 4 rumors point to a launch in September, right around the start of IFA 2014. Samsung, for the past three years, has used IFA to announce its Galaxy Note, a device that it has paired with the Galaxy S to battle the likes of the HTC One, LG G series and Apple's iPhone. Galaxy Note 4 launch date rumors have pointed to September 3rd though that remains unconfirmed.
While nothing is confirmed yet, it appears that Samsung could be cooking up a two-pronged attack against the rumored iPhone 6. Apple's iPhone 6 is also expected to debut in September and could come in two models, a 4.7-inch iPhone 6 and a 5.5-inch iPhone 6, the latter a device that would be aimed squarely at the Galaxy Note 4.
Samsung Galaxy S5 Prime rumors have been swirling for months now and they depict a smartphone that could not only compete with an iPhone 6 but with the upcoming LG G3 as well. The Galaxy S5 Prime, like the iPhone, is rumored to have a metal design. A recent photo, also from evleaks, shows what appears to be an unreleased Samsung smartphone with a premium design.
The Galaxy F (Galaxy S5 Prime) is also rumored to have a Quad HD display, something that LG tacked onto its latest flagship, the LG G3. The LG G3 is expected to be released in the United States in July though a specific date is not yet known.
We've heard that the Galaxy F launch might be limited in scope. Rumors suggest that it could be a limited release just like last year's Samsung Galaxy Round. Rumors have also pointed to a more expansive launch with Europe and North America mentioned as possible destinations.
The Samsung Galaxy Note 4 on the other hand is destined for a global launch. Galaxy Note 4 rumors point to an arrival on AT&T, Sprint, T-Mobile, U.S. Cellular, and Verizon Wireless. They also point to a release on Canadian carrier Bell. The Galaxy Note series typically launches on hundreds of carriers around the world and it would not be surprising to see the Galaxy Note 4 emerge on a global scale.
Samsung's Galaxy Note 4, and perhaps Galaxy F, will face stiff opposition this fall. The LG G3 will hit shelves this summer, Motorola is expected to show off the Moto X +1 in the weeks ahead and iPhone 6 rumors point to an arrival during the month of September. September 19th, the third Friday in September, has been pegged as a possible release date for the iPhone 6 but that remains unconfirmed.
iPhone 6 rumors suggest that Apple, much like Samsung, could launch a two-pronged attack in 2014. The iPhone 6 is expected to be available in two different sizes and come with a number of premium upgrades including a slim redesign, high resolution display, improved camera with image stabilization, an A8 64-bit processor, and more.

As an Amazon Associate I earn from qualifying purchases.