New Samsung Galaxy Note 4 Rumor Breakdown
As we push deeper into the year, we're starting to hear a lot more about Samsung's supposed plans for the Galaxy Note series. Samsung Galaxy Note 4 rumors continue to swell to the point that several Galaxy Note 4 specs are already all but confirmed. With details swirling and the fall fast approaching, we want to take a look at what we know so far about the smartphone that will likely replace the Samsung Galaxy Note 3 and battle Apple's iPhone 6.
For the past three years, Samsung has released two flagship smartphones including its Galaxy S flagship and the Galaxy Note, its large screen model that was once viewed as a niche device but has pushed its way into the mainstream. This year, we've already seen Samsung play one of the cards from its hand, the Galaxy S5, a flagship that delivered a number of high-end features in an effort to keep pace with HTC, Apple and LG.
Later this year, the company will likely play the other, a new Galaxy Note that some are calling the Samsung Galaxy Note 4 given that it would represent the fourth-generation of the series.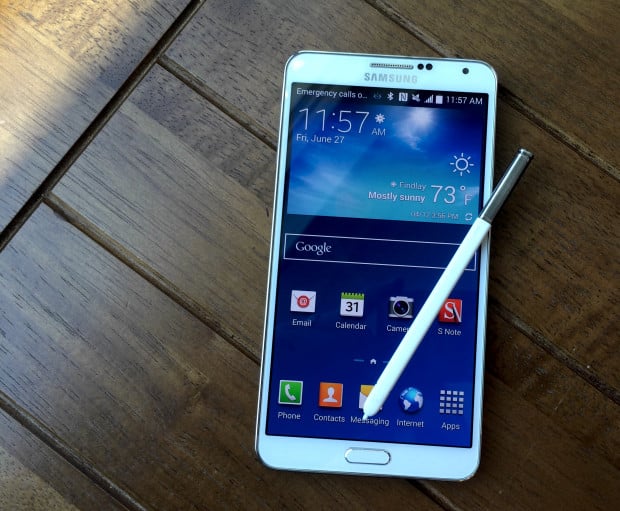 The Samsung Galaxy Note 4 is still very much a rumored smartphone though the device is, as of right now, all but confirmed. Unless something drastic happens in testing, we should see a brand new Galaxy Note arrive later this year, ahead of the holiday shopping season.
In the past few months, Samsung Galaxy Note 4 rumors have started to heat up and we've started to see rumors line up with one another, a sign that Samsung is finalizing pieces of the device and that we're getting closer to the device's launch date.
As we march towards the fall, it's important that consumers are armed with the most credible, up-t0-date information available so that they're prepared once the device arrives on shelves. And if Galaxy Note 4 rumors are accurate, there may only be a few days between launch and release so preparing early might be more important than usual.
Here, we want to breakdown these Samsung Galaxy Note 4 rumors and take a look at what we know and what we think we know about Samsung's Next Big Thing, all in an effort to help prepare you for launch.
Samsung Galaxy Note 4 Launch Date All but Confirmed
In January, a Samsung executive let the cat out of the bag. He said that the Galaxy S5 would launch alongside new wearables in the spring (it did) and that the new Samsung Galaxy Note would launch in the fall in its usual slot.
The timing made a whole lot of sense. Samsung's last three Galaxy Notes, the only Galaxy Notes the company has ever launched, all were announced in Berlin, Germany during the IFA trade show. IFA 2014 is set to kick off on September 5th, perfect for a Samsung Galaxy Note 4 launch date.
In fact, just about every rumor, every whisper that we've seen has pointed at IFA 2014 for the Galaxy Note 4's Unpacked event. Over and over, we're seen rumors point to September with the latest coming from a SamMobile report that puts the Galaxy Note 4 at IFA with a brand new VR headset, expected to be called Gear VR.
Android Geeks, the site that accurately leaked last year's Galaxy Note 3 launch date, claims that the Samsung Galaxy Note 4 will launch on September 3rd, two days before the start of IFA. Of course, the exact date isn't important here. What's important is the window and all signs are pointing to a window that spans across five days: September 1st, September 2nd, September 3rd, September 4th, and September 5th.
At this point, we're fairly certain that Samsung is planning to push a number of devices live somewhere in the span and one of them should be a brand new Samsung Galaxy Note 4. There's just too much evidence and too much history here to expect anything else.
We expect Samsung to confirm the date with invitations to an Unpacked event. Look for those invitations to get sent out at some point within the next seven weeks or so.
Galaxy Note 4 Release Date
With a Samsung Galaxy Note 4 launch date all but confirmed for IFA 2014 in September, we can make some pretty educated guesses about the device's release date. Over the years, Samsung has been able to shorten the gap between launch and release. For example, the Galaxy Note 3 arrived on shelves just about three weeks after it was announced on stage. The Galaxy S5? About four weeks after it arrived.
So, it's hard to imagine a Samsung Galaxy Note 4 release date that lags far behind its launch. In other words, late September, October and at the very latest, November, all are possibilities.
Now, a recent report out of Korea suggests that production on the Galaxy Note 4 will start in July. This early production could perhaps lead to a release date soon after the device's launch in September. A specific Galaxy Note 4 release date has not been rumored just yet but it's clear to us that Samsung is aiming to get this device out on shelves as fast as it possibly can.
Maybe the biggest incentive for that is the iPhone 6 release that is heavily rumored for September. The iPhone 6, like the Galaxy Note 4, is rumored to have a large display.
Familiar Destinations
The Samsung Galaxy Note 4 is rumored for arrival on all five major U.S. carriers which includes AT&T, Sprint, T-Mobile, U.S. Cellular, Verizon. This rumor is believable for a few reasons.
First, it comes from evleaks. Evan Blass has a solid track record with smartphone leaks and while he isn't right all the time, he is right most of the time. Second, this is how the Galaxy Note series has always rolled. While it's no longer a niche device, it has never spread out to smaller pre-paid or regional carriers. It has always stuck to major ones. Could be cost, could be lack of demand, who knows.
Samsung could throw us a curveball here but at the very least, expect the usual suspects to be peddling their wares once the Samsung Galaxy Note 4 is announced later this year.
Upgraded Display
Rumor has it, the Samsung Galaxy Note 4 will feature a 5.7-inch QHD display and here's the evidence.
A recent shipping manifest from Zauba, discovered by SamMobile, appears to confirm the 5.7-inch screen size of the Galaxy Note 4′s display. Furthermore, a User Agent Profile string for a SM-N910A, presumed to be the AT&T version of the Galaxy Note 4, recently showed up on Samsung's website with a QHD display on board. Now, for the grand finale.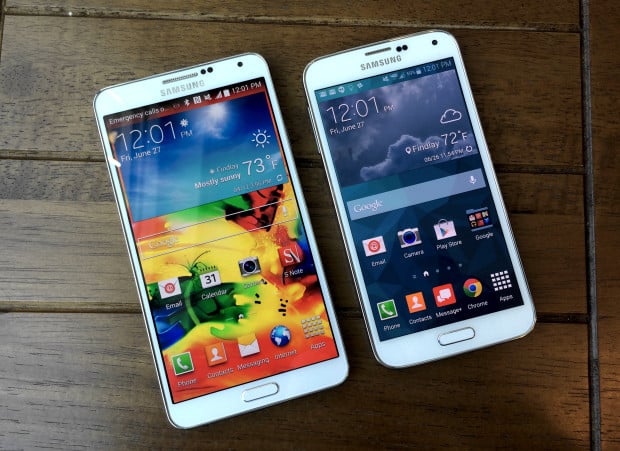 Samsung recently installed a QHD display on a Korean variant of the Galaxy S5. The company is so excited about the display that it recently issued a lengthy blog post trumpeting the benefits of the new technology and how it's superior to the regular old full HD display on the regular Samsung Galaxy S5. Yup, it inadvertently dissed its own flagship.
As we noted in our LG G3 review, the addition of a QHD display would bring some noticeable improvements to the table, primarily for games, movies and reading. It's more than just marketing and the video below will give you some idea about how a QHD display would work on the Galaxy Note 4.
Nothing is confirmed of course but given that it has harnessed the technology, given that LG has installed one on its flagship LG G3, given that it needs an edge on a larger screen iPhone 6, given all of the rumors that point in that direction, there is a very good chance that the Galaxy Note 4 will have a QHD resolution display.
Design Changes
Samsung always introduces design changes to its Galaxy Note and Galaxy S series. It's not like Apple which issues a redesign every two years. Samsung is always fiddling with its designs. That's why it hasn't been surprising to see rumors point to several changes to the Galaxy Note 4's design.
Galaxy Note 4 rumors point to two major changes to the design, both of which are found on the Galaxy S5. First a fingerprint sensor for added security and convenience and an IP67 certification which would make it water and dust resistant like the Galaxy S5 design. Both of these features make a lot of sense, especially the fingerprint reader. (The iPhone 6 is rumored to have Touch ID.)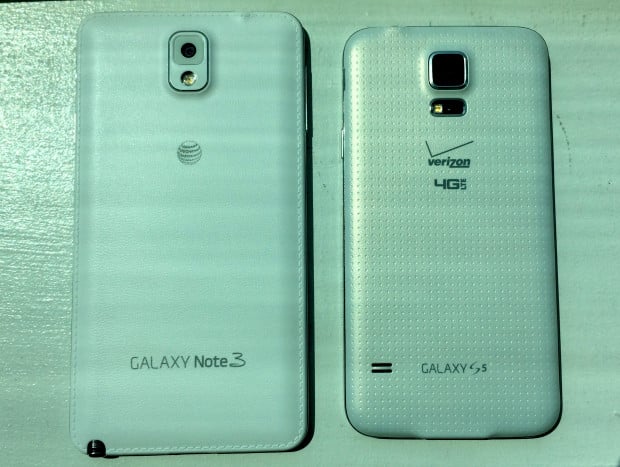 The reliable evleaks also says that the Galaxy Note 4 will come in the same four colors as the Galaxy S5. That means gold, white, blue, and black. Like these two other rumors, this makes sense given that all four are mainstream options.
For the moment, these are the only features that we feel comfortable discussing at length. There is talk of a three-sided display that could lead to a "new form factor" but we're not convinced that tit will be the version that lands for consumers around the world. Those hoping for something crazy will want to temper their expectations, for now.
Remember, Samsung is known for keeping its designs under lock and key in the buildup to launch. So while we might see some other potential features leak, the design spec sheet is going to be extremely short.
Powerful Specs
The Galaxy Note series is always amongst the most powerful in terms of battery life and in terms of performance and Galaxy Note 4 rumors are indeed pointing to another extremely powerful addition to Samsung's Galaxy lineup.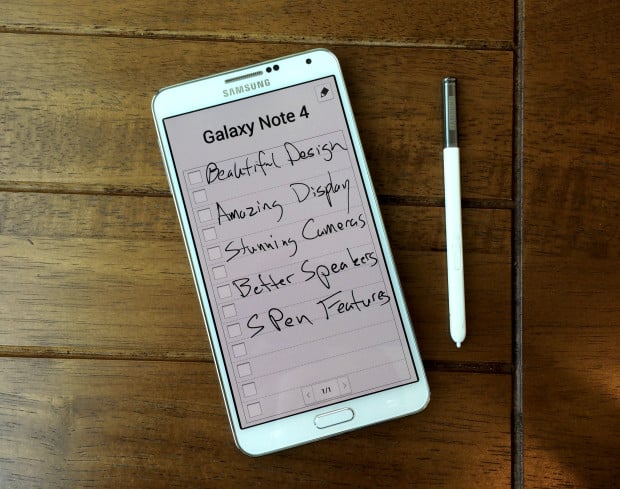 Galaxy Note 4 rumors point to upgrades in the areas that Samsung always upgrades:
A new camera that's between 12MP and 20MP and that comes with Optical Image Stabilization. A change here makes sense given how far camera tech has come since last year and given that it needs to keep pace with the competition including the Galaxy S5.
A new processor that is said to either be a Qualcomm or a Snapdragon chip. Evleaks believes that the chip will be 64-bit. So perhaps we could see a Snapdragon 805 and a 64-bit processor elsewhere. Samsung says it will announce a new chip tomorrow, so perhaps we'll see the Galaxy Note 4's processor arrive early. Either way, expect something new here.
32GB of storage space was rumored for arrival a long time ago and there is no reason to think that we'll see Samsung offer a number of different storage sizes.
Tons of sensors including a UV sensor.
New Software
So, we've painted a fairly clear picture of what to expect from a hardware standpoint. What about software? Well, we fully expect the Galaxy Note 4 to run the latest version of Android. Whether that's Android 4.4.4 KitKat or Android L, we can't be sure.
Whatever the case may be, the Galaxy Note 4′s software will likely look and perform differently than the software that's on the Samsung Galaxy Note 3. Here is a list of four possible features we might see on the Galaxy Note 4:
Smart Fingerprint –  It wasn't fully detailed but it's assumed that it has something to do with being able to customize a fingerprint reader for certain actions.
Multi Network for Booster –  Could be similar to the Download Booster feature on the Galaxy S5 that combines Wi-Fi and cellular data for faster download speeds.
Swipe to Launch Motion Launcher –  Could be similar to Motion Launch on the HTC One M8.
Aqua Capture – Possibly similar to the Aqua Mode found on the Samsung Galaxy S4 Active. Aqua Mode allowed Galaxy S4 Active users to take photos underwater.

This article may contain affiliate links. Click here for more details.