Galaxy Note 4 Rumor Roundup: Everything We Think We Know
The Samsung Galaxy Note 4 rumor mill has been extremely active this week hinting at everything from the rumored device's launch date to its display type to the exact camera sensor Samsung will apparently use in its Galaxy Note 3 successor. With Samsung Galaxy Note 4 rumors flying around and specs and dates firming up, we want to take a look at everything we know so far about one of the top rumored smartphone of the year.
Samsung's Galaxy Note 4 is rumored to be its successor to the Galaxy Note 3, a device that replaced the Galaxy Note 2 on shelves at the tail end of last year. For months, rumors have pinpointed Galaxy Note 4 specs, its supposed launch date, even the devices that will supposedly emerge alongside Samsung's Next Big Thing.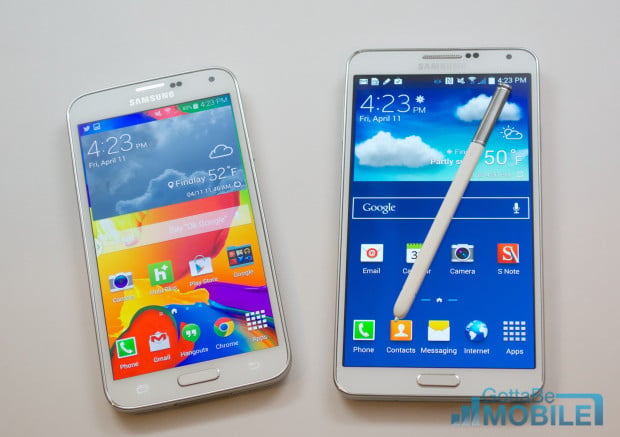 In recent weeks, we've started to see Galaxy Note 4 rumors firm up as we push deeper into the year towards the fall. Rumors that were at one point extremely vague have started to become more specific. Features like the screen resolution, camera components and the device's exact launch date have been thrown around, teasing those in the market for a new device.
Keeping track of all the latest Galaxy Note 4 rumors is no easy task. The volume of these rumors can be overwhelming, even to those that follow along on a daily basis. Well, we've been keeping tabs on the Galaxy Note 4 and its quest towards launch and here, we roundup all of the latest, and most credible, Samsung Galaxy Note 4 rumors.
Design
Samsung executives and Galaxy Note 4 rumors continue to tease a brand new Galaxy Note 4 form factor. Several times we've heard that Samsung is trying to put a curved or bent display on its Galaxy Note 4. Samsung's flexible display technology, known as Youm, has been around for years but the company still hasn't been able to put it on a mass produced device. And according the most recent round of Galaxy Note 4 rumors, it still may not be ready for prime time.
Before we get to that though, you must understand how this works. Companies like Samsung and Apple test several prototypes behind the scenes. Specs from these prototypes leak out and sometimes, but not all the time, these rumored features emerge on the final version. We say not all the time because companies often strip out features that aren't ready for mass production.
So, back to the Samsung Galaxy Note 4 rumors. While rumors have pointed to "new form factor" with a new display type, officials have also cautioned that the design isn't final and that it may not make it to the final version.
Cue, this week's report from The Korea Herald. The report suggests that we could see two Galaxy Note 4 models shown off on stage. One Galaxy Note 4 is said to have a flat OLED display and the other Galaxy Note 4 variant is said to have a curved OLED display. The flat model is rumored for the mass market while the other could come to select markets. (Read: Korea.)
In other words, while Samsung might be trying to equip the Galaxy Note 4 with some pretty special technology, there is no guarantee that the mass produced model will have it on board. Samsung keeps its designs under lock and key which means that we may not what the Galaxy Note 4 looks like until Samsung takes the stage.
Rumors continue to point to a fingerprint sensor, something that firmed up this week thanks to the arrival of the Galaxy Tab S. Samsung's new ultra slim tablets come with a fingerprint sensor. And finally, we've heard that the device will be dust and water resistant like the Samsung Galaxy S5. Rivals like the LG G3 require a case for those capabilities.
Specs
The company manages to keep the design under lock and key but that doesn't mean that it's able to keep the entire device shrouded in secrecy. No, Samsung devices have a habit of leaking profusely ahead of launch and the Galaxy Note 4 has been no different.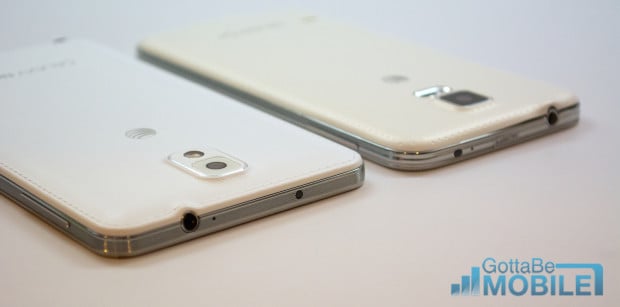 Here's what we think we know so far. We think we know that the Samsung Galaxy Note 4 will come with a 5.7-inch QHD display. That's the same size screen as the Galaxy Note 3 with higher Quad HD resolution for crisp, sharper content. The Galaxy Note is known for its spacious screen real estate which makes it perfect for gaming and the device's bundled S Pen stylus.
It's rumored to have a speedy Qualcomm Snapdragon 805 processor which comes loaded with specifications including an Adreno 420 GPU which Qualcomm says comes "with up to 40% graphics and compute performance improvement over its predecessor" and "enables support for advanced console quality gaming and smooth UIs on Ultra HD displays." Sounds perfect for a device like the Galaxy Note 4.
SamMobile claims that the device will sport a 16MP Sony sensor with Optical Image Stabilization, an upgrade from the camera found on the Galaxy S5. There was never really any question about if Samsung would upgrade the camera, the question was whether or not it would be any different than the Galaxy S5 camera. At the moment, OIS appears to be a possible standout.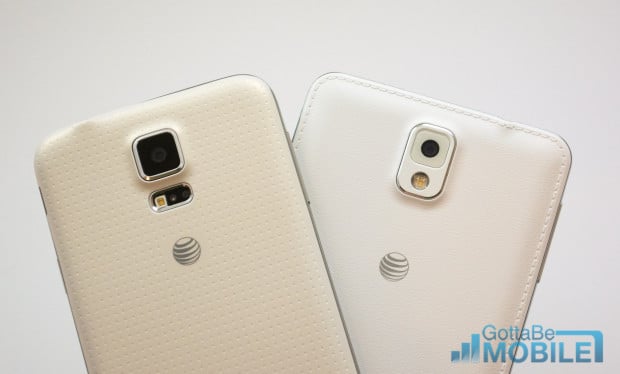 These all sound plausible but remember, with a launch several months out, we could see Samsung cut features and swap specifications out as it sees fit. Overall though, the Galaxy Note 4 should be one powerful device.
Android 4.4.3 KitKat Or…
Samsung always outfits its flagships with the latest Android software and for the Galaxy Note 4 that could mean the new Android 4.4.3 KitKat update or whatever comes next perhaps Android 4.5 or Android 5.0.
Android 4.5 and Android 5.0 rumors have picked up thanks to Nexus 8 rumors and a curious tease from Google. That said, neither update has been confirmed and rumors are scarce.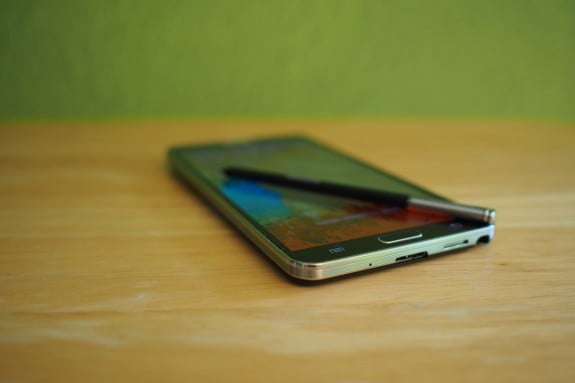 What we have heard is that whatever version of Android the Galaxy Note 4 is running should be backed by powerful features created by Samsung itself. Here is a list of four possible features we might see on the Galaxy Note 4:
Smart Fingerprint –  It wasn't fully detailed but it's assumed that it has something to do with being able to customize a fingerprint reader for certain actions.
Multi Network for Booster –  Could be similar to the Download Booster feature on the Galaxy S5 that combines Wi-Fi and cellular data for faster download speeds.
Swipe to Launch Motion Launcher –  Could be similar to Motion Launch on the HTC One M8.
Aqua Capture – Possibly similar to the Aqua Mode found on the Samsung Galaxy S4 Active. Aqua Mode allowed Galaxy S4 Active users to take photos underwater.
When is the Galaxy Note 4 Release Date?
The all important question. Well, all signs are pointing to a launch in and around IFA 2014. We've heard September 3rd thrown around and that's close to IFA's September 5th start date. At this point, given all of the rumors and the fact that Samsung executives have pointed to the fall, it's hard to imagine a Galaxy Note launch outside of IFA in Berlin. So go ahead and mark it on the calendar, in pencil.
Samsung is expected to announce a number of new products alongside the Galaxy Note 4. A new Gear smartwatch, a Google Glass competitor, new OLED TVs, and home automation are all said to be a part of the show.
As for the release date, well, we don't know. Samsung has over the years tightened things up and release dates usually come three to four weeks after a launch. So we're looking at either September or October for a release, right around the time Apple releases the iPhone 6.
Rumor has it, it'll be available on the same carriers the Galaxy Note is always available on: AT&T, Sprint, T-Mobile, U.S. Cellular, and Verizon Wireless.

This article may contain affiliate links. Click here for more details.