Samsung Galaxy Note 4 Specs Leak Details Display, Camera & More
New Samsung Galaxy Note 4 details have emerged thanks to a massive leak that exposes everything from the Galaxy Note 4's alleged carriers to the supposed camera sensor that Samsung will apparently install on board the device that's expected to replace the current Galaxy Note 3 later on this year.
For weeks now, we've heard tales about a Galaxy Note 3 successor currently known as the Samsung Galaxy Note 4. Samsung executives have talked the device up and we've seen Galaxy Note 4 rumors attempt to expose its key features ahead of a launch date that appears destined for sometime in the fall.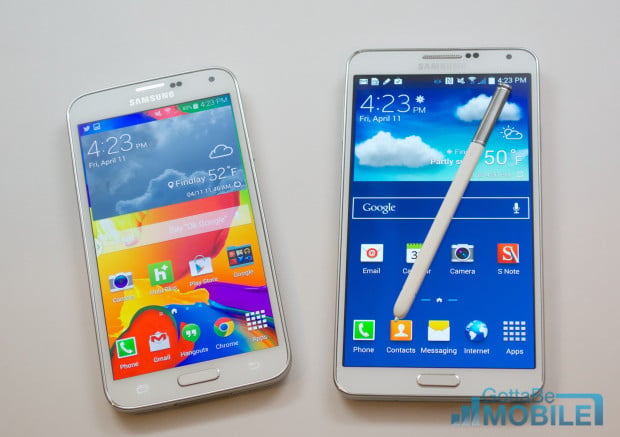 Today, a new report from SamMobile claims to detail a great number of Galaxy Note 4 details including information about its processor, its display, its carrier destinations, and its camera among other things. While the Galaxy Note 4 remains in the shadows, the site employs a solid track record and this information should be considered credible.
According to the information, the Galaxy Note 4 is, in fact, the N910 device that the well known evleaks leaked out several weeks ago. evleaks noted that the N910 would be coming to all five major U.S. carriers and that it would be arriving on Bell in Canada as well. He also suggested that the device would come with 32GB of storage space.
This new information suggests a similar launch. The report claims that the device will come to AT&T, Sprint, T-Mobile, U.S. Cellular, and Verizon in the United States and that it will come to a number of carriers outside the U.S. as well. Proposed international carriers include SK Telecom in Korea, NTT DoCoMo in Japan and China Mobile in China.
As for the Galaxy Note 4 itself, the report claims that the new Galaxy Note will come with a Snapdragon 805 processor from Qualcomm for the North American market and several markets abroad including Japan. Carriers outside of North America, Korea, Japan, and China will supposedly get a Exynos 5433 SoC from Samsung. It will supposedly come with Intel's XMM7260 Cat. 6 modem on board.
The Samsung Galaxy Note 4 will also reportedly have a QHD display, something that early rumors suggested would be on board, and it will apparently be in possession of the same sensors found on the Galaxy S5. It's expected to also include a UV sensor, something that the Galaxy S5 does not have.
While the front-facing camera will evidently be similar to the 2MP camera found on the Galaxy S5, the Galaxy Note 4's camera is rumored to be a 16MP OIS camera from Sony known as the IMX240. The camera sensor is not yet official.
Nothing is set in stone and likely won't be until Samsung takes the stage later this year and shows off the Samsung Galaxy Note 4. Galaxy Note 4 rumors point to an arrival in the fall, perhaps around IFA 2014 in Berlin, Germany in September, with September 3rd pegged as a possible launch date for the new smartphone.
The Galaxy Note 4 may not be alone. The device is expected to debut alongside new wearables and rumors point to the arrival of a new Gear 3 smartwatch and or a Samsung Google Glass competitor. The new Gear 3 would likely be aimed directly at the iWatch that Apple is expected to launch later on this year.
Rumors also point to the debut of the Samsung Galaxy S5 Prime, also known as the Samsung Galaxy F, in September. SamMobile claims that the device, while real, will only be headed to carriers in Korea and will be doing so with a number of high-end specs including a QHD display and new camera sensor.
The Galaxy F is also thought to have a metal design, something that the Samsung Galaxy S5 does not have.