Samsung Galaxy Note 4 Specs Firm Up
With the Samsung Galaxy Note 4 release confirmed and a release date just over the horizon, it's not surprising to see Galaxy Note 4 specs continue to firm up as Samsung makes it final preparations for launch.
As we get closer to the fall and the month of September, we're starting to see Samsung Galaxy Note 4 details fall into place. First, it was the Galaxy Note 4 launch date. And now, we're starting to get a better read on the Galaxy Note 4 specs and the elusive Galaxy Note 4 release date that's widely expected to fall in the month of September.
In the past two weeks, we've heard quite a bit about the Galaxy Note 4's supposed list of specs and today, new AnTuTu benchmarks have emerged, benchmarks that align with previous Galaxy Note 4 spec leaks.
These new alleged Galaxy Note 4 AnTuTu benchmarks showcase two known Galaxy Note 4 variants, the SM-N910C and the SM-N910S. The benchmarks show off some of the Galaxy Note 4's rumored specs including a Qualcomm Snapdragon 805 processor with Adreno 420 GPU as well as Samsung's Exynos 5433 octa-core processor. Both of these chips are heavily rumored to be on board the Galaxy Note 4 and these benchmarks simply help to all but confirm those rumors.
Samsung is well known for using two different processors inside some of its flagship Galaxy smartphones and it appears that the Galaxy Note 4 will continue this tradition. Both variants are expected to be powerful additions to the Galaxy Note family and these benchmarks show two devices that are set to offer a ton of firepower.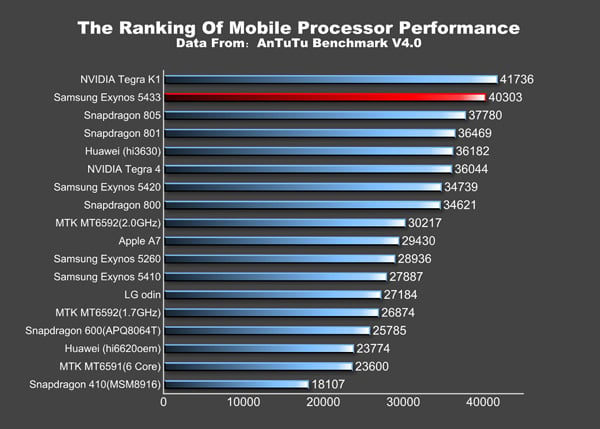 At this point, the Snapdragon 805 appears to be the prime candidate for the United States. Qualcomm's Snapdragon 805 is one of its latest processing chips and it's will provide a pretty big boost for a device like the Galaxy Note 4, a device that has a focus on multitasking, gaming, and the stylus.
This new processor is exciting for a number of reasons. First, it will provide better graphics for gaming. Here, Qualcomm explains the benefits of the Snapdragon 805′s Graphics Processing Unit (GPU):
The new Adreno 420 GPU in the Snapdragon 805 processor is the first commercial mobile GPU to introduce hardware tessellation and geometry shaders, which provide greater detail for visually stunning, realistic scenes and objects in a manner that requires less memory bandwidth and lower power consumption.
Recent Galaxy Note 4 benchmarks also pointed to the arrival of a new 16MP camera sensor. Rumors suggest that it will come complete with auto-focus, dual-LED flash and Optical Image Stabilization or OIS. OIS is a feature that's currently found on top devices like the Nexus 5 and LG G3 but it's a feature that still hasn't been implemented into Samsung's flagships.
Galaxy Note 4 specs are also expected to include a 5.7-inch QHD display, a brand new design that could incorporate metal and perhaps a three-sided display, and a ton of internal storage.
The Samsung Galaxy Note 4′s features will likely be confirmed on September 3rd when the company takes the stage in Berlin to announce its brand new Galaxy Note 4. It's there that we will also see Samsung confirm the other missing piece to the puzzle, the Galaxy Note 4 release date.
Galaxy Note 4 release date rumors have continued to point to a quick arrival in an effort to take on the iPhone 6. Rumors have singled out the week of September 15th as a possible release window for the Galaxy Note 4 though that remains unconfirmed. By comparison, last year's Galaxy Note 3 launched September 4th and was released on September 25th.
Samsung is clearly focused in on battling the iPhone 6, Apple's new flagship. The iPhone 6 is expected to feature two larger display sizes and a release date in September. September 19th has been pegged as a probable release date through that date, like the Samsung Galaxy Note 4 release date, remains unconfirmed at this point.

This article may contain affiliate links. Click here for more details.