Samsung Galaxy Note 4 Specs Keep Firming Up
Key Samsung Galaxy Note 4 specs continue to firm up ahead of the rumored Galaxy Note 4 release this fall.
For months, we've heard about Samsung's supposed successor to the Galaxy Note 3, a device that many have dubbed Samsung Galaxy Note 4. Over the course of past six months, Galaxy Note 4 rumors have leaked out at an increasingly rate of speed and this week alone has seen many supposed Galaxy Note 4 rumors leak to the surface.
Earlier this week we saw Galaxy Note 4 features start to firm up ahead of launch thanks to inside sources. Today, another Galaxy Note 4 specification has firmed up ahead of launch thanks to a new report.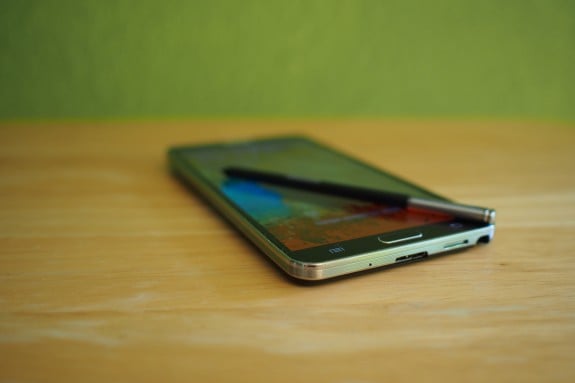 A report from The Korea Herald suggests that the Samsung Galaxy Note 4 will have a fingerprint reader on board when it arrives later on this year. The publication's source says that the company might be looking into area-type sensors instead of the swipe sensors that the company introduced on the Galaxy S5 and more recently on the new Samsung Galaxy Tab S.
This lines up with a report that suggests that Samsung's sensor supplier, Synaptics, would be introducing a smaller area-type scanner for smartphones and tablets later in the year.
Samsung's Galaxy S5 fingerprint reader has received mixed reviews. In our experience with it, it's simply not as reliable as the Touch ID fingerprint reader found on the iPhone 5s. Should Samsung shift to an area style fingerprint sensor, it would allow users to simply hold their fingertip over an area rather than having to swipe it to unlock the phone.
While the feature isn't confirmed for the Galaxy Note 4, it's clear that Samsung is looking to include a fingerprint sensor on its larger flagship smartphone. Last year, the company attempted to put a fingerprint sensor on the Galaxy Note 3 but it was forced to cut the specification before launch due to performance issues.
If Samsung does add a fingerprint reader to the Galaxy Note 4, the device will benefit from added security and an added sense of convenience. Unlocking a smartphone with one's fingertip is considered to be much easier than having to input a passcode.
A fingerprint reader isn't the only Galaxy Note 4 spec that's firmed up in June. Earlier this week, a report from SamMobile echoed earlier Galaxy Note 4 rumors when it stated that the device would be coming with a high-resolution QHD display (Quad HD resolution) and a launch on the five largest carriers in the United States including AT&T and Verizon.
The Galaxy Note 4 is also rumored to have two display types, a flat OLED screen and a curved OLED screen, and it's also rumored to have a 16MP camera sensor, Snapdragon 805 processor from Qualcomm, and a design that is both water and dust resistant just like the Samsung Galaxy S5 design.
Galaxy Note 4 launch rumors have firmed up as well. Rumors have consistently pointed to a launch in and around the IFA 2014 trade show in Berlin, Germany that's set to kick off on September 5th.
Samsung has used the IFA trade show to launch the last three Galaxy Note variants making it a prime candidate for a launch. The company is expected to use the platform to announce a number of new products which are said to include the Galaxy Note 4, a Google Glass competitor, OLED TVs, wearable devices, and products for the home.
The Galaxy Note 4 launch is expected to clash with the iPhone 6 launch which is also expected to arrive in September. iPhone 6 rumors point to two new models including a 5.5-inch iPhone 6, a device that would be aimed squarely at Samsung and the Galaxy Note 4.

This article may contain affiliate links. Click here for more details.