Samsung Galaxy Note 4 vs. Samsung Galaxy S4: What We Know So Far
Later this year, Samsung will release a brand new Galaxy Note that some think will be called the Samsung Galaxy Note 4. Those in the hunt for a new smartphone likely have their eye on Samsung's rumored Galaxy Note 4 and here, we continue to take a look at how the rumors are stacking up next to top devices currently on the market.
Every year, Samsung releases two flagship smartphones. In the beginning of the year, Samsung releases a Galaxy S smartphone to battle the iPhone into the summer and beyond. This year it was the Samsung Galaxy S5, its new flagship that arrived back in April, and is currently paired with the Galaxy Note 3 and other Galaxy-branded devices in Samsung's fight against the iPhone and other competitors.
Later in the year, the company releases another flagship called the Samsung Galaxy Note, a much larger device that not only offers a massive screen but also comes with a bundled S Pen stylus that can take advantage of unique and powerful software. Its the Galaxy Note 3 that currently sits on shelves but rumors suggest that the Samsung Galaxy Note 4 will land in the second half of this year.
Samsung Galaxy Note 4 rumors have been rampant thanks to numerous reports and thanks to Samsung itself. The company has confirmed the Galaxy Note 4's arrival several times in recent months.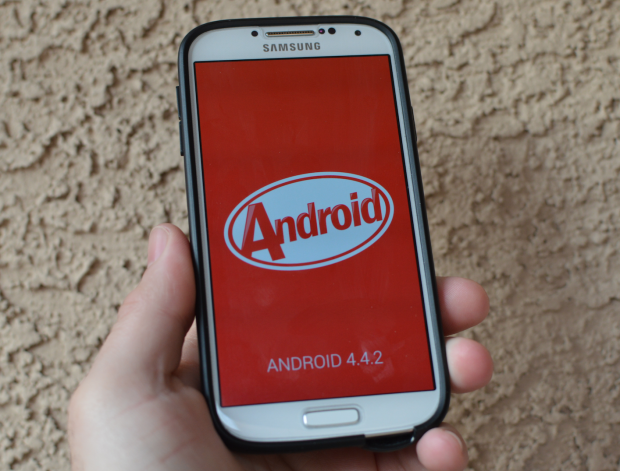 With rumors emerging on a weekly basis, those who are in the market for a new device or are thinking about upgrading to something new, are starting to weigh their options. And it's our job to make sure that those people are prepared as we get closer to launch later this year.
The Samsung Galaxy Note 4 is certainly on the minds of consumers, we get asked questions on a daily basis, so we want to start helping consumers set expectations going forward. Today, we want to take a look at how Samsung Galaxy Note 4 rumors compare to Samsung's Galaxy S4, a device that is still on the market as a budget option and a device that is in the hands on consumers across the planet.
We realize that the Galaxy Note 4 is only a rumored device at this point but there is enough information to warrant early comparisons to top devices like the Galaxy Note 4. The goal of this comparison is to help set the expectations for current Galaxy S4 who might be thinking about making a change. It will also help prospective Galaxy S4 buyers put things into perspective.
Design
The Samsung Galaxy S4 is only a minimal upgrade over the design found on the Galaxy S3, a device that is closing in on its second birthday. For those that haven't handled the Galaxy S4 before, it's a glossy piece of polycarbonate plastic that simply can't match up with some of the premium smartphone designs on the market.
Samsung has shifted away from its polycarbonate plastic designs of old and its recent work is far more inspiring. The Galaxy Note 3 uses a faux leather plastic design that isn't quite as nice as the iPhone 5s' industrial form factor but is an improvement over the Galaxy S4's. This year's Galaxy S5 takes a step in the right direction with a beautiful perforated plastic matte design.
We expect this trend to continue with the Galaxy Note 4. In fact, reports and rumors suggest that the Galaxy Note 4 will come with an all new design when it arrives later this year.
Before we get to the rumors, let's get this out of the way. The Galaxy Note 4 is almost certainly going to come with a larger overall footprint. One of the hallmarks of the Galaxy Note series is that it's larger than the Galaxy S and most other smartphones on the market. We can't see Samsung shrinking the size of the Galaxy Note, especially because the Galaxy S5 design is larger than the Galaxy S4's.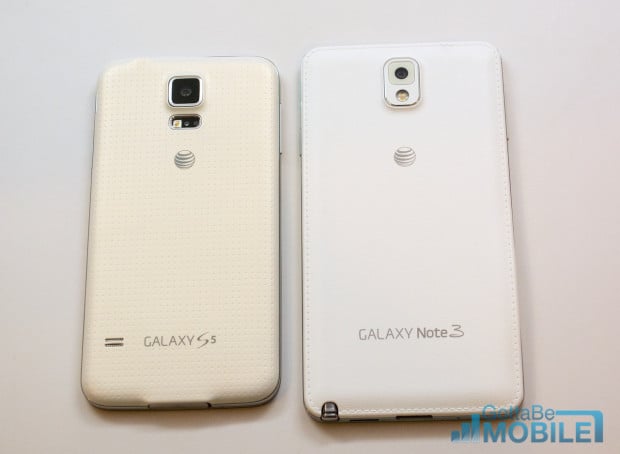 Samsung Galaxy Note 4 rumors suggest an assortment of changes. Yoon Han-kil, senior vice president of Samsung's product strategy team, recently told Reuters that the Galaxy Note 4 will be coming with a "new form factor" later this year. There was no elaboration but rumors suggest that Samsung is considering a few different features.
One report claims that the Galaxy Note 4 will come with an IP67 certification, just like the Galaxy S5. What this means is that it will be dust and water resistant. The Galaxy S4 design is durable but it's not able to fend off dust and water. Those that need that type of protection must utilize a case.
We've also heard rumors, which have been fueled by a pair of patent filings, that this new form factor could be dominated by a brand new three-sided display, something that the Galaxy S4 does not have.
Dimensions and other Galaxy Note 4 design features remain out of view for the time being.
Display
Samsung's Galaxy S4 5-inch 1080p display is a great display and  offers more than enough real estate for comfortable gaming and movie watching while on-the-go. The Galaxy Note 3's display matches the Galaxy S4's in terms of quality. Companies never take a step backward with their technology so at the very least the Galaxy Note 4's display should match the Galaxy S4's.
There is, however, a good chance that it could beat it out. DisplayMate believes that the Galaxy S5's Super AMOLED Plus 1080p display is the best on the market, better than Apple's Retina Display. The Galaxy Note usually takes after the Galaxy S so we could see the same improvements on board the Samsung Galaxy Note 4.
There is also a chance that the Galaxy Note 4 display could trump the Galaxy S5's. Reports state that Samsung is at least considering a QHD display for the Galaxy Note 4. QHD display resolution translates to 2560 x 1440 resolution and that means sharper looking on-screen content.
QHD resolution is rumored to be on board the LG G3 and Samsung's Galaxy S5 Prime so it's plausible that it could arrive on one of Samsung's biggest releases of the year.
The other upgrade could be a "bent" three-sided display. Back in January, a Samsung executive told Bloomberg that the Galaxy Note 4 could come with a new display type that would allow for better viewing angles. Since then, a series of Galaxy Note 4 rumors have pointed to a "bent" three-sided display. A recent report suggested that the three-sided display was still in play for the Galaxy Note 4.
Recent patent filings show new form factors that Samsung could be playing around with in the lab but they aren't a definitive look at the Samsung Galaxy Note 4.
So, at the very least, it's looking like the Galaxy Note 4 display will be on par with the Galaxy S4's in terms of quality. So how about size? Unfortunately, it's not clear how big the display will be but consumers should expect it to be larger than 5-inches. The screen size difference and the S Pen are the two features that set the Galaxy Note apart from the Galaxy S.
Specs
Samsung's Galaxy S4 comes with an array of solid specs. From a good 13MP camera to a large battery to a speedy Qualcomm Snapdragon 600 quad-core processor, the Galaxy S4 will be able to handle the every day grind of the average person. The Samsung Galaxy Note series, however, has always been aimed at those that need a little more juice and Galaxy Note 4 rumors point to another powerful release.
Samsung's Galaxy Note is a device that is geared towards gamers, multitaskers and those that consume a ton of content. Thus, Samsung always equips its Galaxy Note models with a ton of firepower. We called last year's Galaxy Note 3 Samsung's most powerful smartphone for a reason.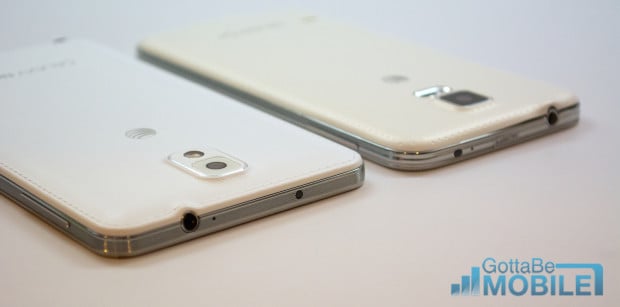 Rumors point to more of the same from Samsung. Specs are said to possibly include a faster processor and LTE-Advanced for faster data speeds. LTE-A offers faster data speeds for compatible devices but it also requires networks to offer the capability. U.S. carriers have been slow to adopt the new technology though Verizon plans to deploy LTE-A by the middle of 2014.
To compete with the iPhone 5s and rumored iPhone 6, the Galaxy Note 4 could come with a 64-bit processor though that isn't set in stone. 64-bit processors can handle more memory than 32-bit processors, something that is important for high-performance devices like the Galaxy Note series.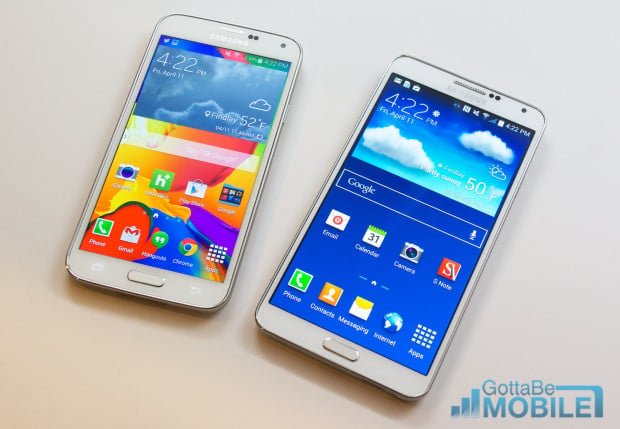 Finally, an early Galaxy Note 4 rumor suggested that the device could come equipped with a fingerprint reader. The Samsung Galaxy S5 sports one embedded in its home button which means that there is a good chance that it will match the iPhone 5s' Touch ID sensor. The Galaxy S4 uses a standard , no frills home button.
Release Date
Those trying to decide between the Samsung Galaxy S4 and Samsung Galaxy Note 4 aren't going to be able to physically compare the two until later on this year.
Samsung has all but confirmed the Galaxy Note 4 release for the second half of the year . More specifically, the release should land in the fall. The company historically has used the IFA conference to launch its Galaxy Note and rumors suggest that it's considering the event for the Galaxy Note 4 launch.
IFA 2014 kicks off on September 5th and prospective buyers will want to circle that date in pencil. As for the release date, Samsung usually releases a device three to four weeks after the announcement date. What this means is that Samsung Galaxy Note 4 may not hit shelves until September or October. That's awhile from now.
Advice
You came here for one of two reasons. Either you own a Galaxy S4 and you're interested in replacing it or you're thinking about buying the Galaxy S4 or the Galaxy Note 4. We can't make that decision for you but we can offer some advice.
There are plenty of reasons to think about waiting for the Galaxy Note 4: Better processor, the potential for a three-sided display, and a new design being a few good reasons. But keep in mind, the Galaxy Note 4 will likely come with a larger screen, an S Pen stylus and a price tag that's somewhere around $299.99 on-contract.
The Galaxy Note 4 isn't out yet so the next best thing is the Galaxy Note 3. Go hands on with it (and the Galaxy S4 if you haven't already) and get acquainted with its large size and its S Pen. If you can't see yourself using the S Pen, it honestly may not be worth waiting for the Galaxy Note 4.
If you still can't make a decision, wait a little while longer. The Galaxy Note 4 will continue to leak out and rumors will start to firm up as we head into the summer.