Samsung Galaxy Note 5 Hands-On & Impressions
The Samsung Galaxy Note 5 is finally official and will be available around the globe starting August 21st. This new phone improves on almost every aspect over the original, delivers a beautiful 5.7-inch screen and premium design similar to the Galaxy S6, and just looks good. After spending time with the new Samsung Galaxy Note, here's what stands out.
Earlier today Samsung took the stage and unveiled the new Galaxy Note 5 and a big 5.7-inch curved Galaxy S6 Edge Plus. Two premium top-tier smartphones the company hopes will help keep Samsung devices in users pockets, and take on the iPhone 6s.
Read: Galaxy Note 5: 11 Things You'll Love
After spending some time testing the Galaxy Note 5 at Samsung's annual Unpacked event earlier today we have a lot to say about it. Sure Samsung's made some sacrifices in the push to a more premium design, but this still has plenty to offer potential buyers. Here's our hands-on video and first impressions of the new Galaxy Note 5.
The overall design and idea behind the Note 5 is very similar to its predecessors, however the design materials are way different. In both looks and how it feels, it's leaps and bounds better than any other Note. Along with the new metal design are multiple improvements across the board.
With the Galaxy Note 5 buyers will get the same 5.7-inch high resolution display, the S-Pen stylus, Android 5.1.1 Lollipop with all of Samsung's changes and more, but that isn't all. This new Note has an all aluminum design, a much better camera, wireless charging, an improved S-Pen, and even the fingerprint scanner is better. No more swiping, and just like the Galaxy S6 or iPhone just one tap is all it takes.
Before we get into all the specs, and more thoughts, here's our quick hands-on video giving buyers a look at the phone and the new wireless fast charging feature.
As we stated in the video above, the Samsung Galaxy Note 5 is quite the smartphone. It looks better, feels better, runs extremely fast and fluid, and is rather impressive. Yes buyers that have owned prior versions will lose the micro-SD slot for expandable storage and the battery is slightly smaller (more on that below) but this is arguably the best Note yet.
Samsung's new Galaxy Note 5 and its curved display cousin are two of the most powerful Android smartphones ever released, and believe it or not, the camera is actually better than the Galaxy S6. A phone that has the best camera in any smartphone we've used yet. Here's the full details.
Samsung Galaxy Note 5 Specs
5.7-inch 2560 x 1440 Quad-HD S-AMOLED Display
Samsung Exynos 8-core processor with 4GB of RAM
32 or 64GB storage options (no Micro-SD support)
16 Megapixel f/1.9 Camera with Optical Image Stabilization
5 Megapixel front-facing camera
Android 5.1 Lollipop with Samsung TouchWiz
Premium Galaxy S6-like all glass and aluminum design
Improved Fingerprint sensor

3,000 mAh battery

Fast Wireless Charging
S-Pen Stylus
153.2 x 76.1 x 7.6 mm and 171g
The Samsung Galaxy Note 5 is slightly smaller and lighter than its predecessor, but still keeps a similar look that will make Note fans happy. In a way it looks and feels like a much bigger Galaxy S6, and that's essentially what it is, although it has a few tricks up its sleeve with the better camera and S-Pen stylus. The display looks simply stunning, and it might just be the best smartphone screen I've ever used. It's so bright, clear and crisp. Once buyers use it, they'll understand. This beats anything else I've used as of late.
With each iteration of Note, Samsung has been increasing what you can actually do with the S Pen, and the Note 5 is no different. Most of the improvements come in the form of how fast you can use it, or writing while the screen is off. They've also improved accuracy and reduced latency when writing on the screen, but that was hardly noticeable to me. The Pen does feel better and is more comfortable, but it will never feel like a pencil because it's so thin. It takes some getting used to, but once you master it there are lots of advantages to using the S-Pen.
One thing we do need to talk about is the internal storage and the battery. The Note 5 only comes with 32 or 64GB of storage, and there doesn't appear to be a 128GB option like we received with the Galaxy S6. The company also removed the micro-SD slot for user expandable storage. This has been a huge complaint with Galaxy S6 owners, and sadly Note buyers will have the same problem. All you get is the storage inside.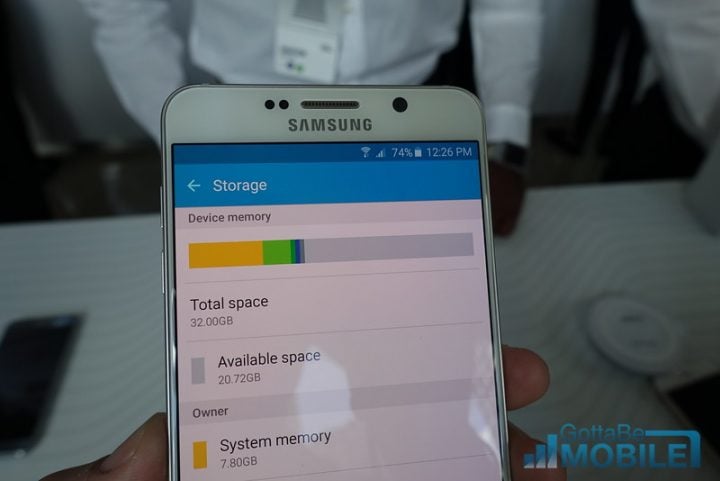 The battery is also smaller this year. Samsung went from a 3,220 mAh battery on the Galaxy Note 4 down to a 3,000 mAh battery with the Note 5. You'd think they'd improve this area, not take a step back. That said, the Galaxy Note 5 supports Samsung fast charging which allows it to charge from 0-50% in less than 30 minutes on the charger, and even a world's first "fast wireless charging". The Note 5 supports two forms of wireless charging, but if you buy Samsung's charger you get fast wireless charging, similar to the speeds of traditional wall chargers. A wired charge will still be quicker, but now wireless charging is more than just somewhat convenient. It's also fast.

Samsung announced four colors here at the event, and new to the Galaxy Note lineup is a Titanium Silver. It looks stunning, as you can see in our photos below, but most likely the Pearl White and Sapphire Black are the only two we'll see from carriers in the US. The gold is a bit extreme, but that may be offered like it was on the Galaxy S6.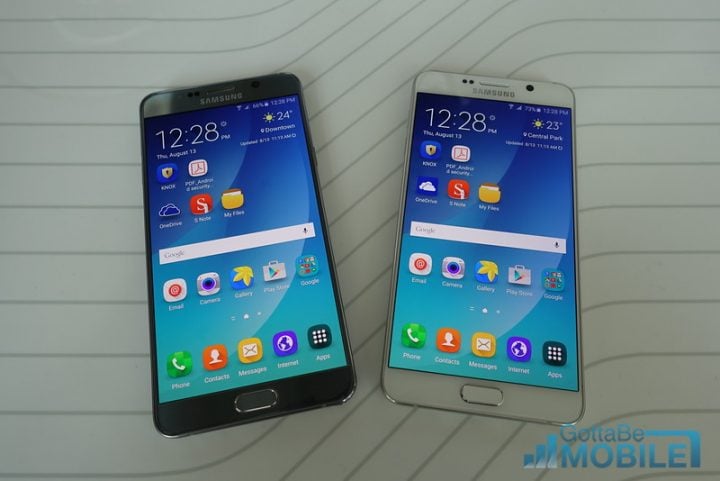 Just like the Galaxy S6, Samsung focused heavily on the camera. The new Galaxy Note 5 has a similar 16 megapixel f1.9 camera that is extremely fast, sharp, and capable in low light. It also has an improved 5 megapixel front camera. This camera should be better than the Galaxy S6 due to a bigger sensor, further improvements, even better optical image stabilization, and more. We managed to take a few quick photos but couldn't leave the area, and the gallery below are all photos taken with the Galaxy Note 5.
In closing, this is the same Samsung Galaxy Note that everyone knows and loves, only better. They've improved in almost every category aside from the battery, finally made a premium design buyers will love, and delivered a well rounded and beautifully crafted smartphone.
The surprise of the show however, is the Galaxy Note 5 is available for pre-order right now, and will be available around the globe starting August 21st, and the same goes for its Galaxy S6 Edge Plus sibling. There is a lot to like and plenty to go over, but I only had a short time with it. I look forward to going over more details about the impressive new camera, testing the wireless charging speeds, and trying out all the new S-Pen features in a full review coming soon. Stay tuned for more details, and if you have any questions drop us a comment below.

As an Amazon Associate I earn from qualifying purchases.