Samsung Galaxy Note 5 Review
The Samsung Galaxy Note 5 is hands down the best Galaxy Note ever released. In fact, it's the best Android smartphone, period.
While the Galaxy Note 5 does have a few compromises to go along with the new design, it's Samsung's most premium smartphone so far. It delivers several features the iPhone and other Android competition can't, with the S-Pen stylus or fingerprint scanner, and is just an all-around fabulous device. The Galaxy Note 5's premium new design, unbeatable 5.7-inch screen and exceptional 16 megapixel camera earned it a GottaBeMobile Editors' Choice Award.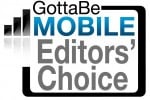 It has a beautiful and big 5.7-inch display wrapped in an all-new aluminum design, enhancements to the S-Pen stylus, the latest version of Android and more, all while being smaller than last year's Galaxy Note. This is a smartphone I can recommend without hesitation.
Read: How to Reset a Frozen Galaxy Note 5
Samsung sent over a Galaxy Note 5 to review, an AT&T model priced at $739 off contract, or $30 a month for 24 months. It's an expensive purchase considering it loses features compared to the Note 4, but more on that below. I've used it nearly three weeks alongside a trusty Galaxy S6 and Nexus 6, and have come to love its perfect size. It isn't too big, like older Note phones, and isn't too small either. I'll be focusing mainly on the 5.7-inch display, the new S-Pen stylus features and the great camera.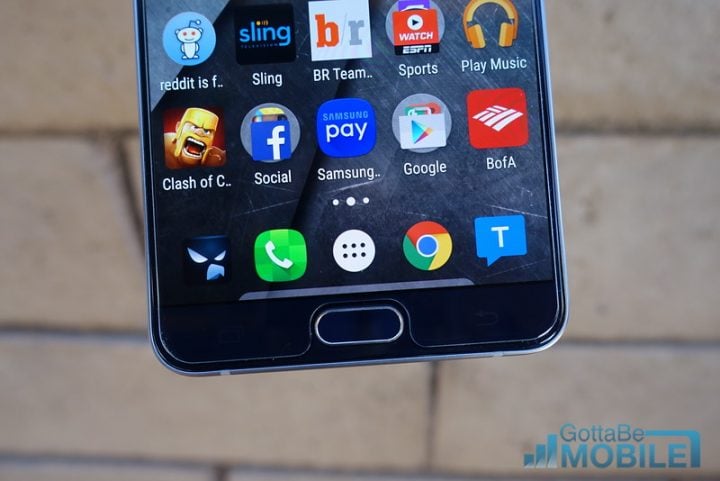 There's no getting around the fact that this is a big smartphone and may be too oversized for some users. That said, this year Samsung packed better specs, improved hardware and more features into a device smaller than last year's even though it has the same size screen. That makes the Note 5 finally a device easy enough for most to hold and use with one hand, which has always been a problem for the Note line.
What We Like:
Unbeatable 5.7-inch 2560 x 1440 Quad-HD Display
16 Megapixel Camera that's great for beginners & advanced enough for photography enthusiasts
Completely revamped all-aluminum and glass design
Smaller than the Galaxy Note 4, easier to hold and use
Fast & Wireless Charging
What We Don't Like:
No micro-SD slot to expand storage
No removable or replaceable battery
Smaller battery than last years Note 4
Bottom Line: Those in the market for a big phone will likely end up getting the Note 5 and will love it. It has everything buyers love about the Galaxy S6 but it's bigger, better and faster. Samsung has finally put together a well-rounded premium smartphone. The design, camera and screen can't be beat. The S-Pen has tons of new features that makes it worth using: the fingerprint scanner is better than last year and they added wireless mobile payments (Samsung Pay) that will work everywhere. Not to mention fast charging and fast wireless charging. Then they wrapped it in an aluminum frame that's better than the iPhone 6.
This phone has it all, does it all and looks good doing it. Samsung thought of everything. The only downside is there's no micro-SD slot, which is a huge compromise due to the new design. But with 32 or 64GB of storage and the cloud, users will barely miss the micro-SD slot.
Galaxy Note 5 Display
The Galaxy Note 5 has the best screen I've ever used. It's simply gorgeous. It has better colors and a higher resolution than any iPhone with a Retina Display, as well as higher than most HDTV's. Whether users watch movies, play games, send texts or browse the web everything is bright, crisp and clear.
The biggest factor for me, and buyers, is that it's the same 5.7-inch size as last year with a 2560 x 1440 Quad HD (2k) resolution, yet the device is physically smaller than the Galaxy Note 4. This is the first Galaxy Note I've felt comfortable holding.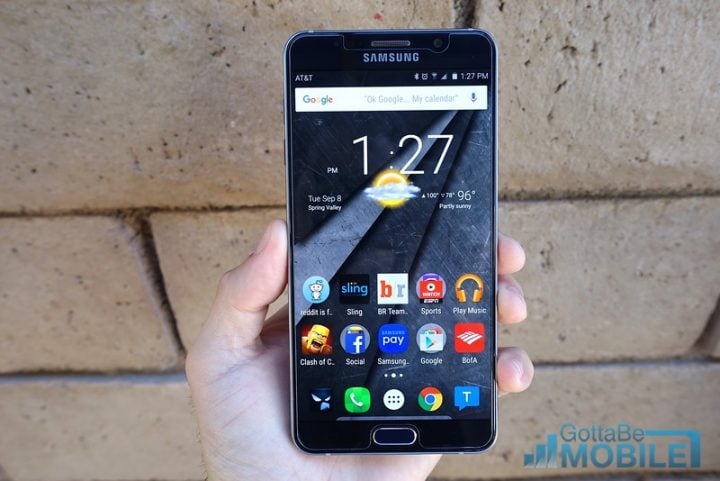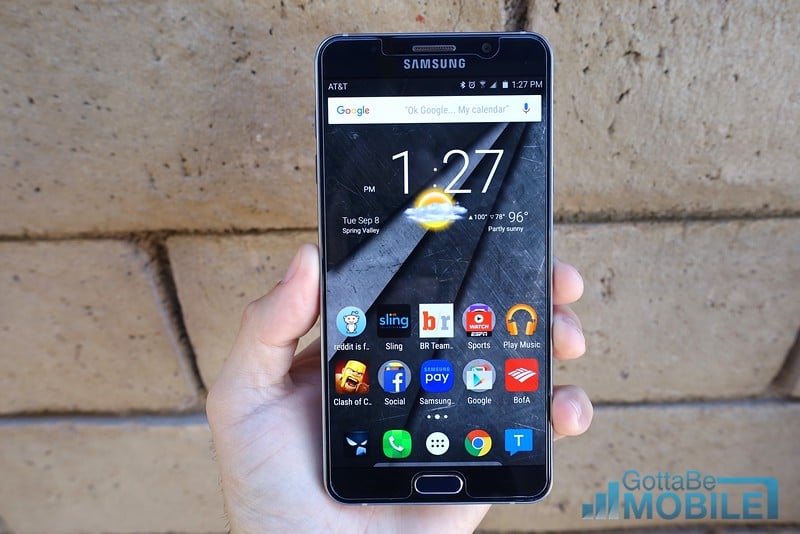 Before the Note 5 I had the Nexus 6 but replaced it with the Galaxy S6 as a 6-inch screen is simply too big for me. Plus, I wanted a fingerprint scanner. However, the 5.7-inch Galaxy Note 5 is barely bigger than the Galaxy S6, smaller than the iPhone 6 Plus or Nexus 6, yet better in every way.
Put it side-by-side with most of the competition and it's somewhat hard to tell a difference, but it's brighter and has better colors. I enjoy the fact that it has a bigger screen than the competition, but is physically smaller and easier to hold.
Galaxy Note 5 Design
There is no fake leather design on back, plastic that looks aluminum like the Galaxy Note 3 or other awful design flaws. This is a premium smartphone made out of aluminum with clean, chamfered edges and covered in durable, strengthened Gorilla Glass 4 on the front and back. When we say this is Samsung's best phone we mean it. It's a shining example of what a "premium" smartphone should be.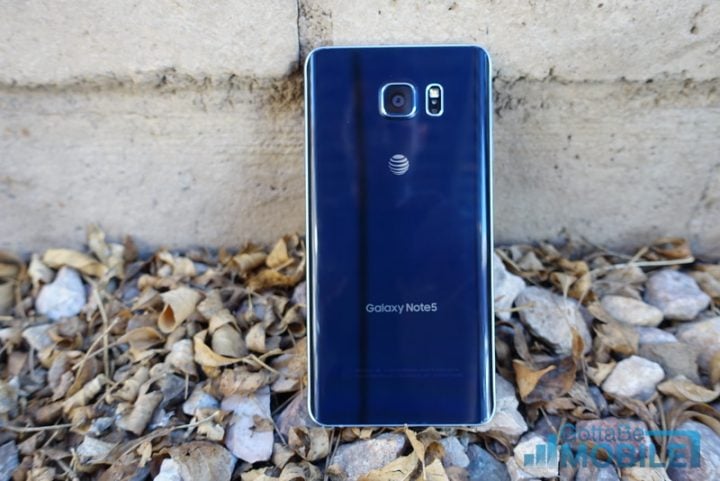 The first thing buyers will notice when they pick it up is just how good it feels. There are no sharp edges, creaks or loose parts and it's just a huge display aimed right at your face. The aluminum and glass are a bit slippery at first, but I quickly got used to it and put it in a case, anyways.
Read: 10 Awesome Galaxy Note 5 Accessories
Samsung put the power button on the right, the volume rocker on the left like usual and the bottom consists of the S-Pen stylus with a new pop-out design, a bottom-facing speaker, the micro-USB charging port and the 3.5mm headphone jack.
The new aluminum design means the back is no longer removable. That led Samsung to ditch the micro-SD card to expand storage. The battery also can't be removed or replaced anymore. This is a big complaint for some but something I quickly got over. In fact, I'm more upset that it doesn't have an IR sensor on the top to act as a remote control, something almost all previous Galaxy S and Note devices had.
Galaxy Note 5 Camera
Samsung tossed in a 16 megapixel camera with optical image stabilization that takes great shots. It records 4k video, slow-motion video, has a Live HDR mode, takes great 4k photos and is arguably the best camera in any smartphone. The company even added some advanced controls for photography enthusiasts. Like a manual mode, easy expose controls while zooming and even an option to live broadcast videos directly to YouTube. Samsung took the award-winning Galaxy S6 camera and made it even better.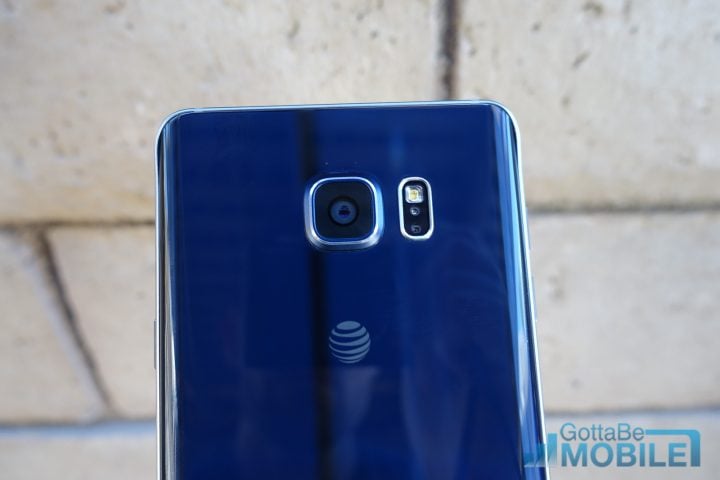 One of my favorite software features is a double-tap of the home button that will instantly launch the 16 megapixel camera. This works while the phone is off and locked, or while being used. It gives owners instant access to the camera in less than a second, no matter what they're doing.
Recording video in 4k is still overkill and we'd recommend setting it to 1080p. Photos look amazing even with the phone turned down to 6 megapixels, to save on space and to make uploading to Facebook or Instagram easier and quicker.
I recently watched Nebraska vs BYU NCAA football game and was able to record video after the game-winning Hail Mary. The stadium had different degrees of lighting and a loud crowd full of moving people, but it still captured excellent results. Below are some photo samples taken with the Galaxy Note 5.
Stills are really nice and the optical image stabilization and Auto HDR modes are very helpful. This allows users to simply point and shoot, not fiddle with settings. And while low-light is still somewhat of an issue, the Note 5 takes better photos in poor lighting than any other Android phone I've ever owned.
The Note 5 has Samsung's big collection of camera settings and options too. Pro mode is nice for absolute controls and selective focus. Panorama images are great and there's even a "play" button so it will pan across the entire photo and fill the 5.7-inch screen. There's a one-tap video collage option, live broadcasting video to YouTube, slow and fast motion modes and much more. Many of the extra options can be downloaded from the Galaxy App Store, rather than having tons of modes taking up space that owners will never use. I downloaded a "beauty face" mode to take better selfies with the improved wide-angle 5 megapixel front-facing camera.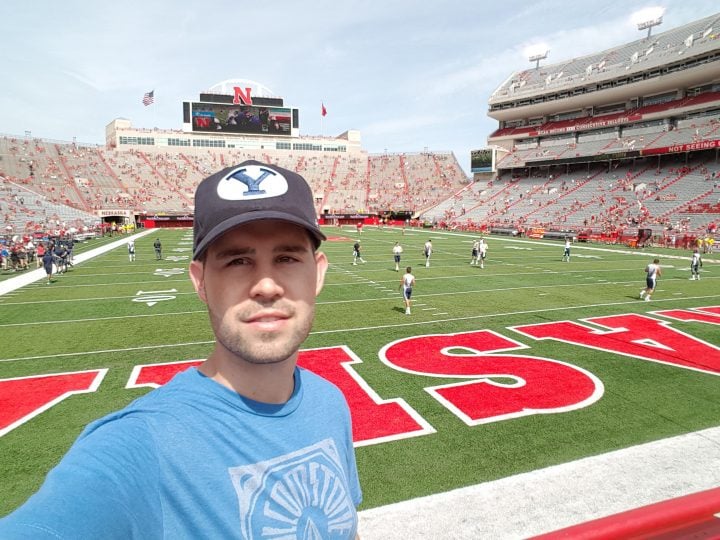 What surprised me the most, though, was how excellent photos came out while using the front-facing camera. Yes, I'm a BYU fan, and here's an image taken with the front camera. Both the front and rear cameras consistently produce excellent photos.
Galaxy Note 5 Specs
Users and potential buyers should know that this phone is fast and fluid. It runs great, performs excellent with the latest Android 5.1.1 Lollipop and is one of the fastest phones I've ever used. Here are the hard numbers for those interested:
5.7-inch 2560 x 1440 Quad-HD S-AMOLED Display
Samsung Exynos 8-core processor with 4GB of RAM
32, 64GB storage options (no Micro-SD slot)
16 Megapixel OIS Camera
5 Megapixel front-facing camera
Android 5.1 Lollipop
Premium Galaxy S6-like all glass and aluminum design
Fingerprint scanner
Heart rate sensor
3,000 mAh battery with fast & wireless charging
S-Pen Stylus
more
One extremely important aspect of the new Galaxy Note 5 is the fingerprint scanner. The Galaxy Note 4 had an awful fingerprint reader that required users to swipe for a reading. It rarely worked, was inaccurate and very slow. It was nowhere near as good as the iPhone's fingerprint reader.
Just like the Galaxy S6, the new Note 5 has a slightly bigger and much better dedicated home button with a built-in fingerprint scanner. Simply touch it with your thumb or finger and it instantly unlocks the phone in less than a second. It's the fastest fingerprint scanner available and works as it should. Those with a Note 4 that hate this unlock method will absolutely love the Galaxy Note 5. It's easy to setup multiple fingerprints and unlock it with either hand.
Galaxy Note 5 Software & S-Pen
This is a Samsung device and that means Android 5.1.1 Lollipop is covered in Samsung's TouchWiz interface, which can be somewhat overwhelming. There are tons of controls, options, gestures and bloatware that no one will ever use. That said, the Galaxy S6 and new Note 5 are slimmed down, and compliment Android rather than distorting it.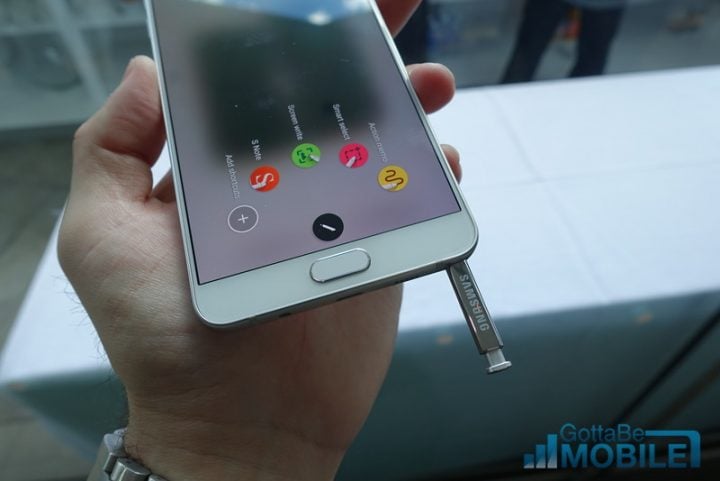 Everything is very customizable. This year Samsung added a theme store that lets owners completely change the entire look and feel of the device or the skin covering Android. I've installed a stock Android 5.1 Lollipop "Material" theme from the Theme Store to make everything simple and more pretty, and we'd suggest others hit the theme store to try any of the more than 100 themes available. You'll be glad you did.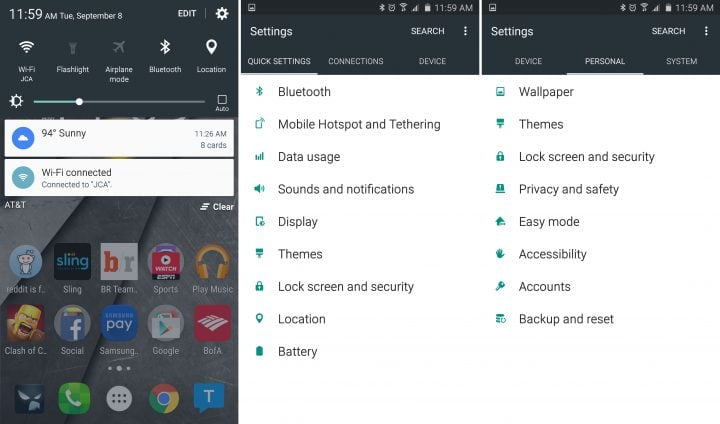 The themes change everything from the skinned settings menu, icons, quick settings in the notification pulldown bar and much more. This allows for a more unique experience, rather than the same typical TouchWiz interface that many don't like. Those who've never enjoyed Samsung's software may want to give the Note 5 a try, though, as it's the best version yet: easier to control and the customizable "quick settings" column in the settings menu is very convenient.
We still have easy multi-tasking and owners will enjoy using two apps at the same time with split-screen support. It has everything past Samsung devices have employed, only it's all a little better, faster and easier to use and understand. This version of Samsung's Touchwiz is the least convoluted version yet.
https://www.youtube.com/watch?v=T52C6NXbuwE
The video above from Samsung goes over a few of the many new features of the S-Pen stylus. However, my favorite feature is that we can now use the stylus without even turning on or unlocking the Galaxy Note 5.
Read: Galaxy Note 5 Setup Guide: 10 Steps to Get Started
Simply click and pull out the stylus while the phone is turned off. A low-power mode turns on and allows for quick notes, saving an email address, writing down a phone number and more. Then you can save it. Or just slide the S-Pen back in and it saves it automatically. This makes using the S-Pen faster, easier and worthwhile.
Add that to the new customizable hover options, integrated design and scrolling screen capture feature, and owners will find themselves using the S-Pen more than they expected. I've never been sold on the stylus, but now use it once every 2-3 days with the Note 5.
Samsung Pay
Another extremely noteworthy feature is Samsung Pay. This is still in a limited beta for now, but works great if you have a supported card. Taking on Apple Pay, Google Wallet or Android Pay, Samsung has its own offering.
The benefit of Samsung Pay, though, is that owners will be able to use it almost anywhere, rather than only areas with newer payment terminals with NFC for wireless mobile payments. Above, we mentioned the Note 5 does it all and this is one of those areas. Samsung Pay supports typical NFC mobile payments, but also has another method that allows payments to work at older regular swipe to pay terminals with magnetic strips. That means Samsung Pay works anywhere a credit card is accepted. It works in seconds, is secured by a fingerprint and can quickly be accessed by swiping up from the bottom of the screen at any moment. It's so easy, simple and secure that users will love it.
Galaxy Note 5 Battery Life
Battery life is one area that many are concerned about, but shouldn't be. This year the Note 5 has a smaller 3,000 mAh battery compared to the 3,220 mAh battery in the Galaxy Note 4 and it can't be removed. However, that isn't remotely an issue for three reasons.
For one, the Galaxy Note 5 has a fast and efficient 8-core processor and runs the latest Android 5.1 Lollipop, so it lasts for more than a day no matter how hard we push it. Users won't have to worry about looking for a charger throughout the day. If you do though, it features Fast Charging. Essentially the phone will go from 0-50% in less than 30 minutes, and will be 100% full in just under 90 minutes. This is much faster than the 2-3 hours on older devices.

The screenshots above show how far and fast the battery charged from 5% to over 85% in a very short period of time. The included fast charger gives owners plenty of juice. Make sure you use the charger included in the box or buy a Quick Charge certified car charger and the Note 5 will charge faster than almost any other smartphone.
Last, but not least, many devices enjoy wireless charging, but the Note 5 is the first to support Fast Wireless Charging. The video above shows how easy it is. The new fast wireless charging pads will charge the phone to 100% in 120 minutes, put out 15w of power and charge 1.4x faster than traditional wireless charging pads and phones.
What this all means is that owners won't ever need to worry about the huge 3,000 mAh battery running out before the end of the day and, if it gets close, recharging is so incredible fast and painless that we have nothing to complain about here.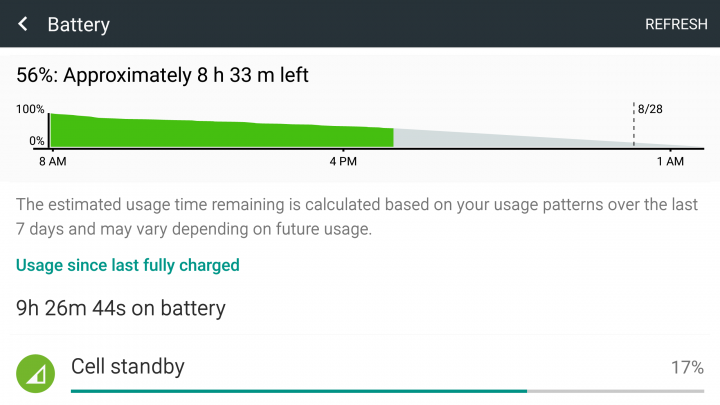 Above are a few screenshot showing some days of heavy usage on my Note 5. Everything from browsing the web, multiple phone calls, gaming, streaming music and having over 3-4 hours of screen-on time, and still plenty of battery is leftover. The Galaxy S6 doesn't have the best battery life for its size, but users won't need to worry about that with the Galaxy Note 5.
Competition
As 2015 is starting to approach the end of the 3rd quarter almost every major manufacturer has released their phones (except for the Moto X Pure Edition, which we know about but is not yet available. It has a similar 5.7-inch screen but is a completely different phone starting at $399, vs the $699 Note 5).
For those curious how the Note 5 fares against some of the Android competition, here are a few comparisons and key details for potential buyers.
Note 5 vs Moto X Pure Edition 2015
Final Thoughts
In closing, all that really needs to be said is that the Samsung Galaxy Note 5 is essentially the best Android smartphone available right now. It has all the makings and features to be a device everyone should want to own, it has one of the best screens and camera I've ever used, tons of additional functionality with the S-Pen, lots of customization and is finally a premium device worth spending money on.
Phones like the Galaxy Note 5 review themselves. It does everything extremely well, looks great, comes in a few different color options and is available from all major carriers in the United States.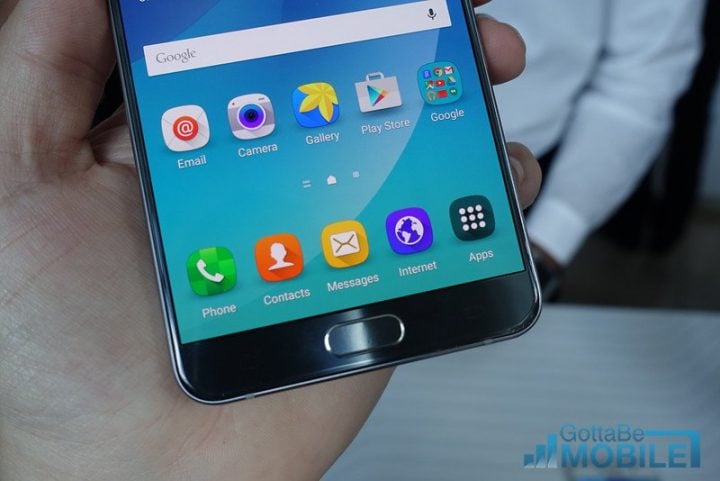 If buyers can get over the big screen size, realize that a micro-SD card is not as important as everyone thinks and can afford the Galaxy Note 5, we see no reason not to buy it. Until the Moto X Pure Edition for 2015 and Google's new phones are released, this is the phone to buy.
Samsung did nearly everything right with the Galaxy Note 5. Here's to hoping the micro-SD card makes a return with the Galaxy S7 and Galaxy Note 6.