Samsung Galaxy Note 5 vs. Galaxy S4: What We Know So Far
As we march deeper into 2015, we continue to see Samsung Galaxy Note 5 rumors tease consumers in the United States and around the world. With those Galaxy Note 5 rumors in mind, we want to take an early look at how the device is stacking up against the Galaxy S4, a device that just turned two. This is our way too early Galaxy Note 5 vs. Galaxy S4 comparison.
In April of 2013, Samsung released the Galaxy S4, a device that took over the company's flagship role from the Galaxy S3. As expected, the Galaxy S4 featured a number of big time upgrades including a new design, new display, new processor, improved camera, and more. These features were enough to convince many consumers to sign two year contracts.
We're now two years removed from the Galaxy S4 release and many Galaxy S4 users have come off contract. Many more will come off contract as the year goes on. And while some will keep hold of the phone, others are in the market for a brand new device.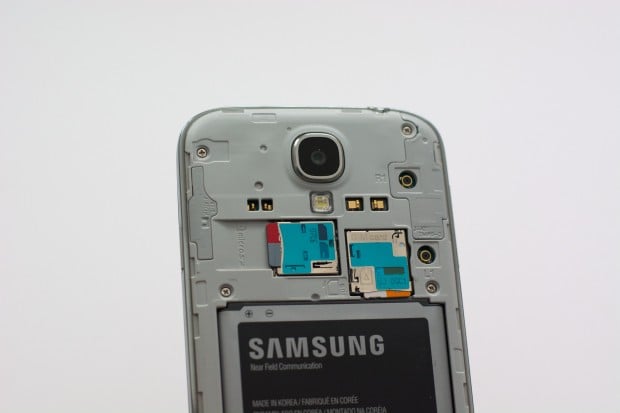 One device that Galaxy S4 upgrades (and prospective Galaxy S4 buyers) should have their eyes on is the Samsung Galaxy Note 5, a rumored follow up to last year's Galaxy Note 4.
The Samsung Galaxy Note 5 isn't official but Galaxy Note 5 rumors continue to heat up. As the year's progressed, we've started to hear whispers about the Galaxy Note 5 specs, Galaxy Note 5 release date and Galaxy Note 5 carriers. There are still plenty of details that remain shrouded in mystery but we have enough to make an early comparison to the former Galaxy S flagship.
This early Galaxy Note 5 vs. Galaxy S4 comparison will run down the latest Galaxy Note 5 rumors and show you how they currently compare to the Galaxy S4. Here's what current Galaxy S4 users and prospective Galaxy S4 buyers need to know as we push into May.
Galaxy Note 5 Release Date
If you're an off-contract Galaxy S4 user or if you're weighing the device (it's now free on-contract most everywhere) as your next device, you're going to have to wait awhile before you're able to compare it to the Galaxy Note 5. You should also expect to have to endure several months of Galaxy Note 5 rumors.
Samsung hasn't sent out any press invites but we already have a solid lead on the company's plans for the Galaxy Note 5 launch date. Samsung always announces its new Galaxy Note models at IFA, a trade show that takes place every year in Berlin, Germany.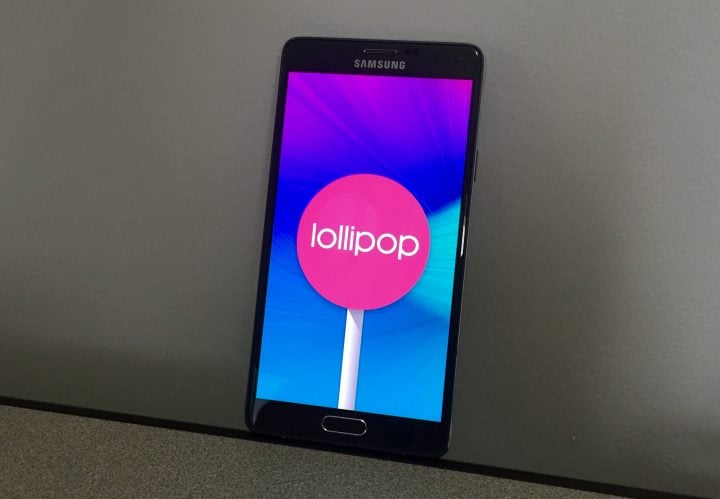 The Galaxy Note 5 launch date is rumored for IFA alongside a new Apple Watch competitor dubbed Gear A. IFA 2015 kicks off on September 4th which means that that's the date to circle on the calendar.
As for the Galaxy Note 5 release date, it has been rumored for August though that rumor lost steam after the launch date rumor emerged last week. If Samsung announces at IFA then a Galaxy Note 5 release date will probably come in September or October, right around the time Apple is expected to release its iPhone 6s and iPhone 6s Plus.
So if you're looking to replace the Galaxy S4 with a Galaxy Note 5, be prepared to wait. If you're trying to decide between a budget Galaxy S4 and a new Galaxy Note 5, you're going to have the Galaxy S4 (and a ton of other options) staring you down this summer.
Carriers
Samsung's Galaxy S4 is available on a number of carriers. If you bought the Galaxy S4 in the United States, you probably have it on AT&T, Sprint, T-Mobile, U.S. Cellular, Verizon, C Spire, MetroPCS, or Cricket.
Thus far, Samsung Galaxy Note 5 rumors have failed to establish a full list of Galaxy Note 5 carriers though we have seen signs of what to expect.
A recent report from SamMobile outlines some potential Galaxy Note 5 release details. The site says that Samsung will use model number SM-N920F for the international version of the Galaxy Note 5. The international Galaxy Note 4 model number is SM-N910x so the change is logical.
The leak also outlines several other model numbers including those for the AT&T Samsung Galaxy Note 5 and Verizon Galaxy Note 5.
Galaxy Note 5 – SM-N920F EUR XX (Europe)
Galaxy Note 5 – SM-N920S KOR SKC (Korea)
Galaxy Note 5 – SM-N920K KOR KTC (Korea)
Galaxy Note 5 – SM-N920A NA ATT (AT&T)
Galaxy Note 5 – SM-N920V NA VZW (Verizon)
This all but confirms a Galaxy Note 5 release for the top two carriers in the United States and it also suggests that the Galaxy Note 5 will be coming to at least two other key markets, Europe and Korea.
Display
When the Samsung Galaxy S4 first arrived, it was boasting one of the best smartphone displays on the market. In the months since, its 5-inch 1080 x 1920 pixel display with 441 pixels-per-inch has lost some of its luster. It still looks good, yes, but Samsung's AMOLED displays have improved immensely since 2013.
The Samsung Galaxy Note 4 and Galaxy S6 come with Quad HD resolution and we could see the Galaxy Note 5 make another jump later this year.
Galaxy Note 5 rumors suggest that Samsung is currently testing a couple different displays on the Galaxy Note 5. One is a Quad HD display (1440 x 2560 pixel resolution) while the other is a Ultra HD display.
UHD resolution would bring 2160 x 3840 resolution at 700+ pixels-per-inch to the Galaxy Note series. While the technology is in development, it's not clear if it will win out over Quad HD. Samsung may not decide until much later this year and we should see rumors flag one or the other before launch.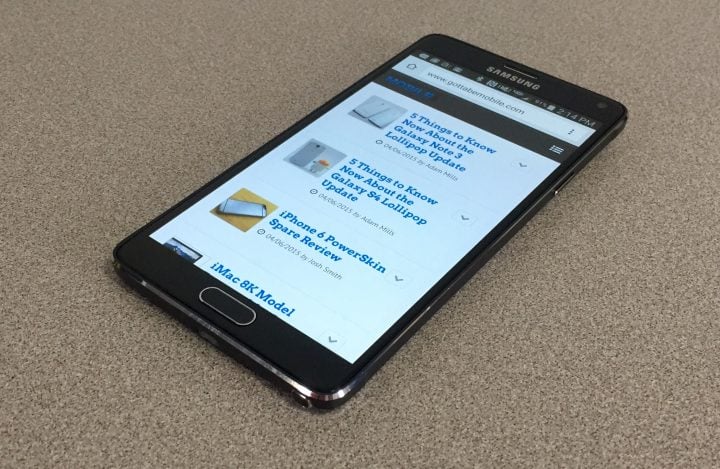 Samsung's Galaxy Note series has always been about the big screen and the S Pen stylus and rumors point to a screen that's around 5.7-inches in size. If true, the size of the display and the device itself will be much larger than the Samsung Galaxy S4. We recommend going hands-on with the Galaxy Note 4 and Galaxy Note Edge to get a feel for the size difference.
The latest Galaxy Note 5 rumors suggest that it will feature a flat display, like the Galaxy S4. The company is reportedly developing a new curved Galaxy Note Edge 2 that won't feature the same specs as the Galaxy Note 5. The device is expected to come with mid-range specs though rumors point to the use of a dual-edge screen, similar to the one found on the Galaxy S6 Edge.
So, in summary, here's how the display specs could stack up:
Galaxy Note 5: 5.7-inch to 5.9-inch UHD/QHD display.
Galaxy S4: 5-inch FHD display.
To get familiar with Quad HD resolution, take a look at our Galaxy S6 Edge and Galaxy Note 4 reviews. To get familiar with the size and resolution of the Galaxy S4 display, take a look at our review.
Design
The Galaxy S4 utilizes Samsung's old design language in that its primarily made of plastic materials. It also comes with a microSD card slot for expanded storage, a removable battery, and a home button that doesn't feature a fingerprint scanner for added security and convenience. If you own the Galaxy S4, you already know that. If you don't, consider that your PSA.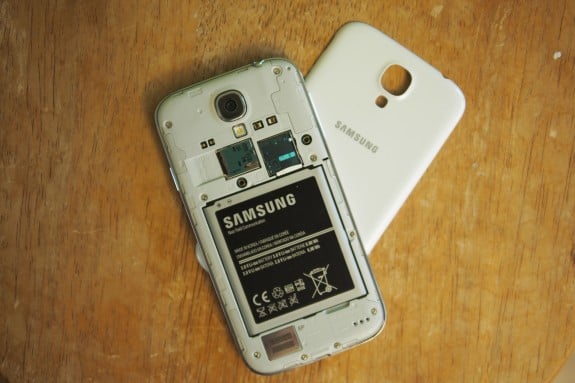 This year, Samsung switched things up and delivered a brand new design language on its Samsung's Galaxy S6 and Galaxy S6 Edge. Instead of plastic, the designs utilize glass and metal. The designs are absolutely beautiful, arguably the best that Samsung's ever released, though they do come with some tradeoffs that should be noted namely the lack of MicroSD card slot and a non-removable battery.
Samsung's well known for keeping its Galaxy S and Galaxy Note designs under lock and key ahead of launch so we haven't seen any big Galaxy Note 5 design leaks.
We have, however, seen top Samsung execs make some remarks that suggest that we probably won't see the company make a return to plastic any time soon.
In recent comments made to Pocket-lint, Samsung UK's vice president for mobile and IT Conor Pierce offered up some interesting quotes that hint at what we could see from Samsung down the road:
The company realised that it needed to do something different. We asked questions of people, what do they want? They want premium design, tick that box. They want the best camera, there you go. They want to solve battery issues. And they want choice. So I'm very confident that [the S6 and edge] materialised from what people want.

We've learned that bringing beautiful, premium innovations in design is what people want. I think the market needs this as well because the market has been very saturated.

I think it's about us breaking new ground. It was a bold move to try to do something different, but if you go back to last year, we had the Note edge and you could see how well that was received. So we understand that this is what people want. They are looking for some inspiration, so yes you will see that across our portfolio.
Pierce goes on to say that future products, like the Galaxy Note 5 perhaps, could take a similar route as Samsung tries to compete with the iPhone:
What we have noticed is that typically the upgrade cycle is every 24 months because of the contracts, and people are generally offered an upgrade around six months before that.

That's when they start to look at the phones on the market. So it's very important that we don't just do our best work in this current quarter. People don't just turn up in this quarter, or July, August or September, looking for a new phone, it's all year round.

I think the fact that we managed to deliver a new form factor with the Note, create a new category, shows the ambition to keep changing and keep innovating. Samsung puts $40 million a day into research and development, which is a massive injection of money into R&D.
In other words, we'd be very surprised if Samsung used a plastic design on the Galaxy Note 5. Those days appear to be over and done with.
Camera
The Galaxy S4 camera was one of the best. In 2013. Camera technology has come a long way since then and we've seen Samsung and other companies deliver numerous changes to smartphone cameras.
Samsung typically upgrades its camera sensors. Even in years when it doesn't, it tacks on some software features that improve one of the best camera apps in the business. Pierce's comments hint at improvements and rumors all but confirm them.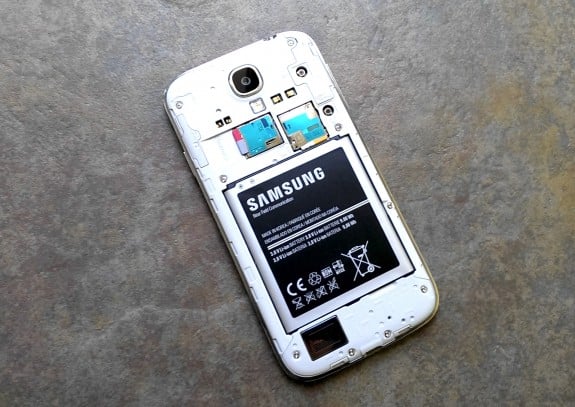 Samsung is reportedly working on new camera features in its upcoming Android 5.1.1 update. The features are unclear though rumors suggest they might have something to do with Google's camera API.
If Google adds the full API, we could see some changes to the camera including RAW and better control over the shutter speed. With the iPhone 6s camera rumored to be coming with some massive changes, Samsung probably won't be sitting around twiddling its thumbs.
Processor
The Galaxy S4 features a quad-core Snapdragon 600 from Qualcomm. It's a solid CPU. And while we can't benchmark the Snapdragon 600 next to the Galaxy Note 5's processor just yet, we can tell you that it looks like the Galaxy Note 5 is poised to feature a next-generation processor with a ton of firepower.
A new report claims that Samsung will be using a Exynos 7422 processor inside the Galaxy Note 5. This new processor will supposedly "be the company's first ever all-in-one solution (ePoP) as it will combine the CPU, GPU, RAM, storage, and modem on a single chip."
Samsung's also said to be testing another chip, a new Exynos 7430 chipset, but the CPU is still only an engineering sample and it likely won't be ready in time for the Galaxy Note 5's release. Samsung reportedly hasn't decided on a final chipset but all signs point to the Exynos 7422 and not the Exynos 7430.
Either way, look for the Galaxy Note 5's processor to beat out the Qualcomm Snapdragon 600. That's how these CPU upgrades work.

As an Amazon Associate I earn from qualifying purchases.