Samsung Galaxy Note 6 Release Rumors Surface
With the Samsung Galaxy S7 release near and a launch event set for February 21st, reports and rumors have already turned to what's next, the Galaxy Note 6. Samsung's flagship phablet is likely coming later this year in August, and now we have some exciting new details regarding what could be coming.
In August of 2015 the Galaxy Note 5 was announced and released, two months earlier than all prior versions. It was one of the best smartphones of the year, but Samsung's already busy working on its successor, the Galaxy Note 6.
Read: 7 Exciting Samsung Galaxy S7 Specs
Recently a patent application for Samsung's famous S-Pen stylus has surfaced, teasing buyers with a potential neat new feature to help highlight the launch of the new smartphone. Samsung added a lot of new features to the S-Pen last year, but with the Galaxy Note 6 it could double as a kickstand and more. Read on for more details.
The Galaxy Note lineup has always offered the latest and greatest from Samsung. With a big 5.7-inch Quad-HD display, powerful 8-core processor, one of the best cameras, and the Note 5 even has fast wireless charging and an all aluminum premium design.
We know plenty about the Galaxy S7 already, but details about the Galaxy Note 6 are scarce. As 2016 progresses and the rumored August release date nears, we'll begin to learn more and more about what's next for the Galaxy Note 6.
This week a patent application from late last year could be giving us insight about what's coming too. Along with a new camera like the Galaxy S7, possibly a bigger battery, IP67 dust and water resistance, and the return of a micro-SD slot for expandable storage, the S-Pen stylus may lock into place and double as a kickstand.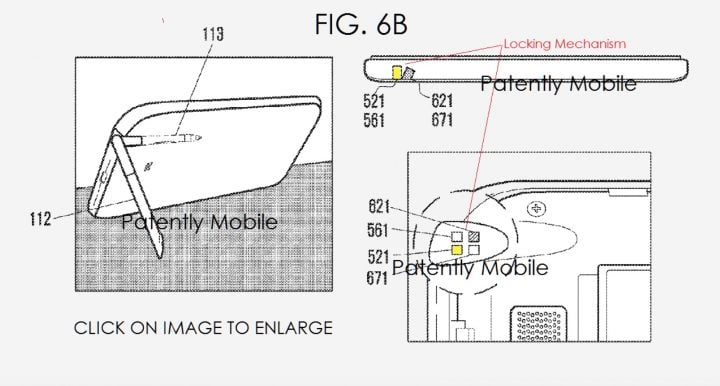 Above is an image from Patently Mobile, who made the illustration based off of information gathered from a patent filing last year by Samsung. It shows the Galaxy Note lines S-Pen stylus being redesigned to feature a fold-out type design, a locking mechanism and more, which would let users fold it out and use it as a kickstand. Allowing owners to view movies, videos and more on the big 5.7-inch (or bigger) display hands-free.
Of course the stylus (S-Pen) will likely have many of the same features from previous years, allowing owners to write on the screen, multi-task, take screenshots and more. If this is accurate though, Samsung may be looking to experiment with the S-Pen by turning it into a kickstand.
Read: Samsung Galaxy Note 5 Review
The only problem with this is having full access to an exposed stylus on back, rather than the internal design users are used to where it's hidden but slides out of the bottom of the phone. This could cause some design issues, but would be neat to see integrated into the Galaxy Note 6.
For now we don't have too many details about the upcoming Samsung Galaxy Note 6, but this could be one of many to emerge in the coming months. Most likely it will take many cues from the Galaxy S7 launch, have even more features than last year, see a slight redesign, and possibly come with a bigger screen, 4GB of RAM, a micro-SD slot and a built-in kickstand. We'll be on the lookout for more details in the near future.

As an Amazon Associate I earn from qualifying purchases.