Samsung Galaxy Note 7 Death Update: What to Know
Samsung officially killed the Galaxy Note 7 with an update in December and January. However, carriers are taking things a step further to prevent any Galaxy Note 7 from working. The Galaxy Note 7 release was a complete disaster. Arguably one of the best smartphones ever made but riddled with explosive problems. The death update disabled it from charging, but those still using one will want to read on for more details.
Following two recalls due to devices exploding or catching fire Samsung discontinued the Galaxy Note 7. However, millions of devices were still being used around the globe. The company has taken multiple steps to retrieve them all, and more are coming.
Read: Note 7 Recall & Replacements: What Owners Need to Know
On December 19th Samsung started sending a software update to the remaining 7% of devices. This prevents it from charging, and essentially completely disables the Galaxy Note 7. Most carriers delayed it until after the holidays. That said, if you flashed software to get around it, another change is coming.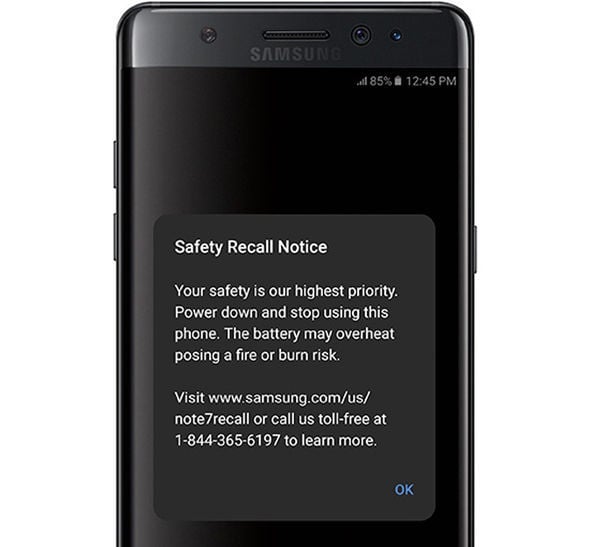 If you are still using the Samsung Galaxy Note 7 it's about to be disabled and stop working. All four major carriers released software updates as of late. Now, Fortune says carriers like Verizon are taking things a step further.
Update: As of January 17th select Galaxy Note 7 units are still being used in the United States. Many flashed custom software to prevent the death update from ruining their phone. If you did, Verizon will soon prevent the phone from making calls. Apparently anything that isn't a 911 call will go to customer support. Meaning no more calls. Additionally, they could start charging users the full price of the phone. Considering most have received refunds already.
So if you're still holding out, good luck, because more measures are coming soon. Expect other carriers to do something similar.
Galaxy Note 7 Death Update Details
On the official Samsung Blog the company announced a bold plan to remove all Galaxy Note 7 devices from the market. As we said above, an update will render it useless in the near future. Here's the important part of the statement:
"A software update will be released starting on December 19th and will be distributed within 30 days. This software update will prevent U.S. Galaxy Note7 devices from charging and will eliminate their ability to work as mobile devices. "
It's worth noting that a similar software update has been confirmed for Canada, and other regions around the globe. Although some are limiting it to 30%, so it will still function in some capacity. The goal is to make the device a paper-weight, so all remaining owners have no choice but to return it for a full refund. This is to ensure a dangerous device isn't being used.
The 19th was just their start date, but carriers delayed it. However, it's mandatory and will begin on it's own. Once complete, the phone will run out of battery and stop working completely. You will not be able to recharge it. Some are flashing custom software to prevent the death update, but we'd advise against that. Get something else, and upgrade to the Galaxy S8 Plus in early 2017.
Carriers Are Pushing the Death Update
After this news arrived many wee concerned. All carriers delayed the update a few weeks to let customers make it through the holidays. However, it's now 2017, holidays are over, and it's time to get rid of the Galaxy Note 7.
Verizon Wireless originally stated that it will not be taking part in the update due to the added risk it poses. The phone will still work when plugged into a charger and has power, it just won't charge. Using it in that manor is extremely unsafe, as the battery could explode.
"We will not push a software upgrade that will eliminate the ability for the Note7 to work as a mobile device in the heart of the holiday travel season. We do not want to make it impossible to contact family, first responders or medical professionals in an emergency situation." — Verizon Wireless
Verizon's statement above is still true, but recently they updated the information. Similar to other carriers, Verizon will issue the death update for the Note 7 starting on January 5th.
Additionally, all carriers made announcements. T-Mobile Note 7 devices are done for. Verizon is killing their remaining devices starting today, as will AT&T. Sprint will follow in the near future.
T-Mobile – December 27th (done)
AT&T – January 5th (rolling out now)
Verizon – January 5th (done)
Sprint – January 8th (done)
As of right now everyone with a Note 7 from the above carriers have received this update. The phone should no longer be working, unless you flashed custom software and blocked updates. If so, Verizon will stop letting the device make calls.
What Should You Do Now?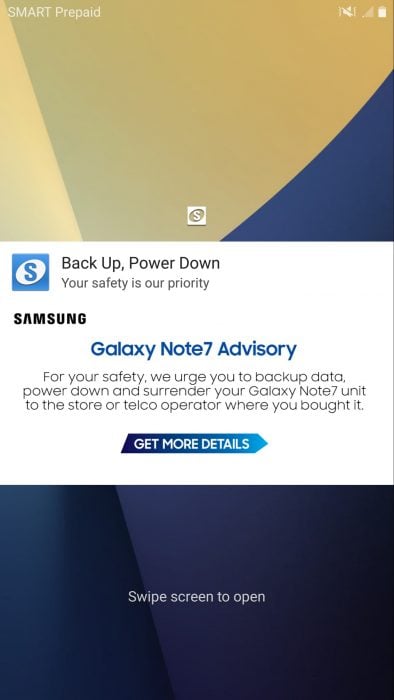 The company is still insisting that anyone who has the Galaxy Note 7 return it for a full refund or replacement. Carriers will give users a $100 credit on their bill, help transfer everything to a new device, and make the process as easy as possible.
Read: How to Backup & Reset Your Galaxy Note 7 for Recall
Those who own and are still using the Galaxy Note 7 are recommended to visit this site, and proceed to your nearest retail store and return it. Carriers and Samsung are accepting returns for a full refund regardless of condition. There's no limits.
So, back it up right now. Take the necessary steps to transfer everything to a new phone and return it before it's too late.
Galaxy Note 7 Alternatives
Samsung confirmed that they've received roughly 93% of all Galaxy Note 7 smartphones that were sold. Meaning nearly 7% of the millions sold are still being used today. Hundreds of thousands that may potentially explode or catch fire. In an effort to keep consumers safe they are disabling the devices at any cost necessary.
So, what should you get as a replacement for the Galaxy Note 7? There are a lot of excellent alternatives available. Everything from the Google Pixel XL, LG V20 or even an iPhone 7 Plus.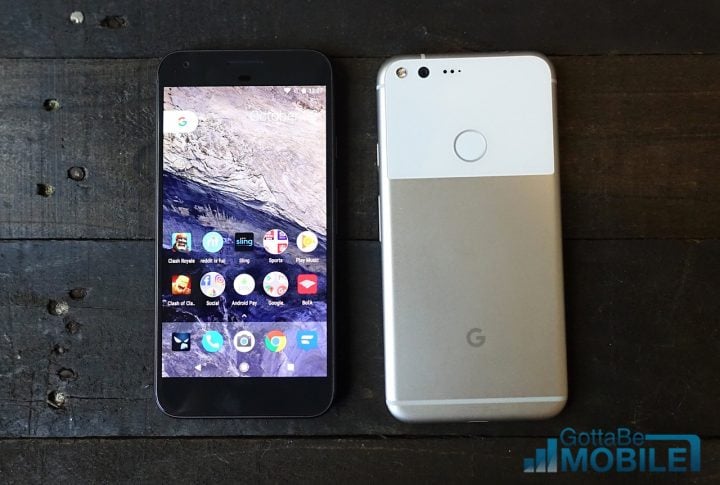 Here are 7 Galaxy Note 7 Alternatives worth considering. Carriers will help with the switch or use Samsung's SmartSwitch software to transfer phone data, give you a refund, and even a $100 credit on your bill. This looks to be the final straw for Samsung's Galaxy Note 7. As 2017 kicks off the phone will be 100% dead, gone forever.
In closing, the company has an exciting Galaxy S8 and Galaxy S8 Plus on the way. We can also look forward to a safe new Galaxy Note 8 in August or September of 2017.

As an Amazon Associate I earn from qualifying purchases.