Samsung Galaxy Note for AT&T Appears in New Image
We're fairly certain that AT&T and Samsung will be introducing the Samsung Galaxy Note at CES and while we have already gotten a pretty good look at the device with AT&T branding, another photo has leaked out today all but confirming the hybrid handset's arrival on Ma Bell's network. Now all we need is the official word, something we'll probably get in just a few days.
And while we're pretty sure about the features that will be on the board when the Galaxy Note arrives, we still don't have a release date. Luckily, this press image provides the first possibility.
Take a look at the date on the display.
It says February 14th. In the past, manufacturers have released devices on the date that's frozen in time on a press image so it's certainly possible that Samsung might do the same here. Who knows.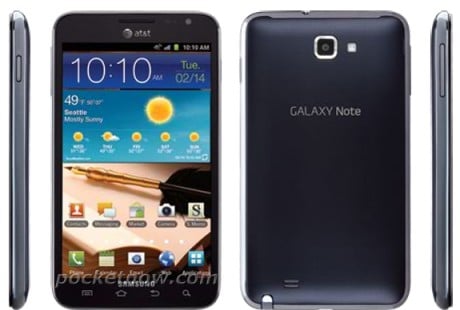 That date is probably a little further off into the distance then most of you would like but again, until it's announced, we can't know for sure.
Let's also touch a bit on what you see here. AT&T's Galaxy Note is expected to boast Android 2.3 Gingerbread and comes with a dual-core 1.4 GHz Exynos processor. It also has a micro SDHC card slot for expansion and either 16 or 32 GB of internal storage space.
It should also arrive with support for Ma Bell's 4G LTE network which just arrived in 11 new markets yesterday including New York and San Francisco.
All of this should become official in Las Vegas in the days ahead.
Via: Pocketnow

This article may contain affiliate links. Click here for more details.