Samsung Galaxy Note for AT&T Gains Dual-Core Snapdragon CPU, 4G LTE Support
We had previously reported that Samsung's 5-inch tablet-phone hybrid form factor mobile touchscreen device may be headed to AT&T, and it seems that the AT&T edition will be a little bit different than the international version. As it stands, the version that was seen going through the FCC earlier for U.S. regulatory approval may be just a different color variant of the international GSM release. That version had the model number GT7000B. The latest version now being spotted is the SGH-I717, which is expected to be headed to AT&T's lineup in early 2012.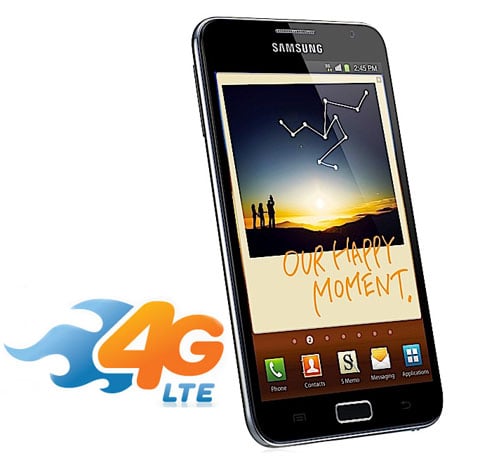 The SGH-I717 is believed to replace the international version's dual-core Exynos processor in favor of Qualcomm's Snapdragon dual-core chipset. The move is not unsurprising considering Samsung had swapped to a Snapdragon CPU on U.S. releases of the Galaxy S II for both T-Mobile and AT&T. The reason is that the Snapdragon CPU is better equipped to handle both carrier's enhanced 3G HSPA+ networks, which is branded as 4G in the U.S., as well as Qualcomm's expertise in 4G LTE radios.
News of the AT&T edition comes by way of pocketnow.
Additionally, this model is said to support AT&T's 4G LTE radio.
The Galaxy Note's appeal is its hybrid form factor for Android, which perhaps is pioneered by the Dell Streak. The Note's 5-inch+ display makes it slightly larger as a phone, but a lot more pocketable and portable as a tablet compared to rival offerings with 7-inch or greater displays. Despite its small size, the Galaxy Note still packs a lot of power with a Super AMOLED Plus display and a resolution of 1280 X 800 pixels that's more typical on a 10-inch tablet today. The tablet also has an active digitizer, which is perhaps championed by HTC in the Android category with the company's HTC Flyer tablet. This makes it easy to input handwritten notes, capture signatures, and make quick drawings, doodles, and annotations on the Note.
Via: Engadget

As an Amazon Associate I earn from qualifying purchases.