Samsung Galaxy Note Launching February 18th on AT&T?
AT&T has a couple of intriguing devices in the mix for the first half of 2012 and one of those devices is the Samsung Galaxy Note, a 5.3-inch tabletphone hybrid that we saw at CES 2012. Unfortunately, the carrier hasn't said when it will arrive but a new roadmap leak courtesy of BGR indicates that it will be arriving in February. February 18th to be exact.
The roadmap has also revealed the pricing on the device as well.
Unfortunately, it won't be priced as aggressively as the upcoming LTE-powered Nokia Lumia 900 Windows Phone which AT&T will apparently be offering for $99 on-contract. Instead, the Galaxy Note will come with a price tag of $299.99 which means those of you who have been waiting for a chance to get a hold of this unique device better start saving now.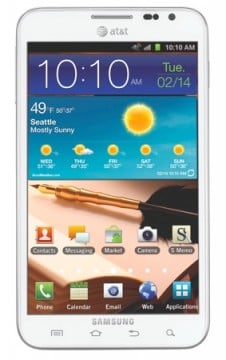 Remember, this is not a Wi-Fi device. This is a full-fledged 4G LTE device that can serve both as a phone and as a tablet. It also comes with Samsung's stylus, the Samsung S-Pen, which we went hands-on with at CES 2012 as well.
The news comes just a few days after the Galaxy Note passed through the U.S. FCC with its 4G LTE bands on board which seemed to signal that a release was close.
It should be a few weeks before AT&T puts this into stone but the 18th is definitely the date that you'll want to circle on your calendar if you're liking what you see from the device that we awarded the Best Versatile Mobile Device at CES 2012.
Just make sure you do so in pencil as these things can change in a heartbeat.