Samsung Galaxy Player 3.6 Review
The $149 Samsung Galaxy Player 3.6 can best be described as Android's answer to the iPod touch. Running the Gingerbread flavor of the popular smartphone operating system, this device is an MP3 player with serious benefits, including access to the full Google Play Store.
At this size you're not going to get a king of all multimedia. You will get a very capable music player that can also access your email, browse the web, play games and even double as a VoIP phone.
Is the Galaxy Player the right device for you or someone you know? Read our full review to find out.
Pros

Good audio quality
Small and lightweight
Access to full Google Play Store

Cons

Lack of good pre-loaded music apps
Narrow viewing angles
Screen easily smudged
Galaxy Player 3.6 | $149

Galaxy Player 3.6 Review Guide

Related Galaxy Player 3.6 Review Articles

Buy the Galaxy Player 3.6


[amazon_link id="B007M6EYU2″ target="_blank" container="" container_class="" ]$149 at Amazon[/amazon_link]

Who Is The Galaxy Player 3.6 For?
The main audience is kids and tweens who want a music player with benefits. Anyone still rocking a separate MP3 player for exercise or just to keep from running down the battery on their smartphone. Android newbies who want to dip a toe into the operating system before committing to an expensive device and a two-year contract.
Design and Display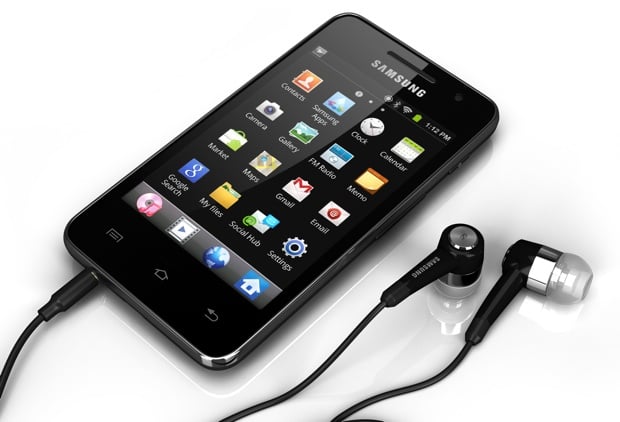 Aesthetically, the Galaxy Player 3.6 looks just like other Galaxy family devices, but most particularly the Galaxy S phones. It doesn't have the premium feel of a Galaxy S II but also doesn't come off as cheap or a knock-off. The main differences are small: only three buttons below the display — Menu, Home, Back, no search. The headphone jack is on the bottom next to the micro USB port.
It's also smaller than most smartphones on the market. At 2.5 x 4.5 x 0.38 inches and 4 ounces it's very pocketable, even if you must wear your skinny jeans. Due to the small size, this device is more useful for music than for other multimedia activities. You can play videos and games on it, but you likely won't want to.
The 3.6-inch 480 x 320 resolution screen isn't big and has pretty narrow viewing angles. When playing games that utilize the accelerometer, such as Temple Run or driving games, even small tilts made the display darker and less easy to make out details. For optimal colors you need to keep the Player in the sweet spot.
Overall, everything from the user interface to text isn't as sharp as I like. The display is still easily viewable with the brightness turned all the way down and colors look decent. Outside, even at 100% brightness, the screen didn't do so well in the sun.
Music and Multimedia
It's no big surprise that the Galaxy Player's audio quality is quite good. Samsung's MP3 players of the past always scored high for audio quality as have many of the Galaxy S phones. Through headphones, the audio quality is actually superior to the iPod touch, delivering fuller sound both at the top and the bottom.
The speakers produced pretty loud audio at 100%, but nothing too out of the way for a device this size.
Paired with a good set of headphones, the Galaxy Player makes for a great music player. And since it has access to the entire Google Play Store, users can load their favorite music player from Spotify to Slacker Radio to doubleTwist to Google Music.
Still, I'm surprised that Samsung didn't pre-load many music apps. Aside from the stock music player (tweaked a little to make it more visually appealing) and an FM Radio app, there are no other music offerings. Not even the Samsung Music Hub. Users can download this from the Samsung Apps store, but that's only if they know to look for it.
Compare this to the Android-powered Philips GoGEAR player, which comes pre-loaded with several music apps from players to MP3 stores to streaming services. Since this is the kind of device a beginner might buy, it makes sense to guide them with pre-loaded apps, especially for your own services.
There's only 8GB of internal memory, which isn't much for a music player. Especially if you like to have all your music available at all times. Thankfully, the microSD card slot under the battery cover takes cards up to 32GB.
The Player is capable of playing 720p video files. However, the narrow viewing angles dampen the experience. Samsung doesn't seem to expect users will do much video watching as the Media Hub (movies and TV episodes) isn't available on this device.
Games
Thanks to the 1GHz Hummingbird CPU in the Galaxy Player, the device can run many popular Android games such as Temple Run, Fruit Ninja, Angry Birds and more. However, with a screen this small it's hard to fully immerse.
Plus, the screen's responsiveness isn't great. This is partially because the surface attracts smudges easily, so it needs cleaning often. Swipes and taps don't always register correctly, causing me to die or miss fruits or other frustrating mishaps during gameplay.
Thus, the Galaxy Player doesn't make a good substitute for a portable game system like the PlayStation Vita ($249) or the Nintendo 3DS ($169).
Performance, GPS and Battery
The CPU inside the Galaxy Player isn't the fastest you'll find in a mobile device, but for a product like this it provides ample power. For playing music, doing a small amount of web browsing, and maybe playing a few games, the Player proved speedy. My power multitasking did visibly tax the system sometimes.
The Wi-Fi radio (b/g/n) proved strong when downloading apps and loading websites. The signal dropped off pretty quickly when moving away from connected routers, but I still saw a decent range.
The device does have a GPS radio, but it's not very strong. With the assistance of Wi-Fi it was able to pinpoint my location in Google Maps. When I tried to use it with RunKeeper the app couldn't get a good GPS signal even with Wi-Fi on, so I couldn't track my stats.
While it won't make a good in-car GPS substitute, the feature does have one useful function. Used in conjunction with Google Latitude, parents can keep track of their kids' movements.
Samsung promises 30 hours of music playback and 5 hours of video playback. In my hands-on time I mostly listened to music, though I did keep the Wi-Fi radio on. I was able to go several days without needing to charge the device.
Software and Apps
The Galaxy Player runs on Android 2.3 Gingerbread with Samsung's TouchWiz user interface on top. TouchWiz isn't as prevalent and in your face on this device as on recent Galaxy S devices or on tablets, but does provide some nice widgets and some aesthetic tweaks.
As I mentioned, the Player is light on pre-loaded apps, even for music and media. Notable apps include Samsung Memo, Social Hub, QuickOffice (full), Kies Air, SmartView, Angry Birds, Google+ and textPlus.
Since owners will get full access to Google's Play Store they can install most of the 450K+ apps available.
Samsung's Ecosystem
One of the advantages the Galaxy Player has is that it works seamlessly with some other Samsung devices.
The SmartView app allows owners of a Samsung Smart TV to use the Player as a remote control or as a game controller while the game itself plays out on the larger screen.
Newer Samsung point and shoot cameras can connect directly to the Player for Remote Viewscreen functionality. With this, users can set up a shot and control the camera, including taking a picture, from the Player.
The AllShare app utilizes DLNA technology for easy transfer and streaming of media content from and to the Player from other Samsung tablets, smartphones and more.
Cameras
A 2MP camera graces the back of the Player. Pictures are uninspiring but good enough for a tiny device. Since there's no flash it's pretty useless unless you have good ambient light.
The VGA front-facing camera produces dark images that look pretty pixilated when doing video chats.
The Bottom Line
The Galaxy Player 3.6 is a great music machine. Samsung's versatile little device offers owners a range of choices for music discovery, purchase, and playback through the Google Play Store. Though the company could have done a better job of pre-loading apps on the Player for less savvy users.
It's not the best choice for consumers who want an all-around media device. However, the Player 3.6 offers more screen space and flexibility than the $129 iPod nano and is less expensive and more pocketable than the $199 iPod touch. For $149, the Galaxy Player is a good choice for consumers looking for an MP3 player with benefits.
Specs
OS
Android 2.3 Gingerbread
Display (size/res)
3.6 inches, 480 x 320 pixels
CPU
1GHz Samsung Hummingbird
Internal Storage
8GB
Expansion
microSD slot (up to 32GB)
Ports
microUSB, headphone
Cameras
2MP (rear), 0.3MP (front)
Wireless
Wi-Fi 802.11 b/g/n; Bluetooth 3.0;
DLNA (AllShare)
Battery
1,500mAh Li-Polymer (30 hrs music, 5 hrs video)
Size
2.5 x 4.5 x 0.38 inches
Weight
4 ounces

As an Amazon Associate I earn from qualifying purchases.