Samsung Galaxy Prevail Coming To Boost Mobile For $180 Off Contract
Boost Mobile and Samsung have just announced a new CDMA phone and another member of the Galaxy smartphone family called the Samsung Galaxy Prevail that will be hitting the mobile carrier later on this month for $179.99 without any sort of a contract.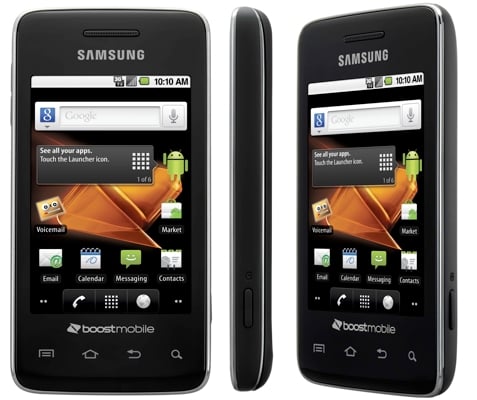 The Samsung Galaxy Prevail will come with Android 2.2 on board (sorry, Fascinate owners), a 3.2-inch touchscreen display, Bluetooth, GPS, and a 2 megapixel rear-facing camera.
While not a technical beast, the fact that it's so cheap off contract makes it a nice option for those not wanting to get into a binding agreement with a mobile carrier.
Throw in the fact that Boost Mobile offers a $50 Monthly Unlimited plan and all of a sudden, the Galaxy Prevail looks pretty amazing.
Neither Samsung nor Boost Mobile offered a specific release date but when it does become available it will be found at Boost Mobile's exclusive retail stores as well as select independent wireless dealers. It will also be available at Boost Mobile's website with free shipping included.

As an Amazon Associate I earn from qualifying purchases.