Samsung Galaxy S II Details, Review & Hands-On Video Roundup
The Samsung Galaxy S II is Samsung's follow up to the wildly popular Samsung Galaxy S series of devices which passed the 10 million sold mark back in January. The Galaxy S II itself is off to a hot start with 3 million pre-orders already sold since it was released back at the end of April.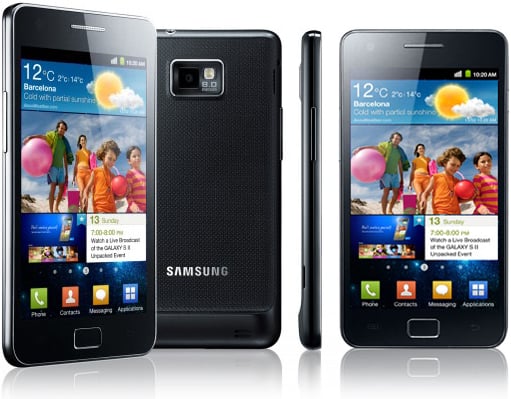 Originally announced at the 2011 Mobile World Congress in February, it will be gradually hitting markets worldwide over the course of the next several months culminating in a release in 120 countries on 140 different mobile carriers.
The Samsung Galaxy S II is arguably the best Android phone to date with features that are nothing short of amazing. From its Super AMOLED Plus display to its dual-core processor to the fact that it's powered by the latest version of Android out of the box, the Galaxy S II is truly an Android superphone and a device that can easily classified as a threat to the iPhone.
Samsung Galaxy S II Release Date
The Samsung Galaxy S II was released on April 28th in South Korea and will gradually be released in 120 countries on 140 different mobile carriers over the next several months.
Currently, the device has no launch date in the United States. And while the official U.S. carriers of the Galaxy S II are currently unknown, both AT&T and T-Mobile USA have been rumored to be carrying the device once it hits shelves.
What is the Samsung Galaxy S II?
Samsung's Galaxy S II is a powerful Android superphone that combines serious hardware with extremely capable software. It features a spacious 4.3-inch Super AMOLED Plus display with 480 x 800 resolution and Gorilla Glass which of course is a departure from the 4-inch display found on its predecessor, the original Galaxy S.
The Galaxy S II also features a faster processor than its older brother and is powered by 1.2GHz dual-core XMM6260 processor. Originally, the processor was thought to be 1GHz but Samsung confirmed that it would receive a bump up to 1.2GHz shortly after the phone was announced.
It should be noted that some markets will get a dual-core Tegra 2 model, possibly with a Super Clear LCD display, although Samsung has not yet announced which markets those are.
It also comes with Google's latest and greatest software, Android 2.3 Gingerbread, right out of the box with Samsung's new TouchWiz 4.0 over the top of it.
Samsung Galaxy S II Hands-On Video
Samsung Galaxy S II Features
Super Thin Design: The Samsung Galaxy S II features an extremely thin design measuring 8.49mm at its thinnest point. That makes it one of the world's thinnest smartphones, no small achievement considering what's packed inside of the design.
HSPA+ 4G Support: The device supports  HSUPA speeds which means it can achieve speeds up to 21 Mbit/s.
1080p Video Capture: The Samsung Galaxy S II is able to record 1080p video using its 8MP camera.
Samsung Galaxy S II Pricing
The price of the Samsung Galaxy S II is likely going to vary from service provider to service provider which means that an exact price can't be pinned down. If it follows the usual smartphone trends, the Galaxy S II should be right around $200 on-contract when official pricing in the U.S. becomes known.
In the UK, it seems to vary from £40 to £499 depending on what kind of contract or data plan you choose to sign up for and which provider you snag it through. O2 has it up for £399 while Three UK has it for £499.
Samsung Galaxy S II Hands-On Review Videos
A fantastic and in-depth look at the Samsung Galaxy S II's beastly hardware, courtesy of Pocketnow.
—

A brief video captured using the Galaxy S II's 8MP rear camera showing off the 1080p video capture quality.
—

Here is a video showing off gaming performance on the Galaxy S II.
—

A quick comparison video showing the Galaxy S 2's screen as opposed to the iPhone 4's Retina Display.
Samsung Galaxy S II Specs
| | |
| --- | --- |
| Networks: | GSM 850, 900, 1800, 1900, HSPA HSUPA 5.76 Mbit/s, HSPA+ HSDPA 21 Mbit/s |
| Operating system: | Android 2.3 Gingerbread with TouchWiz 4.0 |
| Display: | 4.3-inch Super AMOLED Plus (480 x 800) with Gorilla Glass |
| Camera: | 8MP rear camera with 1080p video capture, 2MP front facing camera |
| Memory: | 1GB RAM, 32GB of internal storage |
| WLAN: | 802.11b, 802.11g, 802.11n Wi-Fi |
| Bluetooth: | Bluetooth 3.0 |
| GPS: | A-GPS |
| Battery: | 1650 mAh LiIon battery |
| Special features: | Super thin design, TouchWiz 4.0, 1080p video capture |
| Chipset: | 1.2 GHz Dual-Core Dual-core XMM6260 processor |
Samsung Galaxy S II Gallery

As an Amazon Associate I earn from qualifying purchases.