Samsung Galaxy S II for AT&T, Sprint and T-Mobile Pose for Group Photo
Have you been having trouble sleeping in anticipation of Samsung's Galaxy S II event in New York on August 29th? I might just have the remedy that you've been seeking then. We now know that Verizon won't be carrying the Samsung Galaxy S II at all but that doesn't mean the other big three won't have one. And up until today, we have really had no definitive idea as to what each device would look like.
Now, courtesy of Pocketnow, we now have our first clear cut glimpse of all three Galaxy S II devices headed to AT&T, Sprint and Verizon. As you can see, the Sprint device is prominently featured with the AT&T and T-Mobile device sitting on either side of it.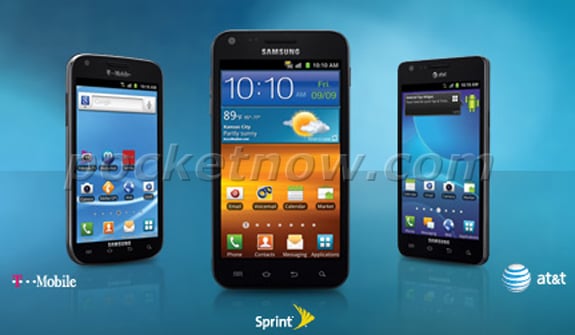 The mysterious image also seems to indicate that all three models are 4G. We knew the Sprint model was going to be WiMax and that the T-Mobile model was likely going to be an HSPA+ powered device, but we didn't know about AT&T's.
We can also see that AT&T's model seems to be the most different, form factor wise, out of the bunch. I'm actually thinking I like it the most.
How about you guys?

As an Amazon Associate I earn from qualifying purchases.