Samsung Galaxy S II Found at FCC, Launching Soon?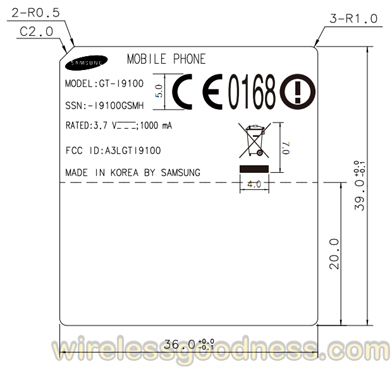 Samsung's second generation flagship Android smartphone, the Galaxy S II, was recently spotted at the FCC awaiting U.S. regulatory approval. The updated flagship, which sports a dual-core processor from either NVIDIA or Samsung, was initially launched at Mobile World Congress last month in Barcelona, Spain.
The model being seen at the FCC is also referred to as the GT-I9100, and has support for AT&T's wireless spectrum suggesting this model may be headed to AT&T. While phone-makers often seek regulatory approval, FCC sightings do not necessarily indicate that the handset will make it to launch, either via a carrier–in this case, AT&T–or in unlocked form. However, as AT&T carried the original Galaxy S in the form of the AT&T Captivate variant, it is likely that the carrier may carry the successor to the Captivate, perhaps re-badging it as the Captivate II at launch, though that's purely conjecture at this point.
Another 4G Android smartphone made by Samsung that was announced for AT&T is the Samsung Infuse 4G, which will share the updated Super AMOLED Plus display with the Galaxy S II.
Rival national GSM carrier in the U.S., T-Mobile, recently launched an updated version of its own Galaxy S variant, though that model isn't the upgraded Galaxy S II. T-Mobile had updated its T-Mobile Vibrant, its variant of the original Galaxy S, with a model called the Galaxy S 4G, which supports the carrier's HSPA+ network for faster mobile broadband speeds. That model is seen as a modest improvement, delivering faster mobile broadband speeds and comes with the inclusion of a front-facing camera for video calls.
Via: Wireless Goodness

As an Amazon Associate I earn from qualifying purchases.