Samsung Galaxy S II Skyrocket Price Falls at Amazon
As it stands, AT&T's doesn't have a wide selection of devices on its 4G LTE network. There are a couple of phones and tablets but the bulk of its LTE lineup will be launching this year, a lineup that includes devices like the Samsung Galaxy Note and the Nokia Lumia 900. However, if you can't wait, Amazon currently has a deal on the carrier's 4G LTE enabled Galaxy S II, the Samsung Galaxy S II Skyrocket.
Amazon has seen it fit to drop the price of the Galaxy S II Skyrocket down $60 and it currently sits at $140 with the signing of a new contract. Both Amazon and AT&T had been offering it for $199.99 so this is a pretty good deal.
The offer is also extended to those who have an individual plan on AT&T and are looking to upgrade. Those of you who are on a family plan looking to upgrade will have to shell out quite a bit of coin ($209) in order to make the switch.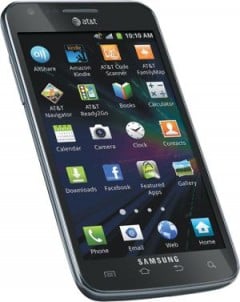 The Galaxy S II Skyrocket is probably the best smartphone not called the iPhone 4S currently available on AT&T so it's definitely worth a look if you're in the market for a solid phone with data speeds that can reach up to 10 times faster than normal 3G.
There is a slight problem though.
This is a 4G LTE phone and AT&T has just under 30 markets currently rolled out in the United States. So if you don't have 4G LTE in your city just yet, you're going to be stuck using AT&T's HSPA+ network until it arrives.
AT&T is expected to make an ambitious 4G LTE push this year so if you don't have it yet, you'll likely see it sooner rather than later.
So, if you want to have a look, you can find the Galaxy S II Skyrocket at Amazon right here.