Samsung Galaxy S II to Come in Two Variants, One with Tegra 2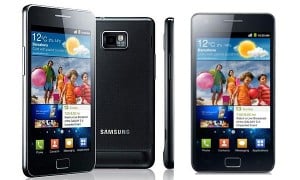 Prior to the official announcement of the Samsung Galaxy S II Android smartphone, there were rumors that Samsung may use another company's CPU to power its own flagship Android device, and now there is news that there may be a second version of the smartphone. The NFC-equipped smartphone will come with either a Samsung Exynos CPU–previously codenamed Orion–or an NVIDIA Tegra 2 CPU. Both mobile processors are dual-core 1.0 GHz chips based on the same ARM Cortex A9 reference design.
While the Korean phone-maker tries to use internally manufactured components for its products, its use of a rival chipmaker's CPU probably indicates that Samsung hasn't ramped up production of its Exynos dual-core CPU enough to fulfill demands of its own phone division.
A similar situation had occurred with the original Galaxy S launch where Samsung had to utilize a competing technology for one of its components to satisfy demand for the popular Android handset. In the case of the Galaxy S, Samsung decided to use a Super LCD display in some markets instead of the company's own Super AMOLED screen technology, indicating that there were supply constraints with the company's own display panel. The LCD-based Galaxy S–actually called the Galaxy SL to differentiate itself from the Super AMOLED variant–actually uses a rival chip from Texas Instruments of similar single-core 1 GHz specs.
An NVIDIA Tegra 2-powered Galaxy S II smartphone may only be available in non-critical markets. The company may be targeting its own Exynos-powered Galaxy S II for important markets, such as the U.S. market.
The use of two different chipsets, although from the same ARM family with the same specs, is perhaps the reason why Samsung had been vague about the CPU specs of the device at its unveiling at Mobile World Congress.
Via: Engadget

This article may contain affiliate links. Click here for more details.