Samsung Galaxy S III vs. Samsung Galaxy Note
Samsung makes my two favorite smartphones, the Samsung Galaxy Note and the Samsung Galaxy S III.
I bought the Samsung Galaxy Note when it became clear that the Apple iPhone would never show up with a larger screen. So I went for the biggest screen I could find in a phone and enjoyed it immensely.
Then I learned about the Samsung Galaxy S III and decided to become a two phone man again, replacing my home land line with the Galaxy S III. This gives me a chance to draw some comparisons between Samsung's two great Android smartphones. Now that the Samsung Galaxy Note finally sports Android 4.0 ICS the comparison is more direct.
Display
I think the S III brings most of what I enjoyed about Android and the larger screen of the Note and streamlined it. A 5.3″ display isn't for everyone, but the older I get the worse my eyes become. I like the bigger screen and enjoyed the Note. However, the slightly smaller Galaxy S III with a 4.8″ display offers the larger display, but doesn't feel like I'm carrying a brick in my pocket. The Galaxy S III is easier to hold too.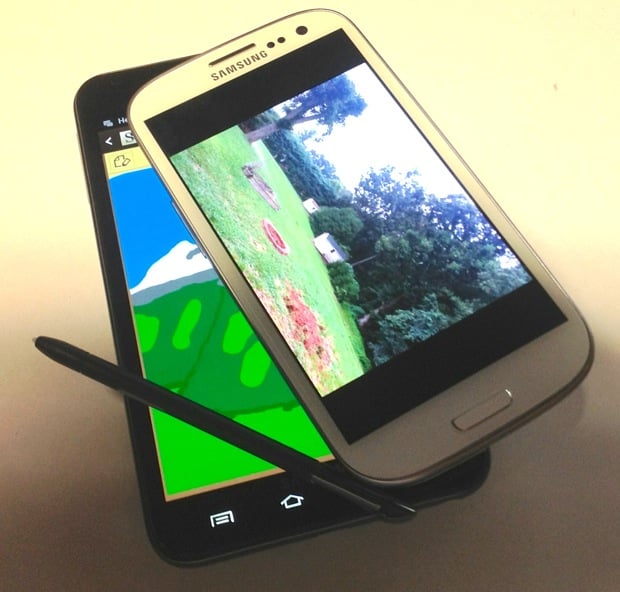 Battery Life
I wrote awhile back that I didn't like two things about the Note – battery life and the weaker camera. After slightly more than 8 hours on the S III the battery still holds 40% of its charge. That's with average to heavy usage.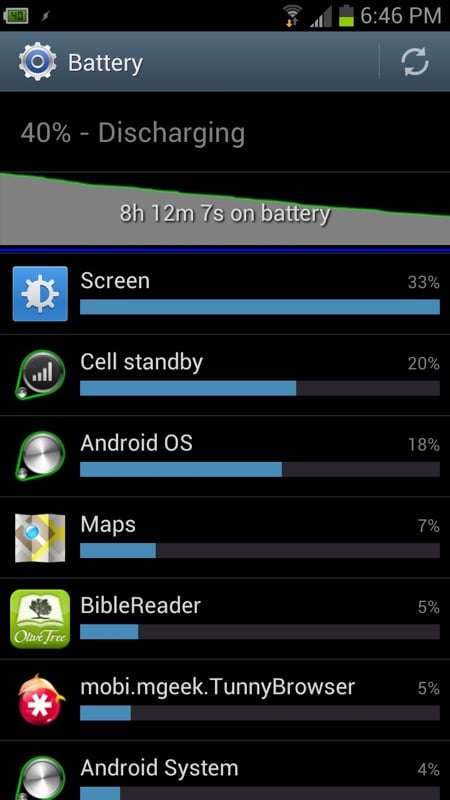 Doing the math I'll get about 13+ hours without ever recharging my phone and running with Wi-Fi, Bluetooth and GPS all active, but not NFC. I can live with that since under normal use I topped off the battery on my Note when I got in my car or sat at my desk during the day. I don't feel the need to go looking for an extended battery with the SIII, which means I don't need to carry around an even bigger phone. I also don't think I'll need to plug in every chance I get, like I did with the Note.
Camera
The Samsung Galaxy Note camera worked okay. It responded slowly and, until ICS showed up, I couldn't use the tap to focus feature since most camera apps said that don't support it in older Android versions. Still, the camera produced decent results.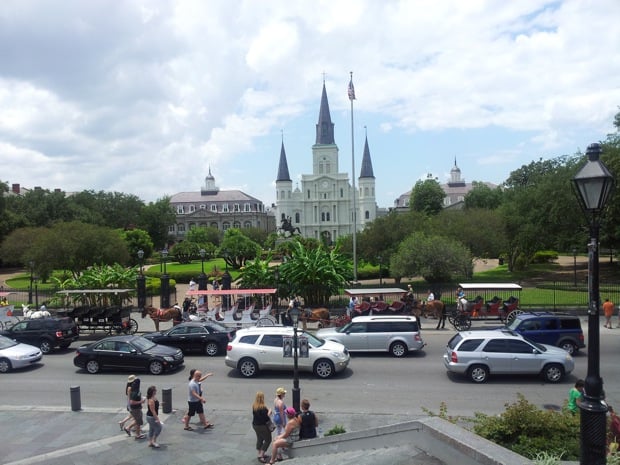 I took the above shot while in New Orléans last month with the Note. Not bad. The image quality was never my problem. I just didn't like the sluggish performance.
The Galaxy S III sports an excellent camera that responds instantly and includes a nice burst mode that lets the user get a fast series of shots.
I love the Galaxy S III camera. It's as good as any phone I've used, including the iPhone 4S. The below image comes from my backyard on a pretty ugly day. Still it looks okay despite the blown out sky and under saturated color. On a nice day and with some image editing, like I did with the above shot, this backyard scene would look better.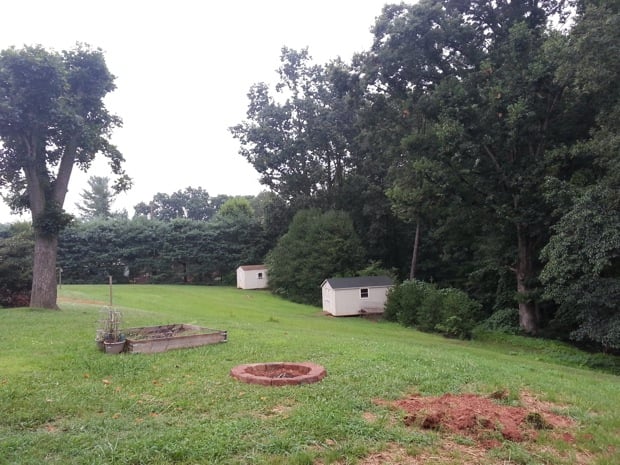 Just be careful to keep the phone in single shot mode so you don't fire off five shots without knowing it. The burst mode snaps pictures faster than I expected. That's a good thing!
Smooth Interface
The Samsung Galaxy S III interface moves fluidly as I swipe between screens, tap icons to launch apps and enter text. The Samsung Galaxy Note under GingerBread wasn't as smooth. That got a little better with ICS, but not enough to make it as fast as the S III.
Every once in a while the Note just freezes and I had to wait for it to respond. Most of these freezes went away after ICS, but not all of them. I don't think I've seen one on the S III.
I Miss the S Pen
I wish Samsung included the same S Pen on the S III. It's the only thing I really miss. I never got very good at using it. it takes some finesse to get really nice results. In just one day my artist son does a better job with it than I ever did. He's a big Spider Man fan and drew the following in S Memo.
I may find other points of departure between the two phones, but for now I'm satisfied. I loved my Note, but I'm more pleased with the Samsung Galaxy S III. If Samsung included an S Pen it would be as close to a perfect phone as I've used.

As an Amazon Associate I earn from qualifying purchases.