Samsung Galaxy S III Battery Test Shows Impressive Results
The Samsung Galaxy S III won't release internationally for another two weeks, but a new battery test shows just how long the Galaxy S III's 2,100 mAh battery can last.
The battery test come from GSM Arena which put the phone through the paces of 3G talk time, web browsing, and video playback. Predictably, the phone doesn't stand up to the Droid RAZR MAXX's 3300 mAh battery, but it does perform better than most smartphones.
According GSM Arena's tests, the Galaxy S III can last for 10 hours and 20 minutes on 3G talk time. The result puts the phone in fourth place behind the Samsung Wave S, Galaxy Note, and RAZR MAXX. The MAXX ranks first with more than 20 hours of talk time.
During the talk time test the screen is off, so users will likely see less time if they use a headset for phone calls and use the phone for other tasks at the same time. The number will likely drop even more when using Bluetooth.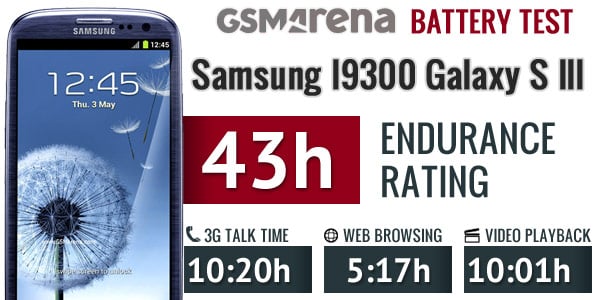 The Galaxy S III doesn't perform as well in the web browsing test. Its 5 hours and 17 minutes of web browsing put it in the middle of the pack. It lasted just a few minutes less than the Galaxy Note LTE and the HTC Sensation XL. The poorer performance is mostly due to the PenTile screen on the device. Despite Samsung's claim that PenTile provides better battery performance, the screen has trouble displaying white web pages efficiently.
The last test, video playback, again shows off the battery's power. The Galaxy S III lasted 10 hours and one minute when playing video. That's just four hours less than the Droid RAZR MAXX's result of 14 hours and 17 minutes. The result means the Galaxy S III should keep going through a cross-country flight worth of TV shows and movies.
GSM Arena's test was on the GSM version of the Galaxy S III, so the U.S. versions with LTE might have slightly different results. Even so, the GSM version of the phone showed some impressive results.
According to GSM Arena, the test means that users will only have to plug-in their phone once every 43 hours if they use their phone for one hour of talk time, one hour of web browsing, and one hour of video playback every day. That seems like an unlikely scenario, but it does look like the Galaxy S III should last a full day on a single charge for the average user.

This article may contain affiliate links. Click here for more details.