Samsung Galaxy S III Jelly Bean Update Ready in "Coming Months"
Samsung announced today that its flagship Galaxy S III smartphone will receive Android 4.1 Jelly Bean in the U.S. in the "coming months."
Samsung isn't specific on when the Galaxy S III Jelly Bean update will reach phones in the U.S., instead it will leave the rollout process to the carriers. Verizon, AT&T, T-Mobile, Sprint, and U.S. Cellular will all announce their own update rollouts when the OS update passes testing and is available.
Android 4.1 Jelly Bean brings new features like Google Now, Google's Siri competitor. It also introduces Project Butter which makes Android run faster and more smoothly. Other Jelly Bean features include improved notifications and offline dictation.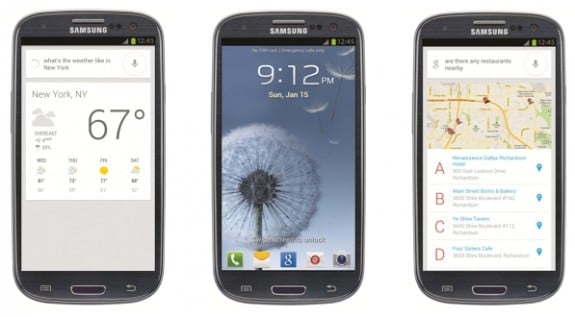 In addition to the Jelly Bean improvements the update will bring a few changes to Samsung's TouchWiz UI. With Jelly Bean Galaxy S III users will gain "Blocking Mode" which blocks calls and notifications for a period of time. Blocking Mode sounds a lot like the great Do Not Disturb feature from iOS 6.
The Jelly Bean will also bring a few improvements to the Galaxy S III's camera. After the update users will gain more filters for photos and video, and a new low-light mode for photos. The camera will also gain a new pause and resume recording feature to record several separate scenes in one file instead of multiple files.
Other new features include one-tap pairing with NFC and AllShare built into the ESPN ScoreCenter app.
Android 4.1 Jelly Bean is already available on the Samsung Galaxy S III in other countries, but Americans will have to wait just a bit longer for carriers to approve the update.