Samsung Galaxy S III Pre-Orders Begin at T-Mobile UK
Pre-orders for the Samsung Galaxy S III have begun at T-Mobile UK just days ahead of the device's highly anticipated May 29th release date.
The carrier isn't the first to start taking pre-orders for the device but those currently on T-Mobile and those wishing to go the Magenta route will certainly appreciate the fact that the carrier is now taking them.
Pricing for the Galaxy S III ranges from £10.50 per month which will require customers to pony up £300 right off the bat to £41 with the signing of a new two-year contract with the carrier.
Sadly, it looks like those who pre-order the device now through T-Mobile won't be getting the device on May 29th and instead will likely be getting after May 30th.
The Samsung Galaxy S III will be launching on a host of other carriers this month. Other carriers that will play host to the device include O2, Orange, Three, and Vodafone.
So, those in the UK have options.
As for a release in the United States, the device is still slated to touch down sometime in June but carriers have not yet confirmed the device.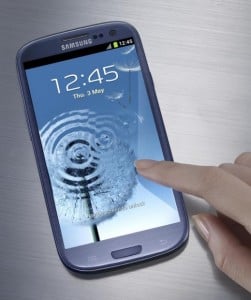 It has been rumored to be heading to AT&T, Sprint, T-Mobile and Verizon and we may just start getting confirmation soon after the phone launches on May 29th.
While T-Mobile's version of the device may sport the Exynos quad-core processor found in the UK model, the versions headed to AT&T, Sprint and Verizon will likely feature a dual-core Snapdragon S4 processor due to the fact that the device will be 4G LTE in nature.
That should be the only difference between the two devices.
The Galaxy S III replaces the highly popular Galaxy S II and features a spacious 4.8-inch Super AMOLED HD display, an impressive 8MP camera with loads of features, a massive 2100mAh battery, and Android 4.0 Ice Cream Sandwich right out of the box.