Samsung Galaxy S III Pre-Orders Begin in U.S.
Those in the United States looking to get the Samsung Galaxy S III without any sort of carrier branding can now do so as Amazon has put the device up for pre-order.
Amazon is currently offering pre-orders for the device for a cool $800. That hefty price tag will net you either the 16GB pebble blue Galaxy S III or the 16GB white Galaxy S III.
The device is slated to be released on June 1st, just a few short days after the phone goes on sale in the United Kingdom. It will officially hit several UK-based carriers on May 29th.
This version of the device will have Samsung's 1.4GHz Exynos quad-core processor on board but it will be limited to an HSPA+ radio instead of a 4G LTE radio. The 4G LTE edition of the Galaxy S III will be hitting shelves in the United States at some point in June although no U.S. carrier has confirmed the device for launch.
It has been all but confirmed for AT&T and T-Mobile as the phones are now registered and approved with the Bluetooth regulatory agency Bluetooth Special Interest Group (SIG).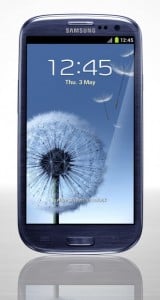 Sprint and Verizon models have also been rumored so it appears that all four of the United States' major carriers will be getting the device.
The unlocked version of the device will be compatible with AT&T's HSPA+ network, will work with limits on T-Mobile's network and flat out will not work on either Sprint or Verizon.
The Galaxy S III is Samsung's latest smartphone and it features a spacious 4.8-inch Super AMOLED HD display, an impressive 8MP camera with loads of features, a massive 2100mAh battery, and Android 4.0 Ice Cream Sandwich.
Read: Has Verizon Already Screwed Galaxy S III Owners?
In addition, early tests indicate the the Galaxy S III will offer great battery life, something that is sorely lacking on some Android devices.

As an Amazon Associate I earn from qualifying purchases.