Samsung Galaxy S III Release Date and Rumor Roundup
Samsung has announced that it will be announcing its 'Next Galaxy' smartphone at an event in London on May 3rd. The device will replace the wildly successful Samsung Galaxy S II which launched worldwide in 2011.
Unlike many Android phones, the device that might be called the Galaxy S III has managed to stay mysterious in the build-up to its launch. It appears that Samsung has taken a page out of Apple's book as the device is apparently the most secretive and closely guarded product launch in the history of the company.
Apple's product launches are notoriously secret.
Read: What to Expect from the Galaxy S III Event.
Yet, that doesn't mean there haven't been rumors about the Galaxy S III making the rounds. In fact, there are a few of them and we wanted to take an in-depth look at those to paint a clearer picture of what to expect come May 3rd.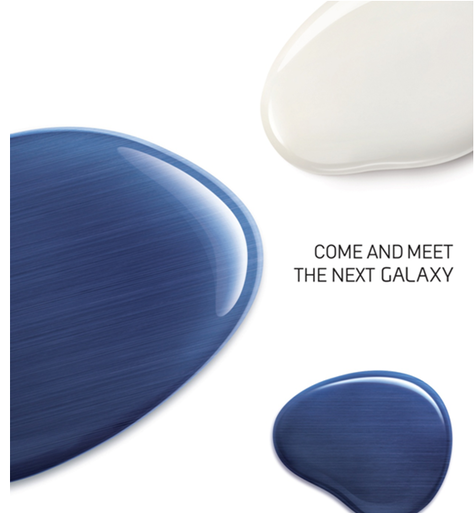 Galaxy S III Release Date
As we said, Samsung plans to launch the device at an event, set to take place in London on May 3rd. However, we still don't have much on when Samsung actually plans to release the device.
That doesn't mean we can't speculate though.
Samsung previously confirmed that it would be tying in a major product launch with the Olympic Games which will take place at the end of July in London, the same city where the event is located. In addition, the Galaxy S III is rumored to be the official smartphone of the Games.
With that in mind, it's possible that the phone won't launch until July.
Last year, the company announced the Galaxy S II in February, only to release in May. The company decided to skip out on February's Mobile World Congress this year and part of that may have been because it wanted to announce the phone closer to its actual release.
So that means that means that May and June remain possibilities as well.
In any event, while we don't have any concrete dates yet, don't expect the phone to launch any later than July.
Galaxy S III Design Remains a Mystery
As we said, Samsung has apparently kept the Galaxy S III product launch under lock and key, so much so, that it supposedly has used test boxes to disguise the device to keep the final design a secret.
So far, so good as we still don't have a good read on what the next Galaxy might look like. That's not to say that we don't have any possibilities though.
We do.
The three images below are now thought to be text boxes that Samsung has been using but it's also possible that hints of the designs may actually end up being featured in the product.
The first photo was confirmed to be a device using a dummy case.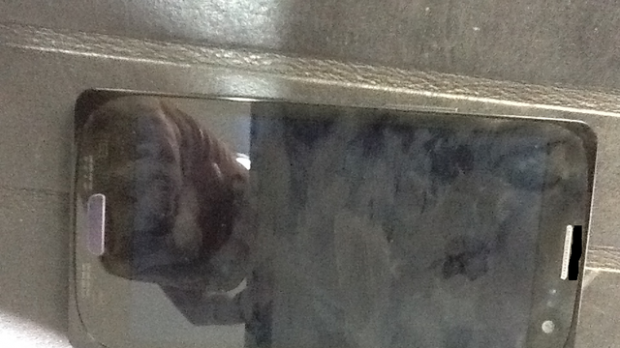 The second photo depicts what is likely another text box, aimed at throwing people off the scent.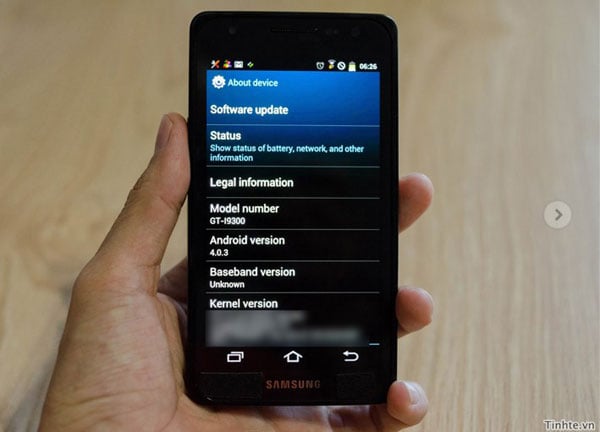 And lastly, the sketch here comes from a leaked manual for a device that is thought to be the Galaxy S III.
So, as of right now, it looks that we won't actually find out what the final design looks like until the device launches in May.
Galaxy S III Display
Thus far, we have heard about three different display sizes for the Galaxy S III.
The first leak pegged the Galaxy S III as having a 4.6-inch display with a resolution of 720 X 1184. Then, a set of supposed benchmarks leaked, indicating that the phone had a 4.7-inch display with 720 x 1280 resolution.
Lastly, today, a leaked manual says that the device won't have either of those but will sport a 4.8-inch display.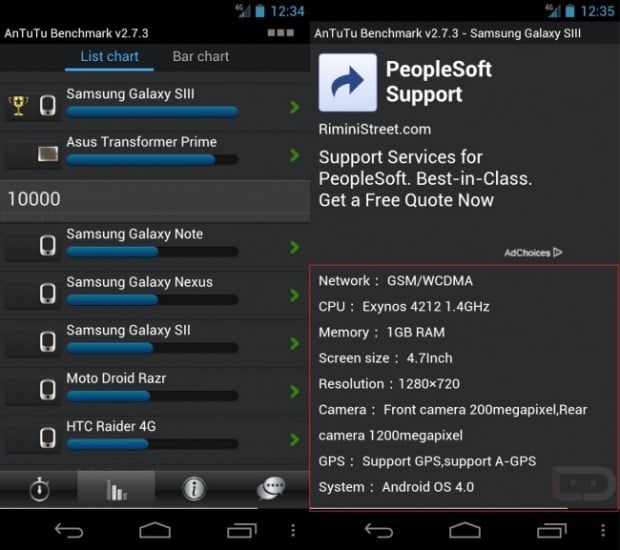 Clearly, the device is going to have a large screen, a smartphone trend of 2012, but it's unknown just how big the Galaxy S III display is going to be.
We should also mention that the device was once rumored to have a 1080p display but those rumors have died down. Still, with the product shrouded in secrecy, anything seems possible at this point.
Two Different Galaxy S III Models?
Samsung is rumored to be releasing two versions of the Samsung Galaxy S III. This, according to an un-named Samsung executive.
One of those models will be powered by the company's Exynos quad-core chip, a chip that the company confirmed would be on-board the Galaxy S III clocked at 1.4GHz. We assume that this model will not have 4G LTE capabilities.
The other device is said to be 4G LTE in nature and will be sporting an S4 Qualcomm Snapdragon processor that's dual-core in nature.
This makes sense because HTC took a similar approach with its HTC One X, a device that launched internationally with a quad-core processor but lacked a 4G LTE radio but arrived on AT&T with 4G LTE and the S4 chip.
If Samsung does indeed follow this path, expect the two phones to be exactly the same, minus this difference.
Other Rumored Galaxy S III Features
Obviously, the display and the processor aren't the only features that will be on board the Samsung Galaxy S III. It's rumored to have some other big time specifications on board as well.
Rumored specs include 1GB of RAM, an 8MP or 12MP camera with LED flash and 1080p video recording, 16GB of storage space, microSD card support, NFC, and a 2050 mAh battery.
One of the dummy Galaxy S III units can be seen in the video below.
It will also, almost assuredly, be running Android 4.0 Ice Cream Sandwich which is Google's latest edition of its mobile operating system.
Android 4.0 and its features can be seen in this hands-on video.
In the past, it has also been rumored to feature a 7mm thin design and wireless charging of up to 2 meters.
Galaxy S III Name
Along with some of the specifications, the name of the 'Next Galaxy' remains a mystery, even to those who are close to the situation.
The two names that have come up most often are also the most obvious. There is evidence that Samsung might be planning to release the phone as the Samsung Galaxy S III, keeping with the traditional roman numeral naming.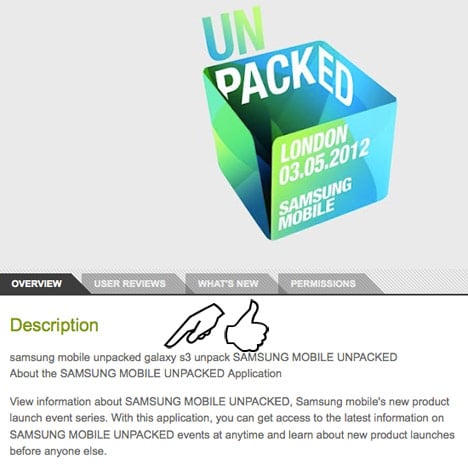 Read: Galaxy S III: What Will Samsung Call the Next Galaxy?
There is also a possibility that Samsung will change-up the naming scheme and dub it the Samsung Galaxy S3.
Galaxy S III Carriers
Rather surprisingly, two carriers have already confirmed that they will be carrying the 'Next Galaxy' on their networks.
Vodafone UK and O2 UK have both announced, through their websites, that they will be offering the device when Samsung puts it out to the public.
They are not alone though. A Verizon roadmap leak today indicates that Big Red is also planning to offer the device alongside the Samsung Galaxy Nexus, a device that it has offered since December.
No word on the other U.S. carriers but we'd be surprised to see Verizon as the only American carrier to play host to the Galaxy S III.