Samsung Galaxy S III Sample Photo Confirms 8MP Camera?
While we haven't yet seen an image of the upcoming Samsung Galaxy S III emerge, it appears that we now have an image that has been taken with the Galaxy S III's 8 megapixel camera. We have heard that the design had been finalized and now it appears that the device is in the hands of testers because an image, first spotted by AllAboutSamsung, has emerged on Picasa.
The photo was taken using a device called the GT-I9300, a model number that has been rumored to be that of the Galaxy S III.
And while the photo isn't exactly stellar, Phandroid says that the photo was taken in HDR which could explain the blurriness that we have going on here, so don't read too much into the quality.

Also, because the photo was taken in a lower resolution, 3264 × 2448 to be exact, it's possible that the camera is something different than the 8 megapixel camera that the resolution suggests.
Interestingly, the photo, which you can see below, has been taken down from Picasa which suggests that the photo probably wasn't supposed to be seen by the public.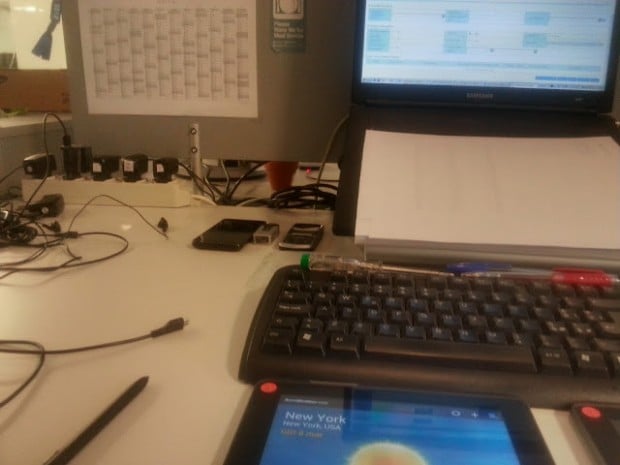 The Samsung Galaxy S III isn't expected to arrive on shelves for a least a couple of months. Samsung has promised that it will unveil the device at an event set to take place during the first half of 2012.
We fully expect the launch to happen close to the Summer Olympic Games in London so a May or June launch is certainly possible.
As for the device itself, besides the camera, it's rumored to feature a 4.8-inch display that will have full HD 1080p resolution along with a 16:9 aspect ratio, a quad-core 1.5GHz quad-core Samsung Exynos processor, and Android 4.0 Ice Cream Sandwich.
It has some extremely big shoes to fill, the Galaxy S II has sold over 20 million worldwide, and with specs like those, it appears that Samsung wants to not only surpass those sales but absolutely crush them.
We're still not convinced that it can though.