Samsung Galaxy S4 Lollipop Release Hits More Users
The Samsung Galaxy S4 Lollipop update still hasn't hit the United States but it's picking up speed elsewhere. The Samsung Galaxy S4 Lollipop release is finally available for another Samsung's Galaxy S4 variant and it should only be a matter of time before it lands for Galaxy S4 users on carriers in the U.S. and around the world.
Earlier this month, Samsung started rolling out the Galaxy S4 Android 5.0 Lollipop update. The update rolled out just a few weeks after Samsung confirmed the Galaxy S4 Lollipop release for early 2015. In typical Samsung fashion, the company's Galaxy S4 Lollipop update started extremely slow on one specific model in one specific region. Right now, it's only available in Russia.
Now, just a few days after that important step, the Galaxy S4 Lollipop release is picking up the pace and today its landed for another Galaxy S4 variant, the Galaxy S4 LTE-A.
The Samsung Galaxy S4 LTE-A, also known as the GT-I9506, is not a widely adopted device and it's only available in a few different regions around the world. Still, progress is progress and another Galaxy S4 Lollipop domino has fallen in the early part of 2015.

According to SamMobile, a site that tracks Samsung's Android updates, the update is currently available in three regions. It appears that the update is currently rolling out to users in Czech Republic, Germany and Slovakia. The update is apparently rolling out Over-the-Air though its also available through Samsung Kies software for PC. Those who wish to skip the OTA can download and install the update manually.
The Galaxy S4 LTE-A Android Lollipop update is build Android 5.0.1, the same version that rolled out to the regular Galaxy S4. It's a massive update but one that will deliver a host of new features, enhancements and fixes to Galaxy S4 users. Samsung is expected to use Android 5.0.1 for several of its upcoming Galaxy Lollipop releases as well.
Samsung's Galaxy S4 Lollipop update remains very limited though it appears that the company is inching closer to a wider roll out that's expected to include carriers in the United States. U.S. carriers still haven't confirmed their plans for the Galaxy S4 but they typically don't announce releases until the day of the roll out.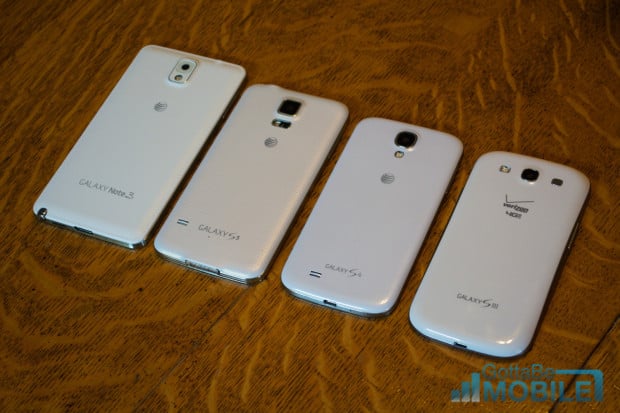 This roll out comes on the heels of a number of developments including several Galaxy S5 Lollipop update release confirmations, a Galaxy Note 4 Lollipop update confirmation, and the start of another Samsung Galaxy S5 Lollipop roll out inside the United States.
Yesterday, Sprint started rolling out its version of the Galaxy S5 Lollipop update. The roll out arrived just a few days after the Verizon Galaxy S5 Lollipop update started pushing to users. AT&T, T-Mobile, and U.S. Cellular still haven't offered any details about their respective Galaxy S5 Android 5.0 upgrades though we suspect that they will push updates out sometime in the future.
The Galaxy S5 and Galaxy S4 Lollipop updates are also joined by a Galaxy Note 3 Lollipop roll out. That roll out is currently limited to international users in Russia though it's also expected to expand in the weeks ahead. Sprint's website recently confirmed an upcoming Galaxy Note 3 Lollipop update though it did not outline any specific release date details for its users.
These updates are expected to be joined, at some point, by a Galaxy Note 4 Lollipop update. The Samsung Galaxy Note 4 Lollipop update is reportedly delayed due to the Gear VR accessory though all signs point to a roll out in the imminent future. Samsung's also expected to deliver Lollipop upgrades to the Galaxy Alpha, Galaxy Note Edge and the Samsung Galaxy Note 2. Release dates for those devices remain out of reach.

As an Amazon Associate I earn from qualifying purchases.