The introduction of the Galaxy S4 flagship by Samsung is one of the more polarizing releases recently from the Android smartphone-maker. On one hand, Samsung has fine tuned the Galaxy S3 and added some 160+ new features on the Galaxy S4, including welcomed additions such as a larger battery, refined styling, larger and higher resolution display, and a speedier processor that can keep up with the big flagships. On the other hand, despite all the new additions, some in the tech industry are mockingly referring to the Galaxy S4 as the Galaxy S3S, a name that beckons to Apple's marketing–like the move from the iPhone 4 to the iPhone 4S–showing that not enough has changed between generations and that the Galaxy S4 is basically a Galaxy S3 with slightly more under the hood. In this review, we're going to examine both sides of the equation and see if the Galaxy S4 would be as compelling an upgrade to existing Galaxy S3 owners as it is to those who are looking for an Apple alternative in the space.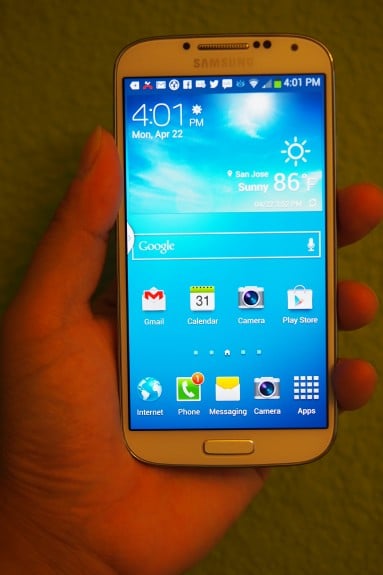 Design
To behold is to believe. While not much has changed superficially between the two generations of Galaxy S flagships, there is definitely a pleasing feeling when you hold the Galaxy S4. It's trimmed down by just a hair and Samsung has put the Galaxy S3 on a diet so you do get a slightly thinner, slightly lighter, and slightly less curvaceous design moving up a generation, but the difference feels nice and the subtle redesign looks elegant and modern. Whereas the white Galaxy S3 unit had a smooth white coat and the Pebble Blue Galaxy S3 had a faux metallic finish, the Galaxy S4 makes due with a fine checkered motif that's very subtle on both the black and white editions.
The fine checkered imprinting is reminiscent of the textured rear battery covers on older Galaxy S phones. Unfortunately, like the Galaxy S3, Samsung's filled in the design with a smooth, high gloss finish, meaning that you won't get the texture to aid in ergonomics and held reduce the phone from falling out of your hands. That said, the more flat and less curvy design does help in maintaining a solid grip.
The bellowed out sides of the Galaxy S3 has been replace with a flat metal-looking band that surrounds the phone's sides, something that reminds us of the design of the Motorola Droid RAZR HD and even the iPhone 4's steel band, minus Apple's infamous Antennagate situation.
Samsung is continuing its trend with plastic designs with the Galaxy S4. I don't have any qualms with this decision unlike others in the media who have been more critical of Samsung given that rivals such as Sony Mobile Communications and LG have moved to more premium glass materials while HTC is employing a premium zero-gap unibody aluminum construction. In the end, the use of plastics means that the phone will be better to handle drops than glass and won't show scuff as easily as metal, and the thin removable plastic battery cover gives me access to a removable battery, an easily serviceable SIM card slot that doesn't require any SIM ejector tool, and user-accessible expandable storage through a micro SD card where I can add up to a whopping 64 GB micro SDXC card.
Hardware
Display. When you're looking at the Galaxy S4, the thing that strikes you instantly is the large display and super skinny side bezels. By going the route of Apple's iPad mini and slimming the bezels, Samsung was able to cram more screen in the same footprint as the Galaxy S3–it's a nice design feat and makes for an attractive device.
The screen itself is a gorgeous display. We said that about the 720p HD Super AMOLED display of the Galaxy S3, but moving to the 1080p Full HD Super AMOLED screen of the Galaxy S4, Samsung's made some big improvements. Pixels disappear on this 441 ppi resolution display, while colors are still not quite as accurate to life as that on a Super LCD display, Samsung is using an adaptive display technology to automatically adjust the colors and saturation of the display based on what you're doing on the phone to give you the best display settings based on your task.
And though the minimal bezels are nice, using the device with barely any bezels is an entirely different story. In my testing of the Galaxy S4, usability did suffer a bit when compared to the Galaxy S3. If you're holding the phone in portrait orientation and are wrapping your fingers around, your fingers may touch the bezel and cause inadvertent taps on a hyper-sensitive screen. Unfortunately, Android doesn't have the same algorithms that the iPad mini has to know if you're just holding the phone on its thin side edges or if you're actively trying to tap on the screen.
The screen sensitivity is also more pronounced than the Galaxy S3–Samsung's added a number of features including the Lumia 920-borrowed screen where you can use the display with gloves on and still be able to touch and tap with pleasure. And secondly, if you're holding the phone in landscape, you'll end up hitting some of the side capacitive touch buttons which are placed very close to the bottom edge of the phone in portrait orientation. This is a time when I wished Samsung would follow Google's Nexus lead and move the buttons onto the display, sacrificing a little bit of screen real estate for button placement.
You do get a nice addition with the display, however, as now you can hover over content in a number of apps to get more detailed information, similar to hovering your mouse over content on a PC. We'll discuss this later in depth later in this review.
CPU, RAM, Network Options.  Powered by a quad-core Snapdragon 600 processor, all U.S. variants of the Galaxy S4 eschews Samsung's highly coveted Exynos 5 Octa CPU in favor of Qualcomm's internals, a decision that we heard was made due to shortages of the Exynos parts. Still the Snapdragon 600 was speedy and we noticed no slow downs in everyday tasks, video watching, streaming content with Adobe Flash in the browser, and playing some popular games.
The model that I tested is Sprint-specific, and it's designed for CDMA, EVDO, and Sprint's 4G LTE bands in the U.S. My Sprint model does have a micro SIM tray that's accessible, unlike the Galaxy S3 from that carrier, signaling that this may be a world-phone from Sprint that supports GSM/3G UMTS networks while roaming abroad as well. Sprint has said that it won't be tying its LTE service, unlike rival CDMA carrier Verizon, to a SIM card and that its SIM cards are purposed mainly for world roaming.
Users who choose the Sprint model will also benefit from the carrier's unlimited data plan offerings. Given that you can do so much with the Galaxy S4 given the device's sheer horsepower, an unlimited data plan will go a long way in allowing users to share, upload, download, stream, surf, and browse.
Other Sensors and Radios. At the top, the phone's earpiece speaker is now cluttered with a number of sensors. You have the ambient light sensor to auto-adjust the screen brightness, an IR sensor to detect motion gestures, a front-facing 1.9-megapixel camera that takes surprisingly good self-portraits even in reduced lighting conditions, and a proximity sensor to turn off the screen as you're holding the phone up too your cheeks to use it as a phone for calls. The phone also has a temperature and humidity sensor, accelerometer and gyroscope, an S View cover sensor, digital compass, and barometer. It's a lot to pack in and all these sensors will turn every Galaxy S4 toting user a mini weather station!
Camera and Speakers. On the rear of the phone, the simplified and more minimalist camera design isn't without compromise either. Up top, the camera pod is simplified. It still protrudes out a bit, like the Galaxy S3. Gone is the futuristic metal speaker grill that flanks the right side of the camera as the speaker has been moved towards the bottom, a design decision that has been borrowed from the Galaxy Note II. The flash has been moved from the left side on the Galaxy S3 to the bottom on the Galaxy S4.
The problem with this camera placement is that the camera lens has been shifted a bit up to the top of the device. This is fine for capturing images in portrait mode, but when you're gripping the camera in landscape mode, your fingers tend to obscure and block the camera lens.
The camera itself uses a 13-megapixel Samsung sensor and can record videos in 1080p. Samsung has also added a number of new camera tricks, through clever software, that we'll discuss later in this review.
Other Hardware. The sides of the phone are relatively clean and minimalist in appearance. Up top, you have a 3.5mm headphone jack on the left side and a small IR blaster port on the right side used to control your TV and home entertainment center. The right edge just houses the power button.
On the bottom, you have a single micro USB port. The USB port is an MHL port so you can connect an MHL dongle to get HDMI output to your TV. Additionally, pro and advanced users will be happy to know that the UBS port also supports USB on the go, or USB OTG, so you can get an appropriate adapter and connect USB peripherals, including a flash drive, to expand your Galaxy S4.
And on the left side, you have the volume rocker which looks a lot more refined than that on the Galaxy S3.
Samsung should be commended for being able to cram more phone into the same space. It's quite the design and engineering accomplishment.
Software
Where Samsung differentiates its flagship from others is through software. Much of the hardware found on the Galaxy S4 is a commodity and would likely appear on high-end phones released in 2014–quad-core processing, 13-megapixel cameras, and 1080p HD displays are all par for the high-end course this year.
The Galaxy S4 is powered by Google's Android 4.2.2 operating system and is layered with the Samsung TouchWiz Nature UI experience. Users who are familiar with the Galaxy S3's software will feel right at home as that was introduced on the Galaxy S3 software-wise was carried forward to the Galaxy S4. On top of that, Samsung added a few more sensors, a lot more gestures, and a smorgasboard of features. Likely, you won't discover all the new features right away–I know I still haven't even after nearly a week of use.
In this review, we've outlined some of the novel features we've discovered. A few we liked, some we thought were novel, and others we dismissed as gimmicky, but at the end of the day when you're showing off your hot new phone to friends and family, you'll have a lot more to talk about and demo.
https://youtu.be/2LHv1FPd1Ec
Easy Mode. This one is perhaps my favorite feature for the phone. Samsung had introduced Easy Mode originally on the Galaxy Note II as a set of pre-loaded widgets to get feature phone owners accustomed to a smartphone without scaring them off. Essentially, even if you're not comfortable with a smartphone, Samsung has given you training wheels so you can grow with the phone and not outgrow the phone. Easy Mode has been refined on the Galaxy S4 to become its own skinned experience rather than just widgets.
Gone is the Sprint ID-esque pre-configured widgets from before from the Note II's implementation. Now, Easy Mode is even more baked in and well integrated throughout the entire experience. When you launch your phone into Easy Mode, it's like turning on a feature phone and you won't even feel like Android is there.
Easy Mode also takes over some apps and core settings to make things more friendly. When you launch the system settings, you'll get a more simplified UI and the camera app is stripped of some of the Samsung introduced features to make it less daunting.
If you've got an older relative or a tech-challenged friend who wants an easy to read phone with a large screen due to vision problems, the Galaxy S4 can serve that purpose as Easy Mode increases the font size and icon size. You can tell your older friends to toss away their Jitterbug and try Easy Mode.
Lockscreen Widgets. Outside of Easy Mode, once you return to normal mode, the Galaxy S4 will give you more controls of your lock screen than the Galaxy S3.
At its core, you still have the standard lock screen that displays the date and time, along with the Life Companion branding. However, you can add a number of widget pages to quickly launch apps.
One page will be an app shortcut page, allowing you to launch even more apps than the standard tray at the bottom of the device.
I customized another tray to show recent messaging, which pulls in messaging from various sources like emails, SMS, Twitter, Facebook, Google+, and other feeds. This unified messaging hub reminds me a lot of BlackBerry Hub, and I wish that Samsung would let me access it from anywhere in Android and not just as a lockscreen widget. It's a nice touch to see all your new messages in one location.
And lastly, I have set up another page with remote controls to quickly operate the TV remote function of the Galaxy S4.
While this may not seem all too useful–it only takes a quick swipe and then a dive into the apps drawer to launch your favorite apps–for corporate users who secure their phones with a complex alphanumeric password, it will make accessing simple tasks easier. Now, rather than entering my full 12-digit password comprised of numbers and letters, I can quickly glance on the lock screen to see quick message previews and change my TV channels without having to unlock my phone. And given Samsung's enterprise focus with the KNOX security features, this will be great for users who use one phone for work and personal life.
Touchless Gestures. Touchscreens are so 2007 when the iPhone debuted. Samsung is slowly introducing new ways for users to interact with their phones. On the Galaxy Note II, Samsung allowed users to hover over the display–and not tap it–with the S-Pen to allow users to gain more information. Now, the same hover, or Air View, feature has been ported and on the Galaxy S4, users don't need the S-Pen. On an email, message, Flipboard, or the Samsung Hub (for movies, books, TV shows purchases), users can just point at the screen and not touch it to see more information pop-up. On an email, you get a nice message preview. It's like hovering your mouse cursor over something on the desktop and getting a pop-up.
And if you have poor eyesight, when you're in the browser and hover over the text content, you get a nice magnified view.
Sadly, though, these features are not enabled by default. To enable them, simply pull down the drop down notification bar, Click the grid icon on the upper right, and long press Air view to pull up the Air View settings. From there, you can enable individual elements that comprise the features we had mentioned.
Air Gestures is another new feature and works with the front-facing camera and/or front IR sensor. This allows you to wave your hand in front of your Galaxy S4 to scroll down a long webpage or answer the phone. While the feature doesn't sound all too useful, it worked great when I was browsing the web and eating a sandwich for lunch. If you don't want to wave, you can use the Eye Scroll feature, which tracks your eyes and the position of the phone to your eyes to scroll.
Eye Scroll works in two ways. The first way would be to move your head as if you were advancing to the bottom or to the top of the webpage with your eyes. When I gave the phone to some friends visiting from Los Angeles, they went overboard with this and it looked like they had an episode of whiplash. In reality, subtle movements are tracked so you don't need to jerk your head. The second way would be to hold your head still and angle the phone away from you or towards you, depending on the direction of the scroll. Again, subtle moves go a long way to achieve scrolling.
Camera
The camera UI has received a major overhaul and now most of the camera settings are placed accessible front and center. Samsung says that it has learned a lot from its experience with designing the Galaxy Camera, a point and shoot camera with a 21X optical zoom that's built on the Android OS, and it's bringing those experiences to the Galaxy S4.
Now, you don't have to dive into the Settings menu within the camera to find popular settings. A dial will expose some of the popular Scenes mode that make it easier for you to shoot night portraits, beauty shoots, and a number of new options.
Some of the chief new Scenes modes include:
Sound and shot–this allows you to add a short audio clip that will record as you're taking a still shot. It gives some personality to your photo.

Drama mode–this mode stitches together a series of motion shots. This will create sort of a flip-book style animated effect as you see a basketball player going in for the slam dunk or your toddler racing across the floor. It's sort of a stitched together time-lapsed photo and you can customize this as well.
Animated photo–this creates an animated GIF image.
Eraser mode–like drama mode, this one captures a series of photos. If an intruder walks through your photo inadvertently, the camera will process this motion and erase the intruder from the photo. For me, this is more gimmicky as you have to plan to be in this mode for it to work. It's like saying I expect a tourist to walk through my group shot every time you take a photo. If you're not in this mode, forget about erasing that photo bomber.
Fast and slow motion video–this will capture and speed up or slow down motion recorded with the 1080p video camera. It's a cool mode if you want to edit some cool effects into your videos.
Additionally, there's also the ability to use dual camera mode for both still photos and motion videos. This way, you'll always be in the shot even though you're the one operating the camera. If you've traveled with a group and want to take a group photo in front of the Statue of Liberty, you can be the photography and also place yourself in the shot. If you're a mother and are taking a photo of your infant, you can film your own reaction to the cute things your child is doing at the time. I find dual camera mode to be fun and it's a nice way to always be included in an image and not have to ask some kind passerby to take a photo of your group.
In terms of performance, the camera's 13-megapixel sensor offers a bit more dynamic range and can capture more details than the predecessor, which was the 8-megapixel sensor on the Galaxy S3 and Galaxy Note 2. I still find that exposure was a bit trickier to nail on the Galaxy S4's default camera app than the iPhone.
If you're taking a picture with high light contrast, like a bright window placed on a dark wall, on the iPhone you can tap the wall to focus and expose the wall correctly, which means the window would get overblown and washed out. If you focus on the window on the iPhone 5, then the wall will be clipped with shadows. On the Galaxy S4, it wasn't that easy. Focus was done by tap, and despite choosing the various exposure settings (center metered, matrix or spot), it wouldn't be quite as intuitive as the iPhone. I'd have to shift the camera to get the exposure that I want.
And while professional shooters won't get the variable aperture settings to control subject isolation and background blur, the Galaxy S4's UI does give users access to ISO settings, with a maximum ISO of 800, which makes the camera decent under poor lighting.
In darker restaurants, there is less noise on the Galaxy S4's shots, especially when used with night mode and no flash, than the iPhone 5 without the flash.
And speaking of the flash, if you do turn on the flash, you do get washed out images. Colors aren't reproduced as natural as they would be with a Xenon flash, for example, with the Galaxy S4's single LED flash. That said, the photos were usable, although lighting was harsh and colors appear washed out. Don't expect to nail any glamour shots with the LED flash without some post-processing.
The camera does offer a lot of versatility, however, for consumers who don't care about pro-level features that camera phones like the Nokia 808 offer. There are plenty of Scenes to choose from to nail your shots and I think the dual camera feature is a winner. If you have a new baby who is learning to talk or make fun sounds, or a new pet, Sound Shot is a fun one to play with. If you have a child who is more advanced, the Drama mode that allows you to capture a trail of frozen frames to signify moments through a sporting maneuver will be fun to utilize. And animated GIFs are always fun.
For Instagram lovers, there are also a number of pre-loaded filters that you can take advantage of as well.
Most of the time, however, I stick with the Auto mode and let the camera figure out the right settings for my photo.
My chief complaint with the camera is when it is used with the S View flip Cover. The flip cover sensor sometimes can disengage the touchscreen and you'll be tapping with no results. I've ended up with a few missed photo opportunities as a result of this.
Another small complaint is that switching between modes requires a second or two of delay before you can fire off a shot. It is not too slow, but you definitely notice it when you're switching between dual camera mode to standard photo mode in an attempt to capture a swift baby crawling by. Hopefully, a future software update will speed up the camera UI so you won't miss any of the 'Kodak moments' that you want to capture and treasure.
As for sharing, instead of the Zoe clips that the HTC One creates, Samsung bundles the Samsung Story app. Here, you can create photo books and you can order printed books as well to send to grandma.
Sample Images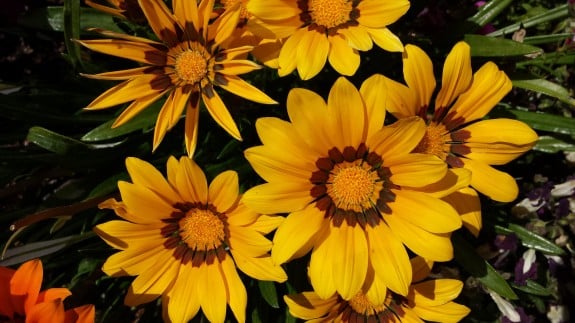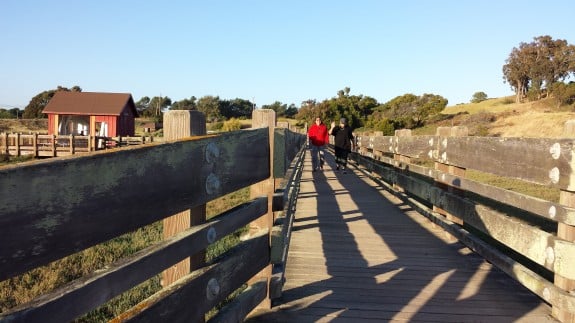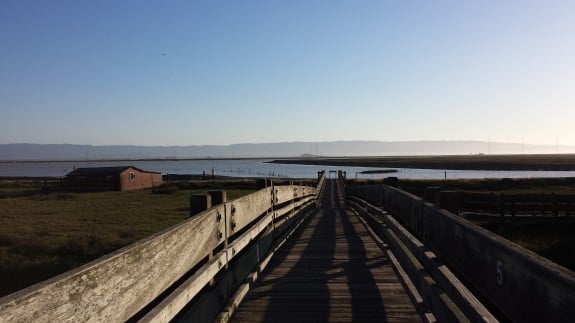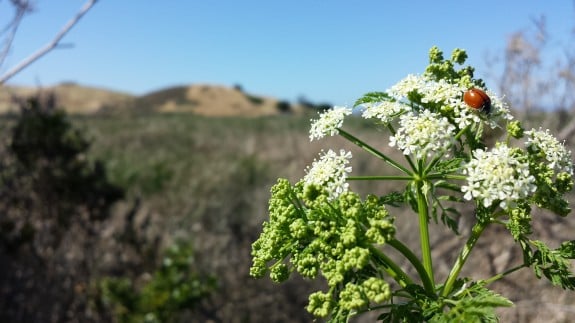 Playing with some of the pre-loaded live filters in the camera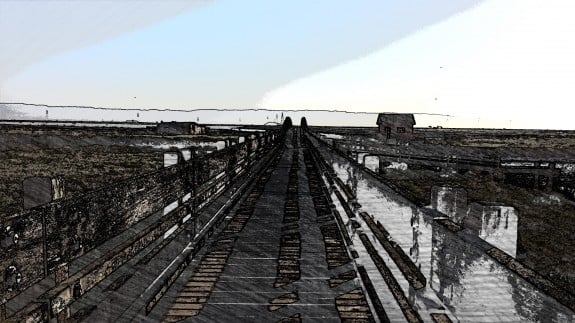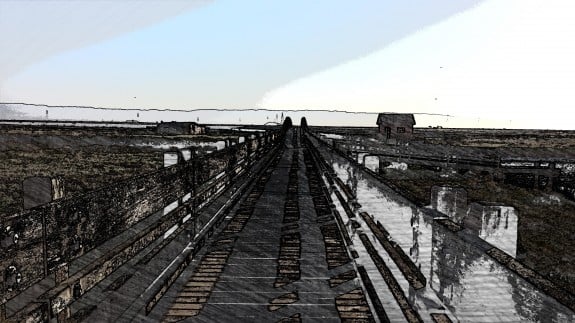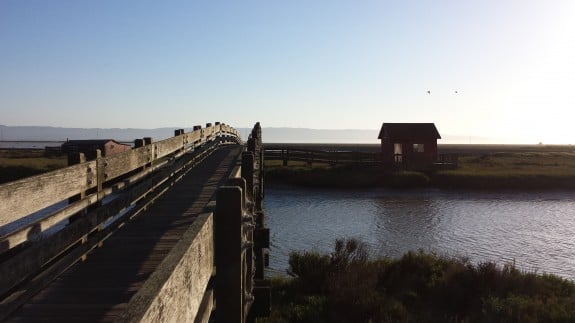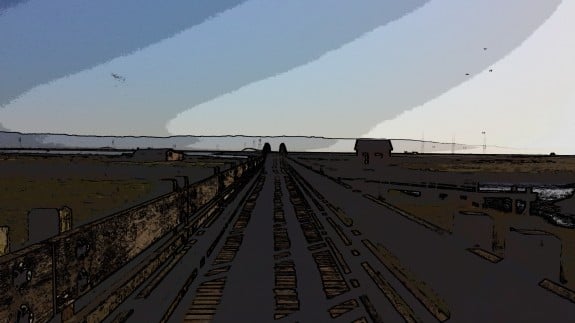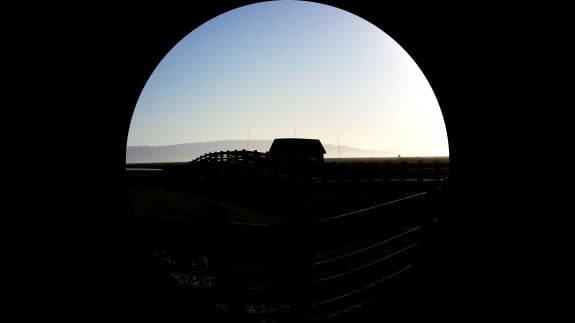 Business Utilities
The camera is the central personal and play experience of the Galaxy S4 with new modes and features, but it is also boasts new features that business users, travelers, and students would appreciate. A new S Translator app works in a similar way as Google's Translate app to allow for translation of words and phrases. You can type in what you're looking to get translated, speak the phrase using the microphone and get your translated query in text or voice spoken back, or even scan the phrase, if you're looking a restaurant menu or a book as well.
Samsung's Optical reader app works surprisingly well given there's enough light, allowing you to scan what needs to be translated or even scan in business cards. When you're doing the latter, you can save business cards as a contact where all the fields would be intelligently populated with the appropriate email address, name and title, business name, address and work number, mobile number and fax number.
And for those who love to simul-task, the Multi-View windows utility has been ported from the Note II allowing applications to be snapped in resizable side-by-side windows. This allows you to browse the web and write an email or view pictures and reply to text messages. Unfortunately, like the debut version on the Note II, it only works with a few pre-selected apps so don't expect to multitask with third-party apps.
TV and Entertainment
Samsung is really going for the ecosystem play here with entertainment. You still get the same sharing features that were introduced originally through NFC and WiFi Direct sharing on the Galaxy S3, but those features have now expanded and include more capabilities on the Galaxy S4.
Now, when you're away from your home content, you can still continue to enjoy your music and television shows. One example, which Samsung has borrowed from the dropped Motorola feature called MOTO CAST, is the ability to play the music content from your home PC through your phone. This way, you don't have to upload all your tunes to the cloud and you don't have to carry around a massive memory card to enjoy your digital library. If your PC is connected to the Internet at home or work, you can link that computer to the Samsung cloud called Samsung Link.
From Samsung Link, you can connect your Galaxy S4 via 3G, 4G, or WiFi to stream the song on your PC to your Galaxy S4 smartphone.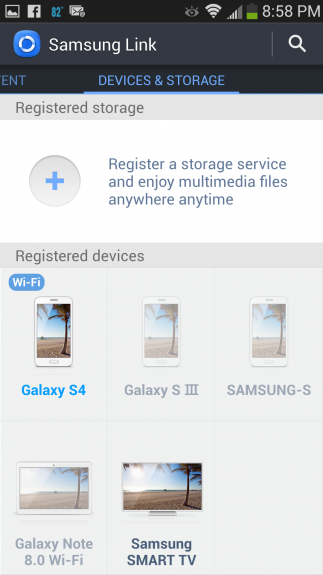 Additionally, you can now pair multiple Galaxy S4 smartphones together to use them as paired network speakers. You can set all the Galaxy S4 to play at the same time, or you can also create a stereo network by identifying which Galaxy S4 units on the network will be used for left speaker function and which Galaxy S4 units will be used for right speakers.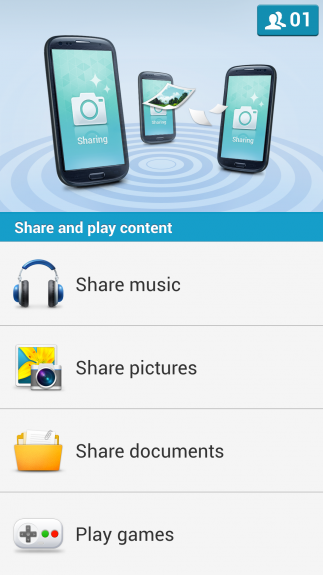 I don't really know how much use this feature will get, but I'd imagine it to be popular for college students who may want to get an impromptu jam session in the dorms or at a small party.
In terms of video, the Galaxy S4 has a number of new features to keep users entertained. On the device itself, if you're watching videos through Samsung's video players–like purchased content through the Samsung Hub or video you've recorded yourself with the 13-megapixel camera–you can use the hover feature by gliding your finger along the video progress bar without tapping on the screen itself. This Air View feature will give you thumbnail previews of the video in case you want to jump to a specific point ahead.
And if you want to watch television at home in your living room, the Galaxy S4 will be a great companion thanks to Samsung's partnership with Peel. Now, users can point the IR blaster at the top of the Galaxy S4 to your HDTV or home entertainment center and Peel's excellent visual-based user interface will be used to allow you to search, discover, and watch your favorite shows. We've talked about the early iteration of Peel's UI lovingly when it debuted on the Galaxy Tab 7.0 Plus, and now the UI has been refined for the smaller Galaxy S4's display.
All of Peel's functionality has been wrapped together in the Samsung Watch On app, which adds even more capabilities. If you're the owner of a more recent Samsung HDTV set, connecting your TV to your GS4 will allow you to seamlessly share content between the two devices. Additionally, if your TV is located in the living room and you need to grab a drink from the kitchen, for example, and a big game is playing, you can continue to watch the game on your Samsung Galaxy S4 smartphone through placeshifting provided you're on the same WiFi network or connected through WiFi Direct with your Samsung HDTV. It's like having a built in Slingbox that works at home. And still, the Watch On app will allow you to search Internet sources, like Blockbuster, YouTube, the Samsung Hub, and Netflix for even more content. Watch On in this case serves as both a controller for your TV hardware as well as content finder and aggregator.
And of course, you can share documents, photos, and files between paired Galaxy S4 units through the Group Play application, similar to what you can do with a Galaxy S3 or Galaxy Note 2. The nice part about this feature is that users on any device can actually control the presentation so any users can annotate and mark up a slide and all viewers on the same connection would see the edits live, not just the host device. The feature works between Samsung smartphones and tablets, and is a nice way to create an ecosystem across devices.
Samsung Hub
Samsung has renamed its video hub, music hub, and other branded content hub into the Samsung Hub. The Samsung Hub now encompasses books, TV shows, movies, and music into one destination so it means less app clutter. The Samsung Hub ties in with your Samsung ID account so any content you purchase here should work across any Samsung-branded account, including Samsung Smart TV sets.
While Samsung is providing a nice alternative to Google's Play Store, the Samsung Hub is still incomplete and more of a befuddled iTunes rival. At its best, some TV series are missing series and at its worse, seasons are missing episodes leading to an incomplete experience. Unfortunately, that means season passes to popular shows (I personally am a Mad Men addict) are a non-starter unless you want to complete your seasons through Play Store, Blockbuster, and other video sources.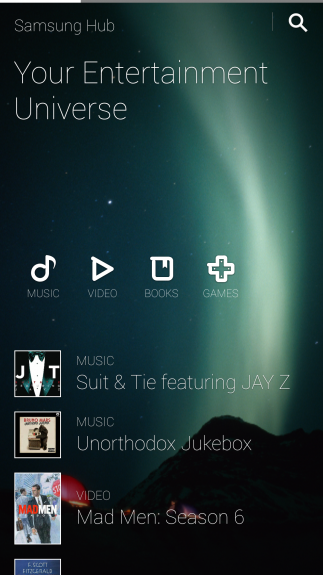 Moreover, movies are just as complex on Samsung's experience. Some content are available only as rental, others as SD video purchases only. Some allow for HDMI out while others you can only watch on your device. Others are available in 1080p while a majority are 720p HD downloads only.
Hopefully, Samsung will work out better agreements with its content partners to bring a simpler experience to customers. Even if it can't build out a robust catalog, hopefully seasons of TV shows aren't delivered as incomplete in the future.
In addition to the entertainment hub, Samsung also has the Samsung Apps, which is an App Store for users. It is arranged so that users can discover apps more easily and offers an alternative to the Google Play Store.
Health and Fitness
For Nike+ FuelBand owners who are migrating from the iPhone and iOS, Samsung has integrated many of the functionality into its new S Health app that comes preloaded on the Galaxy S4 to make you feel right at home. The app will allow users to track how many steps they've taken, how many calories they've consumed, and how many calories they've burned.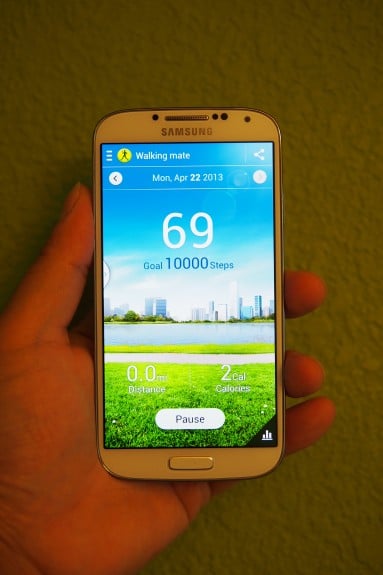 Foodies can also take pictures and upload their culinary masterpieces just before consuming them into the app, which syncs with Samsung's own servers.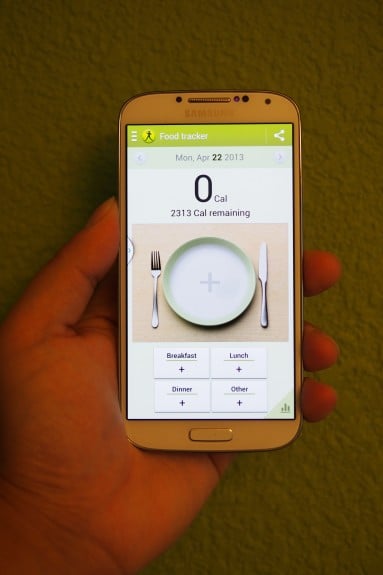 The app will let you also monitor your own local weather so you know if it's a good time to go for a jog or perform more strenuous exercise. The Comfort Zone feature allows you to view temperature and humidity so you can plan your workouts accordingly if you're not sweating off those calories in the comfort of an air conditioned gym. Users can also manually input their exercises as well into the S Health app.
These features were roughly implemented in the past in limited part by Motorola through its MOTO ACTV smartwatch and companion Android app. However, the more integrated solution on the Galaxy S4 really makes it easy as everything is tracked on the phone.
And while the solution sounds like a fun way to get more active and take more steps each day, I find that at this early stage, the pedometer functionality isn't reliable. It would record steps and randomly reset itself several times a day throughout the course of the day so don't expect to know how many steps you've taken in any accurate form in a 24-hour period. Hopefully, a software update in the future will fix this glitch.
Network and Call Quality
The Galaxy S4 unit that I tested was on the Sprint network. Sprint is slowly rolling out its 4G LTE network here in the Bay Area, and although some pockets of San Francisco is live with LTE, the network hasn't officially launched the network yet. As a result, LTE speeds and coverage right now is spotty, and I'll revisit this section in a future post once LTE officially launches on the Now Network.
On average, though, I do get roughly 6 Mbps on the download side and uploads hover between under 1 Mbps to 3 Mbps. Sprint is promising download speeds anywhere between 6-8 Mbps and uploads between 2-3 Mbps, so I am within range even at this early phase in LTE deployment. In select areas, I've seen peak speeds close to 25 Mbps on the download and 10 Mps on upload.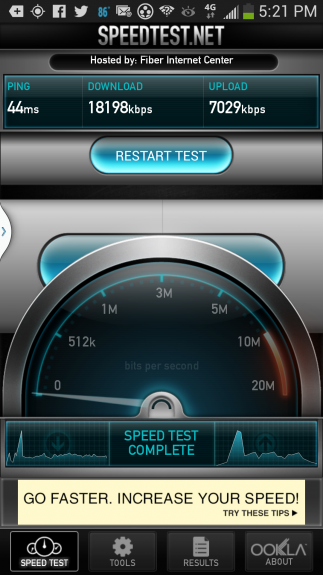 Call quality on Sprint was good. Calls came through clear and tones were warm, and despite speaking in a windy area the Galaxy S4 was able to cancel out most of the wind and background noise so the other party could here me clearly. Call quality and audio fidelity during calls were on par with other Sprint flagship releases in recent years, and I didn't notice any hiccups in my testing.
Battery Life
Battery life on the Galaxy S4 smartphone is surprisingly good and is slightly better than battery life on the Galaxy S3. Samsung has injected more battery power on the Galaxy S4's battery with a 2600 mAh battery, bringing the device closer to the Galaxy Note II realm. In general, battery life isn't quite as good as the Note II but the batteries between the two devices are very similar with the GS4's battery being slightly shorter than the Note II's in dimensions.
On heavy use in mostly WiFi coverage around the house, I was able to squeeze out over one and a half days of heavy use. However, when WiFi was turned off and I was on the Sprint network, I got just over a full working day of use under moderate conditions of web browsing, emailing, and updating my various social network accounts. The main reason for the wide spread of battery life is that I don't live in an area with built out LTE coverage yet on Sprint, so the Galaxy S4 is always trying to jump between 3G CDMA/EVDO coverage and 4G LTE, which burns through more battery power.
I've also noticed, like with all phones, extensive use of the camera will deplete the battery quicker, especially if you've set the camera to geotag your images. Geotagging was very accurate and I was able to get street-level GPS accuracy for my photos using the Galaxy S4's 13-megapixel camera.
Accessories
One of the popular accessories for the Galaxy S3 and the Galaxy Note and Galaxy Note 2 was the Flip Cover, which turns the smartphone into a folio-like device and offers screen protection. The Flip Cover snaps onto the rear where the rear battery cover would go, replacing the rear battery cover. It's a little bit thicker than the stock rear battery cover, but as it replaces that cover, the Flip Cover adds little bulk to the phone. A polyurethane cover folds over on the left spine of the phone, giving it a book-like appearance.
On the Galaxy S4, there's a new S View Flip Cover in addition to the original. While priced more expensively at $60, the S View Flip Cover has a small window at the top where notifications can be display. This allows you to quickly push the on/off button and have a view of any awaiting notifications, including incoming emails, missed calls, SMS, and any notifications in your Android notification tray.
There's a sensor that activates the cover and in a way, it works like the Apple iPad Smart Cover, but is tuned to display content to fit the window. The concern here is that the plastic window is thin and is more prone to fingerprints and grease than the display itself. Users will likely have to be careful not to scratch the plastic cover. The good thing is that you can buy a new cover if your original one gets scratched up over time, which is a whole lot better than having a scratched up display.
Notifications are display as white text on a black background, a move likely made to extend the battery life given Samsung has chosen AMOLED technology for the screen. With AMOLED, the display doesn't consume power if it's displaying black, and having ample black with white text will serve the purpose of lengthening the massive 2600 mAh battery's duty.
Additionally, if a call comes in now, you can swipe to answer the call from the S View window so you don't even need to open the S View Flip Cover to see your caller ID and choose to answer or send the call to voicemail. It's a nice innovation from Samsung and I can see this being a useful and popular accessory.
The problem with the cover when you first use it is that the smart sensor is a bit too sensitive. When you're taking a photo with the camera, for example, sometimes the sensor engages and the screen becomes unresponsive. I know I've missed a few moments when using the S View Flip cover because of this. Part of the reason is that the cover is stiff when you first get it, but I believe that with time, the cover will become more flexible with use and it will not be as snug to the spine of the phone to engage the sensor. Moreover, if you tend to wrap the cover to the back, like you would bend a magazine around to read, the window does provide an opening to the camera lens. However, you'll get a bit of glare and light flares when you do this and forget that you've wrapped the cover around back to take a photo.
Samsung had also introduced a number of health-related accessories, including a bitness S Health Band and a wireless scale. The company says that those accessories are likely coming this summer alongside the wireless charging back cover, which is an optional accessory. Users who buy the wireless charging removable battery cover will also need a compatible wireless charging pad to take advantage of this feature, allowing you to merely place your phone on the pad to charge. You don't need to fumble around with wires at all, which is great for those who like to check their phone or listen to music in bed at night.
Conclusion
It's pretty astounding how many new features Samsung has managed to cram into the Galaxy 4, a device that is slightly more narrow, slightly thinner, and slightly longer than the footprint of the Galaxy S3. However, given that many of the changes to the device, aside from the placement of the sensors, are internal in the form of software, it could be argued that too much has changed on the Galaxy S4 from a design perspective. If Samsung had gone the Apple route and kept the same external design for two consecutive generations of flagships, users would benefit more by being able to reuse old cases and accessories from the Galaxy S3 to the Galaxy S4.
With the subtle change in design, suddenly specialty cases like the forthcoming Lifeproof waterproof case for the Galaxy S3 and the newly released Galaxy S3 extended battery Mophie hardcase no longer work. This means that users who invest in a Galaxy flagship and buy these specialized accessories–valued close to $100 a piece–would only benefit for one hardware life cycle if they upgrade. If Samsung had gone with a more dramatic design, we couldn't fault them for the lack of accessories compatibility, but given the similarity between the Galaxy S3 and the Galaxy S4, this issue may be a nuisance for GS3 owners looking to upgrade.
In terms of upgrading, if you're a Galaxy S3 owner who is happy with your phone, there may be little reason to upgrade. Sure, the new gestures are fun, the better camera is nice, but at the end of the day, the Galaxy S3 is a pretty darn good phone with solid features. This is a good thing; it really shows that after a year, the Galaxy S3 still is aging well. Right now, the main reasons to upgrade would be if you're viewing the new gestures and motion control as a non-gimmick and you'd like to control your TV with your phone. As to whether the gestures and new user interactions with the phone are gimmicks, that's up to you to decide. With some training, I find that eye scrolling and air gestures work well, and the Air View hover feature is a useful tool in quickly obtaining additional information without having to click or tap.
Samsung will likely roll down some of the software-based features to older devices, including the Galaxy S3 and Galaxy Note 2, through a future update. Unfortunately, hardware-based features, like the S VIew Flip Cover with the S View sensor on the phone, cannot be deployed to older devices as it requires new hardware. Some of the motion sensing likely will require new hardware as well as Samsung is implementing that with the IR sensor, rather than the front-facing camera, so you won't be able to swipe across webpages by waving your hand in front of your old Galaxy S3's front-facing shooter.
It's still a tough call on the upgrade situation as many of the interactions introduced are novel, and you may not know you need them until you use them and find them useful.
And for those definitely looking to upgrade, there is still a lot to love about the Galaxy S4, including the gorgeous adaptive display with more natural colors. The optical reader and translator apps are great tools for travelers and Samsung has put a lot of thought into the camera UI. However, the experience with all the sensors isn't as seamless as I'd imagine, and sometimes the technology does get in the way with sensors thinking you mean to do one thing when you're attempting to do something entirely different, but this isn't something that a software update in the future cannot rectify.
For a user of an iPhone or another Android or other smartphone, upgrading to the Galaxy S4 should be an easier decision. You will be getting one of the most powerful and brilliantly smart phones made today.
For the Android flagships announced so far in 2013, you're going to have to either place your bets on the HTC One's hardware design, which is more revolutionary, or the Galaxy S4's software innovations. The Galaxy S4 is no slouch in the hardware department with top notch specs and powerful features like a removable memory card slot, accessible battery, and USB OTG. With its powerful features and forward-thinking software innovations, the Galaxy S4 deserves our ranking of 4.5 stars. We're hoping that Samsung will fine tune some of the sensors to keep things moving.

As an Amazon Associate I earn from qualifying purchases.