Samsung Galaxy S4 vs. HTC M7 (Rumored)
Next year's Android smartphone battle is already heating up as the two flagships from Samsung and HTC have already seemingly leaked out. And while they exist merely in rumors at this point, we still wanted to take a look at how the rumored Samsung Galaxy S4 matches up against HTC's whispered flagship, the HTC M7, both of which are currently thought to be out in the first half of 2013.
The Samsung Galaxy S4 and the HTC M7 likely represent the next flagship Android smartphones from both companies and thus far, both devices are shaping up to be powerful pieces of hardware. Of course, that's not surprising given that Android devices generally push the hardware boundaries before their competitors.
With Samsung, it will use the Galaxy S4 in an attempt to continue on its legacy of fantastic Galaxy-branded smartphones and it will look for the Galaxy S4 to smash records just like the Galaxy S2 and the Galaxy S3 have done previously. This year's Galaxy S3 went on to sell over 30 million units in just six months and by the time the Galaxy S4 has launched will probably have sold a lot more than that.
With HTC, the company will be looking to gain ground on the Galaxy S3 and Galaxy S4 with the HTC M7. Last year, HTC launched a fantastic device in the HTC One X but the smartphone could not keep pace with the mighty juggernaut that revealed itself to be the Galaxy S3. HTC still hasn't revealed just how many units it sold but we imagine it's far less than 30 million.
That being said, the companies will once again collide on the Android market in 2013 and it looks like it's going to be the HTC M7 and the Galaxy S3 that will be facing off against each other. Neither device has been announced but already there is a wealth of potential information about each of the devices.
Here now, we take a close look at how the rumored Samsung Galaxy S3 stacks up against the rumored HTC M7.
Release Date
HTC and Samsung have yet to confirm these devices but already there are rumors swirling about their upcoming launch dates and release dates. Starting with the Galaxy S4, the device has been rumored to be launching at Mobile World Congress in February a total of four times which means that there is a good chance of it touching down in February in Barcelona.
It's also entirely possible that Samsung will opt for its own event and look to launch it closer to the summer like it did with last year's Samsung Galaxy S3, a device that didn't arrive in the U.S. until June. Samsung made it a point last year to launch later in an effort to close the gap between the device's release and its U.S. release date and while MWC 2013 looks good for a launch, it's definitely not guaranteed.
Speculation about its release date suggests that it will be coming in the first half of next year, possibly in the middle of 2013. No clear date has been given but seeing as how the Galaxy S2 and Galaxy S3 both were released in May, that month is looking like the front-runner at this point.
Rumors state that HTC may try to get a jump on the Samsung Galaxy S4 with the HTC M7. It too is rumored to be announcing its next smartphone at Mobile World Congress at the end of February though it seems it may try and release the HTC M7 shortly thereafter, possibly as soon as March. If that's the case, it may arrive in the U.S. during the month of April.
This would be a shift for HTC as the HTC One X arrived in April and May of this year, extremely close to the launch and release of the Galaxy S3 something that may have overshadowed the company's announcement.
Design
While there are a boat load of Samsung Galaxy S4 rumors, there still aren't any credible ones on the design of the device. No photos, no nothing. And that's not surprising because Samsung, with the Galaxy S3, made sure to keep a tight lid on the device with extensive security measures aimed at stopping leaks before the device was unveiled.
We imagine that the same protocol will be in place with the Galaxy S4 which means that we probably won't know exactly what it looks like until Samsung decides to take the wrapping off. That being said, we believe that Samsung will retain a similar design to the Galaxy S3 while slimming it down and tweaking a few things. In other words, we don't expect a massive overhaul.
At this point though, that's just conjecture.
As for the HTC M7, there is a little bit more out there on it. Evidently, HTC will be using a aluminum unibody design, the same type of design that it used with the HTC One X. No specific dimensions are known at this time but we imagine that HTC will likely slim the M7 down as well.
If it does go with a unibody design, expect a non-removable battery and no microSD card slot, two things that drove some potential customers away from last year's HTC One X which featured a sleek design but didn't offer those elements. The Galaxy S4? Look for it to have both.
Display
With the release of the Droid DNA and its 1080p display on Verizon, we are now in a new era in terms of display quality on Android smartphones. And fortunately, it's looking like both the Galaxy S4 and M7 will employ this kind of technology.
The Samsung Galaxy S4 is rumored to either have a 5-inch or a 4.99-inch AMOLED display that offers 1080p resolution, that's full HD, and 441 pixels-per-inch. Samsung is rumored to be showcasing the display at CES 2013, possibly alongside a 5.5-inch flexible display that may be coming with the Samsung Galaxy Note 3 later on next year.
It's certainly possible that it will keep the wraps on the Galaxy S4's display so as not to spoil the "surprise," but it's clear that Samsung really has no choice but to offer that kind of quality screen with its Galaxy S4 and it would be strange to see a flagship device such as the Galaxy S4 using last year's tech.
The HTC M7 is also rumored to be using a 1080p display, likely with a high PPI count as well, though HTC is apparently going to be using a smaller display than the Galaxy S4.
Rumors peg the HTC M7 screen as being 4.7-inches, same size as the HTC One X display, and if true, it would mean that it's bit smaller than the Galaxy S4's and likely smaller than many of the displays on next year's big name smartphones.
Several companies including LG and Sony are rumored to be coming out with 5-inch 1080p devices and it could be that HTC separate itself and the M7 by introducing a smaller more pocketable display.
Camera
The Samsung Galaxy S3 cameras, while solid, weren't the gold standard. And while we're unsure about whether or not the Galaxy S4 will feature the best smartphone cameras in the land, it's looking like Samsung may include some upgrades. Thus far, rumors suggest a 13MP rear camera. That would be up from the 8MP camera in the Galaxy S3.
There is no word yet on the software that could power it, or the front-facing camera, but it's reasonable to think that Samsung will make some improvements to better align itself against the Android competition and the iPhone 5 which has one of the best cameras in the business.
HTC on the other hand released some stellar cameras in the HTC One X, cameras that were indeed better than the Galaxy S3's. The company is rumored to be including a 13MP rear camera and a 2MP front-facing camera that surely will be upgrades over the One X's. If that's true, look for the HTC M7 to potentially have some of, if not the best cameras on an Android smartphone.
This could be a place where HTC truly shines over the Galaxy S4.
Specs
Of course, there are specs beyond just the screen and the design and the camera. So what has been rumored thus far. Well, the Samsung Galaxy S4 is rumored to have a quad-core processor, possibly of the Exynos 5440 variety. That should come as no surprise to those with a finger on the pulse of the Android industry. Samsung's own Galaxy Note 2 sports a quad-core Exynos processor so it would be surprising to see Samsung leave on off its flagship.
Other than that though, the device remains a mystery. We imagine that it will have at least 2GB of RAM, will probably have a large battery and might also come with built-in wireless charging, something that Galaxy fans have been looking for for quite some time.
We also imagine that there will be several storage variants including a 16GB, 32GB and 64GB at the very least.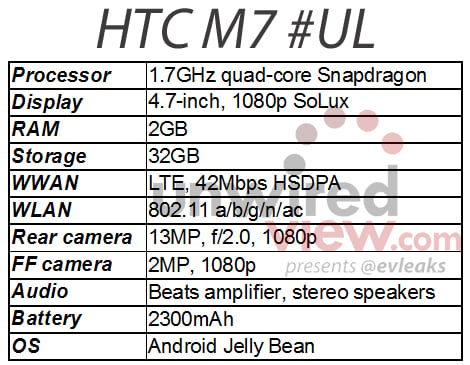 The HTC M7 is a little more out in the open due to a spec sheet leak. The device is said to have a 1.7GHz quad-core processor, 2GB of RAM, a 2,300 mAh battery, and 32GB of storage space.
A feature to focus on here is the 32GB of storage. That appears to be the only option for the HTC M7 so those looking for more or less space on their device might be completely out of luck. And, even more, looking at a smartphone like the Galaxy S4 which more than likely will sport options.
Software
Software is where these devices look like they may differ. In fact, it's a given that the software on board the HTC M7 and Samsung Galaxy S4 will be different.
The Samsung Galaxy S4 is rumored to be coming with Android 5.0 Key Lime Pie, an unannounced, unseen piece of software that will likely debut at Google I/O in May. If that's true, it would mean that the Galaxy S4 would be one of the first devices to run the software. And given the popularity of the Galaxy series, it's not out of the question that Samsung would do this.
It's also entirely possible that the Galaxy S4 will ship with Android 4.2 Jelly Bean, Google's latest release. At the very least, this is what should be on board the Galaxy S4. Additionally, users can expect some tweaks and additions to the TouchWiz UI. Samsung has been big into improving its software, just take a look at the Multi-Window View feature, and that probably won't change with the Galaxy S4. No rumored features have emerged, but it seems likely.
On the other hand, the HTC M7 is rumored to have Android Jelly Bean, likely Android 4.1 Jelly Bean on board, which means that there is a chance that they both will run the new software.
However, HTC is also rumored to have HTC Sense 5, HTC's new UI, which is where these phones will absolutely differ. There is no word yet on what might come with HTC Sense 5, but look for HTC to introduce some useful upgrades.
Carriers
One of the great aspects about the Samsung Galaxy series is that it generally launches on a host of carriers in the United States. And even though there aren't any rumors yet,  don't look for that to change with the Galaxy S4. Instead, look for Samsung to offer the device on not one, not two, not three and not four 4G LTE networks in the U.S., but expect the device to come equipped for T-Mobile's 4G LTE network which is scheduled to launch in 2013.
This means that it will likely be pulling down fast data speeds on the five largest network's in the United States, following in the footsteps of the Samsung Galaxy Note 2 which runs on AT&T, Sprint, T-Mobile, U.S. Cellular and Verizon.
The HTC One X only launched on AT&T last year but rumors suggest that the times are changing. Thus far, the M7 is rumored for Sprint and Verizon and it could be that AT&T and T-Mobile join the fray as well. Like the Galaxy S4, It too is supposed to have 4G LTE connectivity.
If HTC is able to get it on four U.S. carriers, and the four largest at that, it will have better positioned itself against the Samsung Galaxy S4 and its likely wide swath of carriers.
Price
Neither device currently has information available about pricing but that doesn't mean that we can't make an educated prediction. There is no way that these devices retail for more than $199.99 on-contract. That's the standard these days and with 4G LTE as common as it is, carriers can no longer charge a premium on 4G LTE enabled devices.
Of course, while the HTC M7 appears to only be coming in one flavor, 32GB, the Galaxy S4 may come in several. If it does, look for the Galaxy S4 to start at $199.99 for a 16GB model and follow this year's script with a 32GB model for $249.99. If true, by offering $199.99 for 32GB, HTC will be able to do a bit of undercutting.
T-Mobile, with its new 4G LTE network and its new Value Plan policy, may charge a premium, but at this point, given that it hasn't ever sold a 4G LTE smartphone, it's impossible to tell what it will do.