Samsung Galaxy S5: 7 Key Things Buyers Need to Know
The Samsung Galaxy S4 is getting older and next year, the device will more than likely get replaced with a new Galaxy smartphone, quite possibly a Samsung Galaxy S5 is Samsung decides to keep the ball rolling. For those looking into waiting for the Galaxy S5, rumors are scarce. But that doesn't mean that there arent some key details that prospective buyers need to know about in the early days.
Late in 2012, the first Samsung Galaxy S4 rumor emerged from the shadows. That rumor paved the way for a number of different leaks that surfaced in the months leading up to the Galaxy S4 launch in March. The anticipation surrounding the Galaxy S4 reached new heights as consumers were interested to see if the company could successfully follow up the widely adopted Samsung Galaxy S3.
While the Galaxy S4 is reportedly missing internals sales targets, there is no denying that the Galaxy S4 is one of the best Android smartphones on the planet and one of the best smartphones period. Samsung has still sold millions of Galaxy S4's and thanks to its high profile, there is going to be quite a bit of anticipation surrounding next year's Galaxy flagship, particularly if early rumors shape up.
While its name is not yet know, the device is already being dubbed Samsung Galaxy S5 as it would be the fifth-generation Galaxy S smartphone. And while Galaxy S5 rumors are still a bit scarce, it's only October after all, there still some whispers out there that suggest that the Galaxy S5 could be far different from the Galaxy S4. There are also some things that we think might happen based on history and based on logic.
Here, we combine rumors with expectations and take a look at the key things that we think prospective Samsung Galaxy S5 buyers need to know about as we head into the latter part of the year and a flood of Galaxy S5 rumors.
Samsung Galaxy S5 Launch Date
Smartphone shoppers are going to still have to deal with the Samsung Galaxy S4 for quite sometime as the Galaxy S5 launch isn't close. Samsung itself hasn't confirmed anything but it's pretty clear that the company will not release a new Galaxy S smartphone in 2013 and will likely wait until the Galaxy S4 has been on the shelves for a year before replacing it with something new.
Rumors point to a Galaxy S5 launch date in March and fortunately, so does logic. Samsung typically skips CES and MWC for big name product announcements and we don't see any reason why it will return this year. The company also typically gives a device a year before pulling the plug so it would be surprising to see a new Galaxy S5 arrive before the month of the March, same month that the Galaxy S4 launched.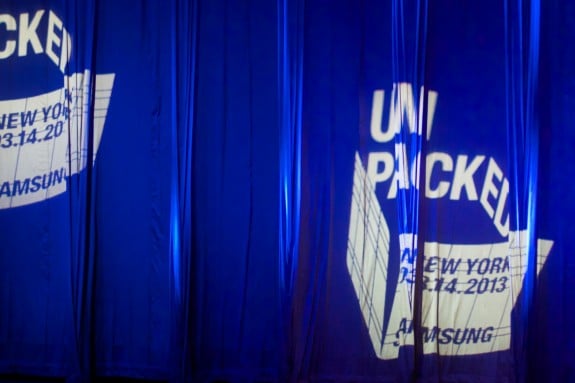 As for a release date, Samsung typically gets its devices out around a month after it announces them which means that we should see a new Galaxy S emerge on shelves in the first part of the second quarter meaning April or May.
Point is, the Galaxy S4 isn't going anywhere. The device is set to get Android 4.3 Jelly Bean this month and it should see some fantastic deals emerge for Black Friday as it looks to compete with the likes of the Samsung Galaxy Note 3, iPhone 5s and HTC One.
Camera Upgrade
While Samsung Galaxy S5 rumors have been scarce, we have heard quite a bit about one feature in particular, the camera. Samsung is planning a new 13-megapixel camera sensor for smartphones that will help its devices take better photos in low light. It should also help to minimize the blur in images. The sensor is said to have Optical Image Stabilization on board, something that the company's rivals including LG's G2, have on board.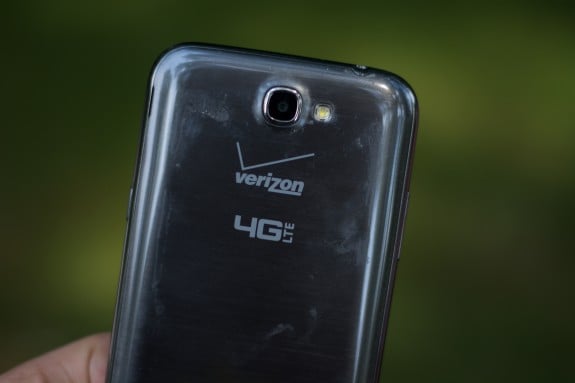 Samsung says that it will start mass producing the camera in early 2014, a sign that it could come equipped on board a flagship Galaxy smartphone in the days ahead. This announcement came after rumors suggesting that the device would be carrying a 16MP camera sensor on board with, yes, OIS (Optical Image Stabilization).
We lean towards the former, considering it's an official camera sensor, but what's clear is that Samsung is taking strides to improve the sensors inside its devices and that should translate into an improved camera inside the Galaxy S5 next year, whether it's 13MP or 16MP.
New Design
While competitors like Apple and HTC pushed out smartphones with premium metal designs, Samsung decided to stick with a plastic design made of polycarbonate material. For years now, consumers have been pleading with Samsung to change its ways, it even had to defend itself ahead of the Galaxy S4 launch, and now, it's looking more and more like the company might be heading in a new direction.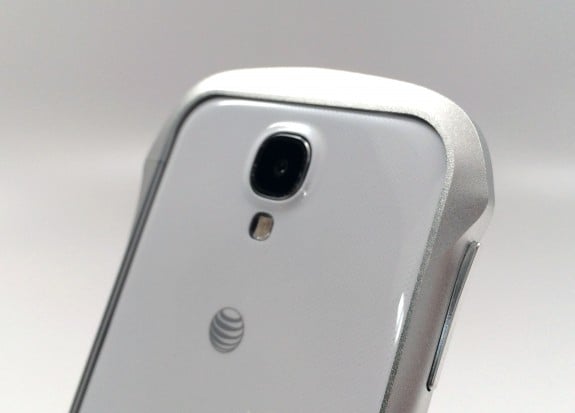 We've heard a number of rumors suggest that the Galaxy S5 will be coming with a metal design. In fact, the company may tap an Apple supplier to provide it with the materials it needs to make that happen. One thing that points to Samsung possibly caving in next year is the fact that the company switched things up with the Galaxy Note 3 design. The Galaxy Note 3 doesn't use the same polycarbonate plastic back as the Galaxy S4 and previous Galaxy Note models and instead uses a plastic faux leather back. It's not one hundred percent different from previous designs, but it's a sign that Samsung is open to changing its ways.
There are also rumors suggesting that the design could perhaps come with water and dust resistance, just like the Galaxy S4 Active, something that would obviously delight buyers. The key thing here is that there is already a lot of chatter about a new design and given that Samsung switches things up year-after-year, it could be that the Galaxy S5 represents the biggest change yet.
Flexible Display
Samsung is set to announce its first smartphone with a flexible display this month. The device is thought to be a Galaxy Note 3 clone called the Galaxy Round and it's a device that is expected to feature Samsung's Youm flexible display technology, technology that it last showed off at CES 2013 in Las Vegas earlier this year.
https://www.youtube.com/watch?feature=player_detailpage&v=Fp31h4wXZN8
The company was rumored to have been looking at putting the technology on board the Galaxy Note 3 but ultimately decided that its supply chain could not handle it. With a device on the way, and Samsung rumored to have been looking at the tech on a flagship, the Galaxy S5 is in prime position to be the first flagship to use Samsung's unbreakable flexible display.
With screen resolution at an extremely lofty height right now, the next step is for these unbreakable flexible displays to make it into flagship smartphones and consumers shouldn't act shocked when we see a Galaxy S5 emerge with Samsung Youm technology on board.
Samsung Galaxy F
An interesting rumor emerged earlier this year, suggesting that the Samsung Galaxy S could be replaced by a premium Samsung Galaxy F. In other words, the Galaxy S5 may not be the company's top-of-the-line device. This is far from confirmed and it would be strange to see the Galaxy S series cast away after so many years but consumers should start gearing up for a possible name change or perhaps two versions of the Galaxy flagship.
It could be that Samsung will be doing something similar to Apple's iPhone 5s and iPhone 5c dual-launch. The iPhone 5s is the company's premium device while the iPhone 5c represents a device that keeps high-end features but also offers a smaller price tag.
iPhone 6
While the Samsung Galaxy S4 dwarfs the iPhone 5s in terms of size, the Galaxy S4 touts a 5-inch display compared to the 4-inch display on the iPhone 5s, that "advantage" could be taken away next year as Apple is heavily rumored to be looking at larger screen sizes for the iPhone 6. The most recent rumors suggest that Apple could be looking into the 4.7-inch to 4.8-inch range and the 5.7-inch range for the iPhone 6, something that would not only bring it into Galaxy S4 territory but would also put it in Galaxy S4, Galaxy S5 territory as well.
Furthermore, chatter has started to point to an iPhone 6 launch earlier in 2014, perhaps in the summer, to better compete against a Samsung Galaxy S5 and a HTC Two. Rumors earlier in the year pointed to an iPhone 5s launch at WWDC in June but those turned out to be off base. Point is, a big screen is likely and it's possible that we could see an iPhone release come quicker in 2014. Something to keep in mind during the months ahead and something that could help make a smartphone decision that much more difficult for buyers.
Tons of Leaks
Finally, those heavily invested in a Galaxy S5 or simply looking for more information will be happy to know that Samsung devices leak out early and they leak out extensively ahead of launch. We imagine that the Galaxy S5 will be no different and thus, we think that leaks will start cropping up on a regular basis towards the end of the year.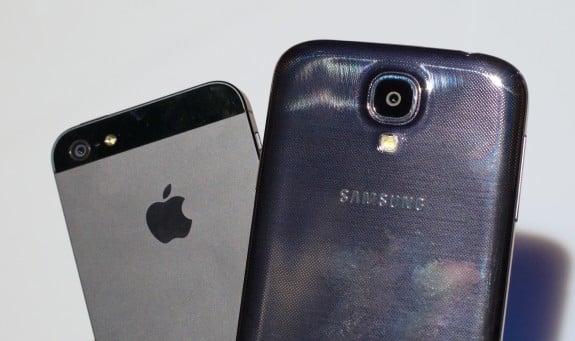 We expect December and January to be dominated by the Galaxy S5, just like they were with the Galaxy S4, and we expect leaks to continue all the way up until Samsung's official announcement. This means that buyers should learn a great deal about the Galaxy S5 ahead of time, something that will be able to help them to make an easier decision when it comes to waiting or buying something else.

This article may contain affiliate links. Click here for more details.