Samsung Galaxy S5 Active Leak Reveals Rugged Design
After a few light rumors were swirling earlier this year, this week the Samsung Galaxy S5 Active was fully revealed in a slew of leaked videos. If the Galaxy S5 isn't industrial enough for some, the Galaxy S5 Active surely will be.
The current Samsung Galaxy S5 has been available for nearly two months, but that isn't all Samsung has planned for 2014. While we've been hearing about a Samsung Galaxy S5 Prime, the Note 4, and an S5 Mini, today we're getting another look at what will likely be the next smartphone released by the company. That being the Galaxy S5 Active for AT&T.
Read: 5 Best Wallet Cases for the Samsung Galaxy S5
This week a round of YouTube videos revealed the Galaxy S5 Active ahead of all other sources, and now we've received a final press photo of the AT&T Samsung Galaxy S5 Active from @evleaks, as expected. Read on for more details about this rugged smartphone.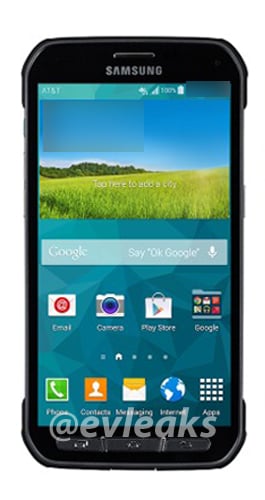 The Samsung Galaxy S4 Active was released a few months after the original flagship Galaxy S4 last year, and many weren't expecting the same thing this year. Reason being is the Galaxy S5 is a IP67 certified dust and water resistant smartphone. It offers water resistant features throughout, and even a flap covering the micro-USB charging slot to keep water out of the internals.
As a result, we figured the Galaxy S5 Active wouldn't ever come to fruition, but here it is as an even more robust, more durable smartphone than previous years. Before we get started with a few of the rumors and what to expect, below is another video that leaked late last night comparing the Galaxy S5 Active to the current Galaxy S5.
Last year the Samsung Galaxy S4 Active arrived just in time for the summer months at the pool, and it looks like something similar is scheduled for 2014. The same three dedicated hardware buttons on the bottom are included, but based off the videos we've seen this far it looks like Samsung took the design up a notch.
The Galaxy S5 Active isn't just about being waterproof, it's also geared to handle the elements and all sorts of drops. Originally thought to be a disguise over the device in early videos, has now been confirmed as actually part of the design. The Galaxy S5 will be dust and water resistant, and possibly even shock resistant with that huge frame around the screen and edges. It's clear Samsung wants this to be a durable and rugged device, rather than just aimed at highlighting the water resistant features that were so criticized on the Galaxy S4 Active in 2013.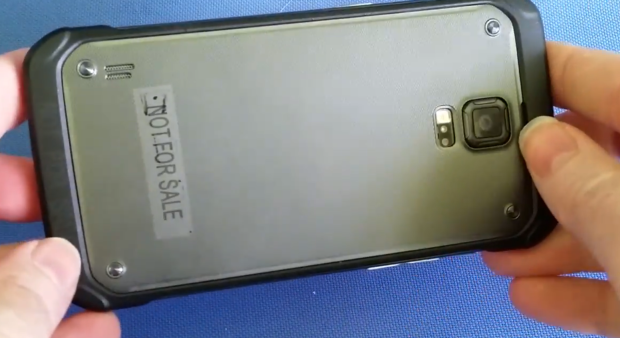 From the looks of things and various leaks we've gathered thus far the Samsung Galaxy S5 Active will sport a 5.2-inch 1080p HD display, and all the same specs of its sibling. Those being a powerful 2.5 GHz quad-core processor with 2GB of RAM, Android 4.4.2 KitKat, and a 2,800 mAh battery.
However, we're also hearing reports of the Galaxy S5 Active having optical image stabilization, a feature that even the Galaxy S5 camera doesn't have, as well as a barometer for those active users. There's no fingerprint scanner, but the same heart-rate monitor is on back, dual-LED flash, and everything else that arrived with the Galaxy S5 earlier this year.
There's no further details to go on just yet, but we're expecting plenty of additional information about the Samsung Galaxy S5 Active to surface shortly. A potentially late June release date has been thrown around, which is just in time for the warm summer months.

As an Amazon Associate I earn from qualifying purchases.