Samsung Galaxy S5 Active Leak Shows All Ahead of Launch
With the Samsung Galaxy S5 now available around the globe and from multiple carriers throughout the United States, consumers are starting to look forward to what else the company has in store. While we've been hearing about a Samsung Galaxy S5 Prime lately, something else should arrive much sooner.
Galaxy S5 Active rumors initially started swirling back in March, but earlier this month everything started to firm up and get more official. Samsung hasn't announced anything yet, but various videos have leaked that all but confirm the Galaxy S5 Active is real, and will likely be coming extremely soon.
Read: Samsung Galaxy S5 Active Leaks in New Videos
To help confirm some earlier leaks and all the videos, famed leakster @evleaks shared a quick render last week of the upcoming Galaxy S5 Active for AT&T, which helps reassure prospective buyers that the device is real. However, thanks to @Keaton from TechSmartt today we received our best look yet as we wait for more details and an official announcement to surface.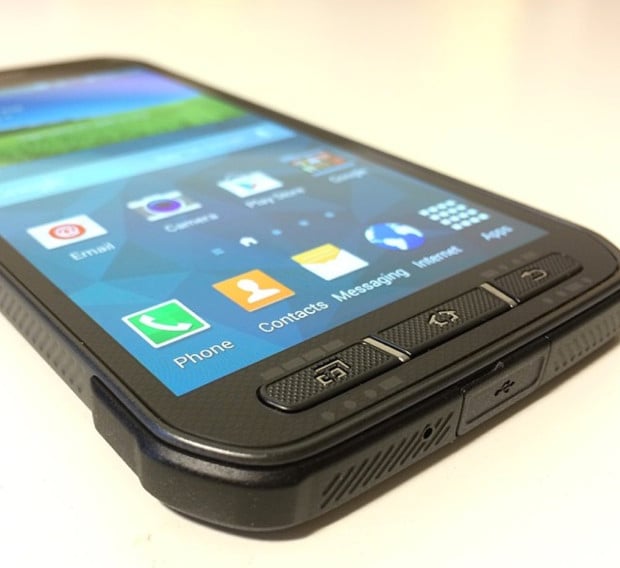 Above is the Samsung Galaxy S5 Active for AT&T, which we've seen on more than one occasion. According to a few various reports and tips the Galaxy S5 Active should be announced in the coming weeks, and arrive for AT&T customers during the last week of June.
Last year the Samsung Galaxy S4 Active ended up being an exclusive for AT&T, and wasn't quite what many expected. Basically Samsung offered a cut down version of the Galaxy S4 with some water resistant-type features similar to what we have now with the Galaxy S5. Those being a flap covering the USB charging port, and a seal to protect the innards from water, especially around the removable back.
Read: How to Take a Screenshot on the Galaxy S5
The Samsung Galaxy S4 Active wasn't all that rugged or "Active" and rather just came with an IP67 dust and water resistant certification. However, the new Galaxy S5 Active for 2014 looks to offer much more, as well as deliver an improved an durable rugged design. Essentially the Galaxy S5 Active looks like a true rugged phone users will want to buy, rather than something from Casio or CAT like we've seen in previous years.
Today we received a full gallery of images once again provided by evleaks, which reveals nearly the entire device ahead of the announcement or launch date. The image below shows the front and back in full, and his leak also reveals plenty of the device with the rear cover removed, battery size, and more.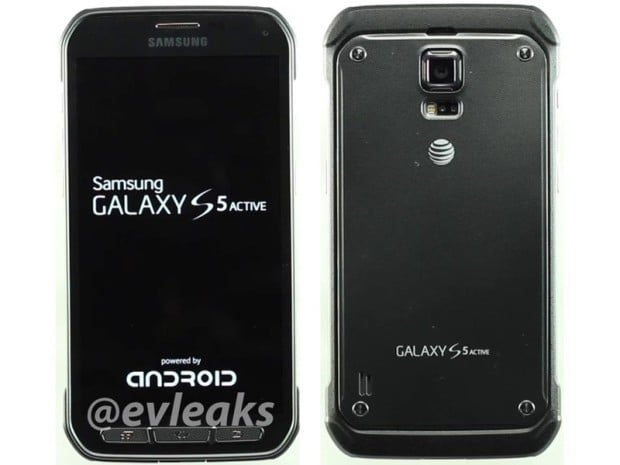 According to all reports, rumors, and leaks we've received thus far the Samsung Galaxy S5 Active will sport most of the same features found on the original Galaxy S5 released in April. Those being a 5-inch 1080p HD display, Android 4.4.2 KitKat, and a quad-core Snapdragon 801 processor with 2GB of RAM and 16GB of internal storage.
Like all Samsung devices as of late, the images confirm a micro-SD slot and removable battery, as well as the same dual-LED flash and heart rate monitor located around back under the camera. Speaking of the camera, we've yet to confirm its specs, but are hearing the same 16 megapixel camera should be included in the Active. Essentially offering everything the original Galaxy S5 delivered, only in a truly rugged frame.
What to Expect
Last year the Galaxy S4 Active was pretty much a watered down version of the original Galaxy S4 with some additional water resistant featured. However, the Galaxy S5 Active finally will be putting that "Active" in the title to use. We're seeing a rugged and durable shell protect the entire device, which should make this a rugged smartphone for those living an active life.
Leaks confirm the sides are a lightweight and durable hard plastic with an aluminum or metal-looking finish like shown in the photo at the top of the page, with the top and bottom being wrapped with a shock-resistant softer plastic for impact resistance. Meaning this will truly be a rugged device, not just a slightly tweaked smartphone with some water resistance features.
The Samsung Galaxy S5 Active is shaping up to be a rather impressive smartphone for those who need a device with a more industrial design to handle the elements, and again, we should know more before the end of June.