Top 5 Galaxy S5 Alternatives [January, 2015]
Samsung Galaxy S6 rumors continue to tease consumers but it's still not here yet which leaves the Samsung Galaxy S5 as the current Galaxy S smartphone option. The Galaxy S5 is one of the top Android smartphones on the market but there are some competitors we think you need to look at before buying the device. Here, we look at the top Samsung Galaxy S5 alternatives for this month.
The Samsung Galaxy S5 was one of the top Android smartphones from 2014 and it's a device that remains a solid option even as rumors outline the Samsung Galaxy S6. Galaxy S6 rumors suggest that the device is still several weeks away which means that those looking to buy this month must contend with the Samsung Galaxy S5.
Samsung's Galaxy S5 is a solid Android smartphone option and a device that consumers should be looking at, especially now that it's in the midst of an Android 5.0 Lollipop update. Google's brand new operating system should breathe some new life into it. The Galaxy S5 is also extremely cheap as its price tag is now a shell of what it once was. It's an attractive smartphone but that doesn't mean that you shouldn't weigh alternatives.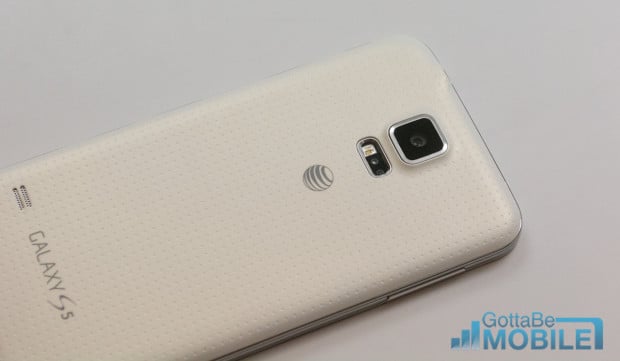 We continue to get bombarded with questions about Samsung Galaxy S5 alternatives to look at. There are a number of different devices that we could recommend as the smartphone market is full of solid big screen choices but we want to narrow things down a bit and take a look at what we consider the top five Galaxy S5 competitors available right now.
These devices represent the devices that we'd recommend to friends and family. And while our list may differ from yours, these are the devices that Gotta Be Mobile editors have selected for recognition this month. We feel like the devices listed here deliver the best, all-around package for this month and this month alone.
With that in mind, here are the five Samsung Galaxy S5 alternatives for January, 2015.
Samsung Galaxy Note 4
If you're thinking about investing your money into Samsung's ecosystem, you're really going to want to take a long look at the Samsung Galaxy Note 4, Samsung's brand new flagship that we think bests the Samsung Galaxy S5 in key areas.
Samsung's Galaxy Note 4 arrived in October to great fanfare and it's as good as advertised. It offers you a massive 5.7-inch Quad HD display, an improved design that combines plastic with metal, a camera with Optical Image Stabilization, and a speedy processor that's capable of providing excellent multitasking and gaming.
It's more expensive than the Galaxy S5 but you're going to get a whole lot of bang for your buck. Check it out before buying the Galaxy S5 in January and beyond. If only to rule it out as youe next phone.

This article may contain affiliate links. Click here for more details.