Galaxy S5 Android L Update All but Confirmed
The Samsung Galaxy S5 Android L update is reportedly in testing and the Galaxy S5 Android L update itself has been spotted ahead of its rumored release later this year.
While the attention of many Samsung Galaxy smartphone and tablet users is fixated on Android 4.4 KitKat and more specifically, Android 4.4.4 KitKat, there's another massive update lurking in the shadows, an update that's expected to land in just a few short weeks alongside new hardware from Google and its manufacturing partners. That update is Google's Android L release.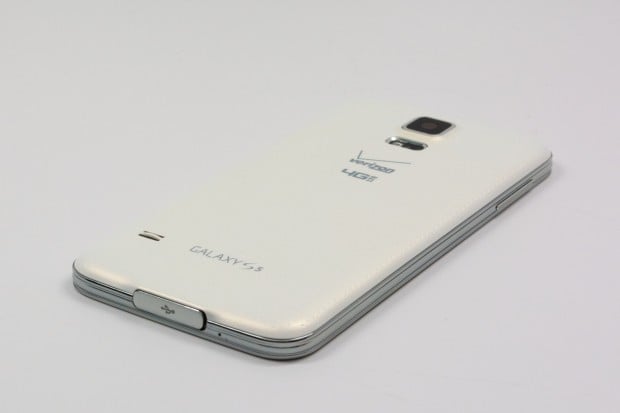 Last month, we heard that the Galaxy S5 and Galaxy Note 4 would get Android L updates later this year, perhaps in November or December ahead of the new year. While the timing and the updates themselves remain unconfirmed, we're starting to get a read on Samsung's plans for Android L, an update that's going to be much larger than Android 4.4 KitKat.
A Samsung Galaxy S5 Android L update leak from SamMobile all but confirms Samsung's plans to release an Android L update for the Samsung Galaxy S5 in the future. The update is said to be in testing ahead of its release and it looks like a Galaxy S5 Android L release is still a long ways away as this leaked build is both an early test build and buggy.
While this is an early Android L build, it does provide a glimpse at some of the features that could arrive on board the Galaxy S5's Android L update if they survive the testing process. There's a brand new lock screen that shows notifications in addition to the date and time, there's a new overall look to some of Samsung's key TouchWiz apps including Dialer, Messages and the Clock, and Samsung's ditched its blue theme for white.
It's still early but Android L is shaping up to be a massive update for the Galaxy S5. And while this version is slow and buggy, it's an alpha test build. There is still a lot of time between now and the end of the year which means that Samsung has quite a bit of time to improve the Galaxy S5 Android L update, and perhaps the Galaxy Note 4 Android L update as well.
Software update release dates are dependent on internal testing. So while Samsung might be targeting Android L releases in November or December for select devices, there's always a chance that the testing process will push its target release dates back into 2015. Older Samsung Galaxy devices like the Galaxy S4 and Galaxy Note 3 probably won't get their upgrades until next year if Samsung follows its typical release patterns.
Android L is rumored for an October or November release alongside a Nexus 6 and or a Nexus 9 tablet from HTC. Google has yet to make an announcement though a flurry of new leaks suggest that the arrival of these new products is close.
A rumor from SamMobile puts Samsung's first Android L updates in November or December. This is exciting because it's the first we've heard of Samsung's Android L update release plans. The company, to this day, remains silent about what it has in store for Galaxy users in the future.
The first two Android L updates are, again, rumored to be for the Galaxy Note 4 and Galaxy S5 though we expect a number of Android L updates to eventually roll out to older devices. Here's a list of devices we expect will get Android L:
Galaxy S5
Galaxy S5 mini
Galaxy S5 Active
Galaxy S4
Galaxy S4 Active
Galaxy Note 4
Galaxy Note Edge
Galaxy Note 3
Galaxy Note 3 Neo
Galaxy Alpha
At this point, only the Galaxy S5 Android 4.4.4 KitKat update release is confirmed.

As an Amazon Associate I earn from qualifying purchases.