Samsung Galaxy S5: Everything We Know So Far
In the past week, we've seen Samsung Galaxy S5 rumors start to firm up to the point that consumers are feeling confident, not only about the features that could come on board Samsung's Galaxy S4 successor but about the upcoming Galaxy S5 launch itself. With so much movement in the past few days, we felt it appropriate to take another look at how the Samsung Galaxy S5 is shaping up.
The Samsung Galaxy S5 hasn't been announced just yet but thanks to the amount of details that have surfaced in the month of January, one might think that Samsung's brand new flagship was official. Galaxy S5 rumors have been emerging from just about everywhere on the internet in the past few weeks, leaving only a few stones unturned.
We expect to hear a lot more about the Samsung Galaxy S5 in the weeks ahead as the company and its carrier partners make their final launch preparations. But here is what we think we know right now.
Samsung Galaxy S5 Launch Date
Here at Gotta Be Mobile, we consider the launch date of a device to be the announcement date, the day that a company takes the stage and shows off the device for the first time. With that in mind, the Samsung Galaxy S5 launch date has been heavily rumored for March with a report from Bloomberg suggesting that the device will indeed launch in March. A recent report from SamMobile backed these claims up and both help to firm up early rumors that pointed to a launch in March rather than in February at Mobile World Congress 2014 in Barcelona, Spain.
The comments made to Bloomberg came from Samsung itself as did comments provided to recode. A Samsung executive revealed that the Galaxy S5 would be arriving in the spring, as Galaxy S devices do, and that its launch date would also be the launch pad for a brand new wearable from Samsung.
At this point, March is looking like it's going to contain the Samsung Galaxy S5 launch date. But where will the event take place?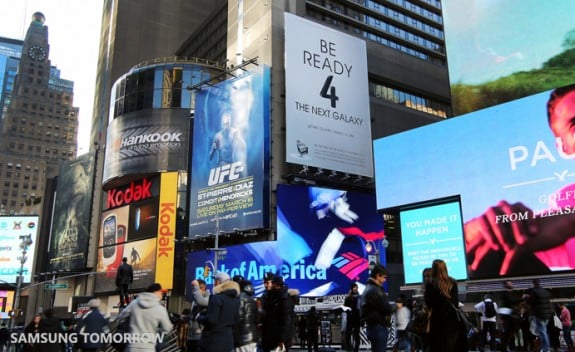 A proven insider claims that the event will likely be taking place in London. This backed up an earlier rumor from Eldur Murtazin who claimed that Samsung was exploring European capital cities for the launch. Last year's Samsung Galaxy S4 launched in New York City so it looks like the company might return to Europe.
That said, the company may be hosting an auxiliary event in New York City to help promote the device in the United States, a key battleground for Samsung and its competitors.
Release Date
Maybe the biggest piece to the Samsung Galaxy S5 puzzle is the release date. Consumers want to know when they'll get to see the device for the first time but more importantly, they want to know when they'll be able to get their hands on it.
Samsung told Bloomberg that it plans to push out the device by the end of April. SamMobile claims that the device will arrive in early April though no specific date was given. Eldur Murtazin suggested, several weeks ago, that Samsung was targeting a release around May 1st, just like it did with the Galaxy S4 release date.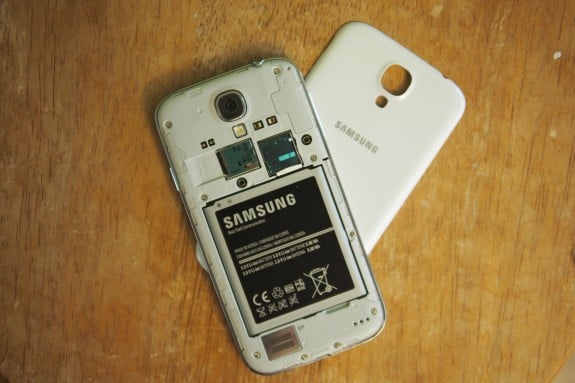 While a specific date and time frame hasn't been agreed upon, one thing is pretty clear. Samsung will be looking to release the Galaxy S5 just a few weeks after its launch. This is standard practice as the company has worked hard to close the gap between launch dates and release dates, particularly in the United States.
A Samsung Galaxy S5 release date beyond the month of April, at this point, would be shocking.
Design
One of the biggest components of any flagship smartphone is its design. While companies like HTC and Apple have shifted to premium metal designs for their flagship models, Samsung has stuck with its plastic form factors that it says not only benefit consumers but allow it to produce devices at an extremely quick rate.
Galaxy S5 design rumors have been swirling for weeks now and they culminated with SamMobile's report earlier this week that suggests that the device will, in fact, come with two designs. One of the Galaxy S5 designs is thought to be plastic, the other metal. The site claims that it will have a metal back plate and metal around the sides though the specific details remain out of reach.
An early Galaxy S5 suggested that the device could mirror the Galaxy Note 3 and its faux leather plastic design. It's still not clear if the plastic model will resemble the Galaxy Note 3.
Comments made to Bloomberg insinuate that the Galaxy S5 design will, at the very least, be different than the design found on the Galaxy S4 and Galaxy S3.
The Galaxy S4 may have fallen short of consumer expectations because its design was too similar to its S3 predecessor… The next handset likely will be different, she said without providing specifications, including screen size.
At this point, given the frequency of the metal and plastic rumors, it's looking like Samsung will mimic Apple's iPhone 5s and iPhone 5c release with one plastic Galaxy S5 aimed at the budget crowd and one metal Galaxy S5 aimed at those that want a premium device.
Display
Both of these reports claim that Samsung will be making changes to the Galaxy S5's display, something that lines up with early Galaxy S5 rumors that suggested the device would come with a new, higher-resolution display. Samsung is reportedly ready to install displays with 500+ pixel-per-inch counts and it seems that the Galaxy S5 will either be the first, or among the first, to feature the technology.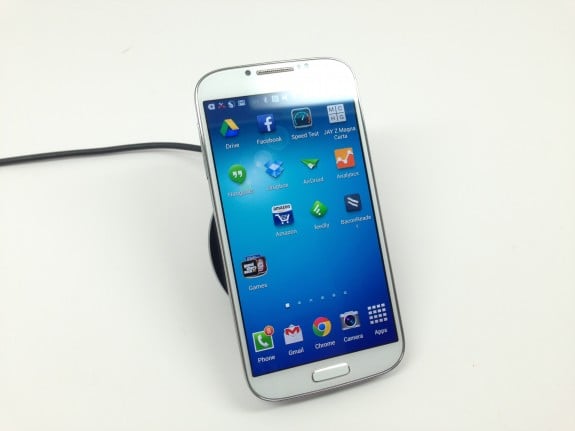 Specifically, it looks like the Galaxy S5 will feature a display that measures in and around 5.2-inches in size with resolution of 2,560 x 1,440. This would give it an edge over the Galaxy S4's 1080p display, offering crisper looking content and serving as a bridge between last year's technology and the flexible displays of the future.
A recent leak points to a 1080p display on at least one variant of the Galaxy S5 though rumors point to the plastic model having a lesser, 1080p display, just like the Galaxy S4. So, it could be that the premium model offers QHD resolution while the plastic model features the more common 1080p resolution.
Camera, Processor & Battery
A 16MP camera sensor is destined for the Galaxy S5. Rumors have unanimously stated that it will be a 16MP camera sensor on board the smartphone so it's pretty hard to deny the possibility. We imagine that the camera will provide better photos and video though it's still not clear just how much better the quality will be over the Galaxy S4. Furthermore, it's not clear if Optical Image Stabilization will be on board. OIS is found in devices like the Nexus 5 and LG G2.
As for the processor, recent rumors suggest that the device will come with either a Exynos 6 from Samsung or a Qualcomm Snapdragon 805 processor. Samsung always upgrades its processors so this doesn't come as much of a surprise. Both processors should offer an increase in performance over the Snapdragon 800 found in the Galaxy S4, particularly when it comes to graphics.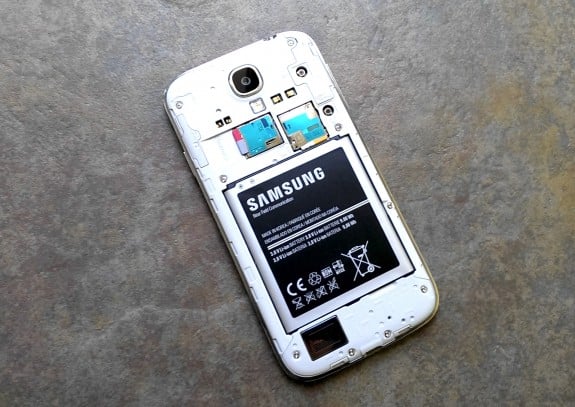 Samsung's Exynos 6 is expected to be 64-bit in nature which would put the Galaxy S5 on par with the iPhone 5s and its A7 processor. SamMobile thinks that the Exynos 6 will be found inside the metal version of the Galaxy S5 while the plastic Galaxy S5 could come with the Snapdragon chip.
As for the Galaxy S5 battery, PhoneArena says that it could be 2,900 mAh in size, or, just a tad larger than the Galaxy S4's battery. The report asserts that the battery could, in fact, hold a larger charge because of new lithium-ion battery that can store around 20% more power. It also could feature fast charging.
Software
All signs point to Android 4.4 KitKat being the operating system on board the Galaxy S5. Rumors suggest Android 4.4 KitKat and so does logic. It has been out since November and it has already arrived for the Galaxy Note 3. There is a zero percent chance that Samsung launches its brand new flagship with an old piece of Android software. The big questions are about what Samsung's TouchWiz will look like.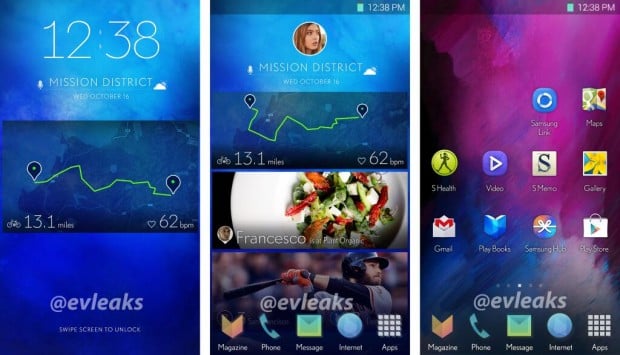 Samsung almost always tweaks its user interface, known as TouchWiz, on its new flagships. It did so with both the Galaxy Note 3 and Galaxy S4. So a change with Galaxy S5 seems likely.
Earlier this month, @evleaks several screenshots that depict what he says is a new UI that Samsung is exploring for its smartphones. Coincidentally, the leak came shortly after Samsung debuted a new Magazine UI for its brand new tablet lines that it introduced at CES 2014 in Las Vegas. The Magazine UI looks a whole lot like the screenshots that leaked, meaning, there is a very good chance that Samsung extends the look to the Galaxy S5 and its smartphone lineup.
Rumors also suggest that the Galaxy S5 will feature improved gestures thanks to hardware that will supply greater range for movement. If true, it could open up new use cases for Air gestures which may work farther away and could come with greater reliability. This could also play into rumors that point to new Iris-tracking technology that could serve as the device's Touch ID rival.
Carriers
Thus far, we've only seen AT&T rumored as a potential Galaxy S5 carrier though consumers should expect the device to land on all five major carriers including Sprint, T-Mobile, U.S. Cellular, and Verizon. We should also see smaller regional carriers like C Spire carry the Galaxy S5 in an effort to provide competition to the iPhone 5s.
Price
We've only see one rumor in regard to the Galaxy S5's price. Unsurprisingly, the metal Galaxy S5 is rumored to be more expensive than the plastic model. The metal Galaxy S5 is rumored to be around 800 Euros while the plastic Galaxy S5 is thought to be around 600 Euros. It's not yet clear how those prices will translate to the United States though we can't imagine Samsung trying to charge $1000 for a metal Galaxy S5, on-contract or off.

As an Amazon Associate I earn from qualifying purchases.