Samsung Galaxy S5 Launch Date Might Be February 24th
The Samsung Galaxy S5 launch date is still very much up in the air but it looks like a possible launch date has been revealed thanks to an invite that Samsung sent out moments ago confirming an Unpacked 5 Episode 1 event set to take place on February 24th, the first day of Mobile World Congress 2014.
Today, Samsung sent out invites for an Unpacked 5 event scheduled for February 24th, the same day that Mobile World Congress 2014 kicks off in Barcelona, Spain. Galaxy S5 launch date rumors previously pointed to MWC and February 24th as a possible Galaxy S5 launch date. We considered the rumor flimsy, given that sources had pointed to March. And while today's invite doesn't confirm a Samsung Galaxy S5 launch date on February 24th, it certainly opens the door.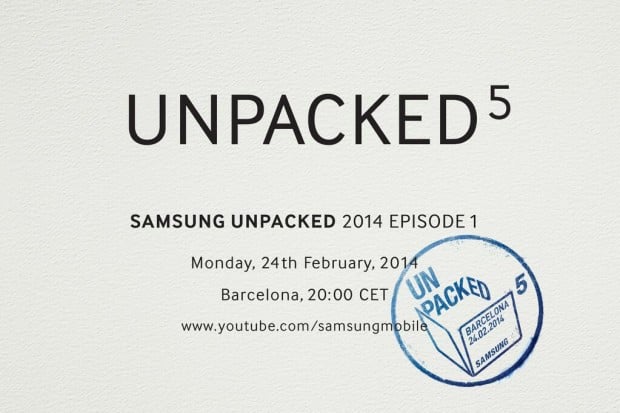 Samsung's invite beckons the press to an Unpacked 5 launch event on February 24th. The event is dubbed Episode 1 and last year's Samsung Galaxy S4 launch event was dubbed Episode 1 as well. The Samsung Galaxy Note 3 launch was given the title Episode 2 while the mid-year Galaxy S4 mini launch was not held as an official Unpacked event.
The company will host a live stream, a sign that major announcements will be taking place, and it's apparently large enough to warrant a live stream at Samsung's Galaxy Studio in New York City which will begin on February 24 at 2 PM ET. There, Samsung says that it will be "hosting a first hands-on experience with our new products."
At this point, a Samsung Galaxy S5 seems likely though there are other theories to consider as well. One is that Samsung will use Episode 1 to show off other products including its new Tizen software that has been rumored, ad nausea, for months. We could also see it debut a number of other products as well including new tablets though we doubt Samsung would host an Unpacked event specifically for tablets.
Samsung has, in the past, had trouble drawing views into non-flagship product launches so again, it's possible that it could use the Unpacked name to lure in consumers who might not otherwise watch.
Galaxy S5 rumors seemed set on a March launch date with credible sources pointing to a launch inside of the month. Both Flavio, the man who accurately leaked the HTC One launch and SamMobile both suggested that it would arrive in March. Eldar Murtazin, a Russian blogger who initially said that the device would arrive on February 23rd, renounced that date, saying that Samsung hadn't decided.
In the past two years, Samsung has announced its Galaxy S away from major trade shows which makes today's invite extremely surprising.
The Samsung Galaxy S5 is expected to replace the Galaxy S4 and do so with two new models, a premium version and a budget version. The premium model is rumored to have a 5.2-inch QHD display, current-gen processor, 16MP camera, and quite possibly, a metal design. The other Galaxy S5 is thought to have a 1080p display, 16MP camera, and a plastic design.
Those rumors remain in flux ahead of the Galaxy S5's launch, which, for the moment, looks like it could arrive as early as this month. Given Samsung's penchant for launching the Galaxy S away from trade shows however, it's hard to put too much stock in the date as this point.
Galaxy S5 release date rumors point to April which makes this invite even more shocking. Samsung typically releases its Galaxy S about a month after announcement. So, in this case, we could see it arrive about two months after the announcement, assuming information is accurate.
Gotta Be Mobile received information that points to a possible Galaxy S5 release in late April, something that lines up with rumors that have emerged in recent weeks.